ROCKLAHOMA Report: Day 1 With Photos


By Larry Petro, News Monkey
Saturday, May 26, 2012 @ 9:20 AM





3 Day Festival Kicks Off May 25th

Rocklahoma 2012 got underway today. The festival, now in its 6th year, was trying once again to outdo itself. From the beginning of the festival when it focused solely on 80's era bands, the proioters have sought to widen the range of music they bring every year and it has really paid off. Attendence has been increasing to the point that last year's festival set the record, with over 50,000 people attending the 3 day fest. Yours truly was in attendence, along with my brother and his wife, who happen to live in the Tulsa area, about 30 minutes or so from Pryor, where Rocklahoma is held.

If you've never been to Rocklahoma before, it has the main concert area with 3 stages: Main Stage, Hard Rock Stage and the Retrospect Records stage. This main area is surrounded by camping sites and 2 more stages: Axis Stage and Jager (yes, as in Jagermeister) Stage. There's also a full shower facility and convenience store on site. We had decided ahead of time that we were going to go VIP this year, which cost $350 per ticket and got us 3 days of a reserved seat and access to the VIP catering tent that served lunch and dinner buffet style for the VIP ticket holders as well all the drinks we wanted. Having made this expense already I was not going to sleep in a tent while i was there, so we rented a 31' motorhome for the weekend, cost: $700. The ability to sleep in comfort for 3 summer nights in Oklahoma: Priceless.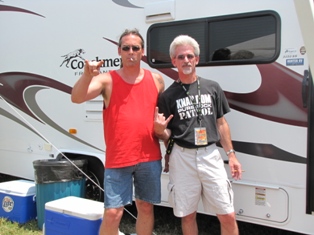 After a lengthy site setup at the festival grounds we decided to check out the camp stages. There were a few bands that were playing the pre-show party, most somewhat mundane, but there was one that gets a mention, For the Broken. This outfit from Kansas City was playing the Jager Stage and bringing it! A fantastic set of original and cover material at 2 in the morning had the crowd pumped. To finish the show, a roadie brought out an air raid siren and after working the crowd into a frenzy cranks this thing up. Good stuff, definitely a band to check out!
Friday meant the first official day of Rocklahoma and today's schedule featured bands like Chevelle, POD, Slash and Creed. If the first day's attendence is any indication of the turnout to be expected then I believe that another record will be set. We spent our day switching between the 3 stages, checking out the other lesser knowns and the the vendors selling their wares. And it was hot, but luckily for us there was a fairly constant 15-20 mile an hour wind that at least gave us a modicum of relief. After a nice dinner in the VIP tent of Pepper Steak, Fried Shrimp, Cajun Tilapia, Sliced Ham and Turkey and all the trimmings we had the energy to finish the day.
Adelita's Way and Cavo kicked things off on the Main Stage for Day 1 before Chevelle played a nice 50 minute set to get things going around 7 as the crowd started to fill in the grounds for what would be probably the best performance of the night. When Slash hit the main stage at 8:30, the sun had gone down, the evening was very pleasant and the place was packed! Slash and his merry crew of Myles Kennedy and the Conspirators were on fire as they tore through a cross section set of Slash material, including 2 tracks from their newest release, Apoclyptic Love, a couple from Velvet Revolver and of course, 3 tunes from Guns N' Roses. The band left a great impression for their first Rocklahoma appearance.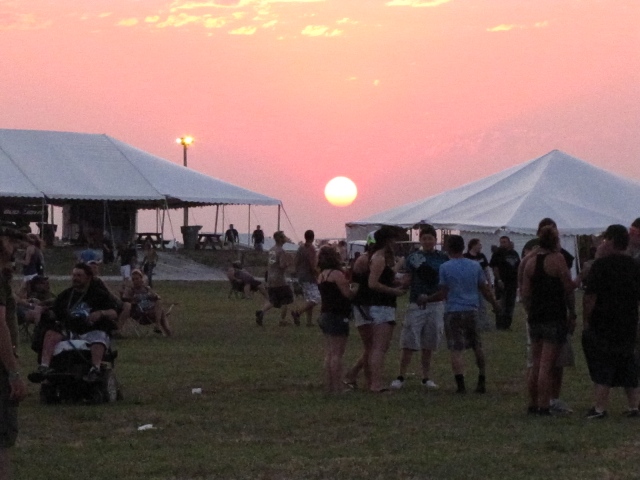 Slash's Setlist:
Mean Little Thing
Nightrain
Back From Cali
Ghost
Standing in the Sun
Halo
You're a Lie
Sweet Child O' Mine
Slither
Paradise City
Creed took the stage at 10:20 and also put on a great performance of their own, playing Human Clay in its entiriety. They were flawless in their time onstage but as another reviewer pointed out and from my persective they should have done a greatest hits show, at least at the festival.

Creed's setlist:
The whole Human Clay album
What's on tap for day 2? Stay tuned for Trivium, The Darkness, Lillian Axe, Volbeat, Megadeth and Rob Zombie.

Click HERE for some photos from Day 1.




Please log in to view RANTS

If you don't have a username, click here to create an account!