Pure Rock Newswire 05/31/02


By Sefany Jones, Contributing Editor
Friday, May 31, 2002 @ 7:23 PM


| | | |
| --- | --- | --- |
| | | A Summary Of News, Rumors And |
Flaw and Lollipop Lust Kill have been added to the Coal Chamber tour, which also features American Head Charge and Medication, which kicks off across the US and Canada on June 12th.

Machine Head have officially recruited guitarist Phil Demmel (Vio-lence/Technocracy) to fill in for Ahrue Luster, who recently left the group. There are currently no plans for him to become a permanent member of the band. Exodus will be performing at The Miners Foundry in Nevada City, California on Friday, July 12th. They will appear with Dragonlord at The Roadhouse in Sacramento, California on June 7th and at Wacken Open Air festival in Wacken, Germany in early August. Sick Of It All will issue a live album, Live In A Dive on August 12th on Fat Wreck Records. They have been confirmed for this year's Reading and Leeds festivals in the UK on Saturday, August 24th and Sunday, August 25th. A live recording of the last-ever performance of the classic Sepultura line-up of Max Cavalera (guitar/vocals), Igor Cavalera (drums), Andreas Kisser (guitar) and Paulo Pinto Jr. (bass), which took place at Brixton Academy in London on December 16th, 1996, is tentatively scheduled to be released as a double CD under the title Live At Brixton on August 26th through Roadrunner Records. Meanwhile, a DVD compilation of their three home videos to date -- Under Siege - Live In Barcelona, Third World Chaos and We Are What We Are -- will be available on August 12th. Guitarist Gilby Clarke (ex-GNR) has lined up the following dates during June: 06/01/02 New York, NY Bottom Line
06/16/02 Anaheim, CA Galaxy Theatre
06/21/02 San Francisco, CA TBA

Asesino, which features guitarist Dino Cazares (ex-Fear Factory) and bassist Tony Campos (Static-X), who will also handle vocals, will soon head out on their Puro Marano Tour 2002 as the opening act for Static-X. So far the following dates have been confirmed: 06/07/02 Houston, TX Verizon Wireless Amphitheater
06/08/02 Corpus Christi, TX C-101/C-Sculptures
06/09/02 Sun McAllen, TX Villa Real Convention Center
06/11/02 Tucson, AZ Rialto Theater
06/13/02 Anaheim, CA House of Blues
06/14/02 Anaheim, CA House of Blues
06/15/02 Las Vegas, NV House of Blues
06/16/02 San Diego, CA The Scene
06/28/02 Ventura, CA Ventura Theater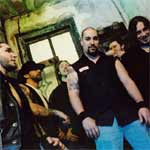 Fu Manchu, Speedealer and Brand New Sin will be teaming up for a US tour that will kick off on July 2nd and run through August 3rd. Confirmed dates so far are as follows:

07/02/02 San Jose, CA The Usual
07/03/02 San Francisco, CA Justice League
07/05/02 Portland, OR Berbatis Pan
07/06/02 Seattle, WA Graceland
07/07/02 Vancouver, CAN Richards On Richards
07/08/02 Calgary, CAN Macewan Ballroom
07/09/02 Edmonton, CAN Rev Caberet

Dreams Of Damnation, featuring new singer Loana dp Valencia and guitarist Jim Durkin (ex-Dark Angel), will be entering the studio in mid-June 2002 with famed producer Bill Metoyer (ie, Slayer, W.A.S.P., Fates Warning, Flotsam & Jetsam) to record their first full-length album, tentatively titled Epic Tales Of Vengeance. To hear a new demo track, "The Bloodletting," from the upcoming album visit NecropolisRecords.com. Due to immigration problems, Marduk are unable to enter the country and have thus cancelled their appearance on the Danzig tour. Accept will be issuing a DVD-Plus, Metal Blast From The Past, containing previously unreleased numbers, the Japan bonus track "Rich And Famous" and demo versions of five Breaker cuts on July 20th. Also included is a video recording from Osaka, a visual document of the group's first Japanese tour, which had previously only been available on the double live LP, Staying A Life, as well as footage from the group's 1993 show in Sofia, broadcast by Bulgarian television at the time and documenting the comeback of a band which had split up a few years earlier. There are also various interviews, a complete discography, a photo gallery and complete lyrics. Dillinger Escape Plan recently tapped Steve Evetts (Sepultura, Glassjaw) to re-mix their upcoming EP, Irony Is A Dead Scene, which features vocals from Mike Patton (ex-Faith No More/). The album is due out on August 27th through Epitaph. Jeff Pilson (ex-Dokken) performed an acoustic set at The Cat Club in Los Angeles on Wednesday night. Material ranged from his current project Underground Moon as well as Dokken classics "Into The Fire" and "Just Got Lucky." Surprise guest George Lynch (ex-Dokken) was on hand to lend his signature guitar work on the Dokken tunes as well as a preview of some new material from the forthcoming project L/P (Lynch/Pilson) which is projected for a fall release. To hear MP3's of Underground Moon or to purchase the CD visit UndergroundMoon.com. To hear MP3's of L/P visit JeffPilson.com. Soulfly will no longer be appearing at the UK's Lost Weekend show in July, due to ongoing problems. However, as consolation to their British fans, Max Cavalera & Co. have announced a one-off London date at The Forum on July 10th. The Forum date will be the first chance for UK fans to experience the group's new tracks in a live situation. Skid Row and Vince Neil have lined up the following Canadian dates: 06/25/02 Sainte Foy, CAN The Pladium
06/26/02 Chicoutimi, CAN La Sagueneenee Otep have posted a live video for their track "Blood Pigs" on their official website. The studio version of the song will be featured on the groups forthcoming full-length Capitol debut Sevas Tra, due out in stores on June 18th. Mortiis is tentatively scheduled to embark on a US tour in October. "Although this is still in the early planning stages, everyone involved seems very eager to make this happen," reads a statement on the singer's official web site. "The original idea was to do it in June but we decided against it for various reasons (the main one being that there was scarcely any time do to any useful promotion) and so it has been rescheduled." In other news, they are "working on some new material, which includes remixes/versions by myself, Rudy Ratzinger(Wumpscut), Fredrik Darum (ex-Apoptygma Berzerk), Brian Williams (Lustmord), Fredrik Bergstrøm /Jonas Johansson (No Festival Of Light/Ordo Equilibrio /Tarmvred)." It is hoped that some of this material will be released in conjunction with the US tour. Here is the set list from the opening night of ex-Van Halen vocalists Sammy Hagar and David Lee Roth's co-headlining tour, which kicked off at Blossom Music Center in Cuyahoga Falls, Ohio: Sammy Hagar set list:
"Red"
"Runaround"
"Three Lock Box"
"There's Only One Way to Rock"
"Give to Live"
"Top of the World"
"Why Can't This Be Love"
"5150"
"Poundcake"
"Finish What Ya Started"
"Eagles Fly"
"Little White Lies"
"I Can't Drive 55"
"Heavy Metal"
"Mas Tequila"
encore:
"Dreams"
"Right Now"

David Lee Roth set list:
"Hot for Teacher"
"Panama"
"And the Cradle Will Rock"
"Mean Street"
"Dance the Night Away"
"Runnin' With the Devil"
"I'm the One"
"You Really Got Me"
"Beautiful Girls"
"So This Is Love?"
"Atomic Punk"
"Little Dreamer"
"(Oh) Pretty Woman"
"Yankee Rose"
"Ice Cream Man"
"Everybody Wants Some"
"Unchained"
"Ain't Talkin' 'Bout Love"
encore:
"Jump"

Iron Maiden have posted the track "2 Minutes To Midnight" in streaming video as a teaser of the upcoming Rock In Rio DVD at the following locations:
lower quality
higher quality Stephen Pearcy will reportedly have a small role in an upcoming film called Camp Utopia. Pearcy's character's name is Timothy Bach and filming is scheduled for early June. Guitarist Munky (Korn) is auctioning off his speedboat via Ebay, with the starting bid set at $90,000. "If you're a KORN fan or even if you're just a fan of fast boats, here's your chance to own an awesome speedboat," reads a statement at the auction site. "Currently owned by the guitar player Munky from the rock band KORN. The tour is about to start and he doesn't want this great boat going to waste while he can't use it. This boat was featured in Hot Boat Magazine. Also included will be a photo autographed by the whole band (Munky , Jonathan, David, Head and Fieldy). You'll also get 2 passes to a show nearest you! Don't miss your chance to own this amazing celebrity boat."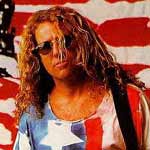 The Sammy Hagar/David Lee Roth co-headlining tour kicks off tonight, Wednesday, May 29th at the Blossom Music Center in Cuyahoga Falls, Ohio. It's the first time the two former Van Halen frontmen have ever shared a stage.

As previously reported, Pete Perez from Riot has prior obligations and will not be performing with Reverend during their August 2002 tour. They haven't decided who is going on tour with them yet. Seattle's Damnaged, in support of their album Aggression Therapy, have been tapped as the opening act on the forthcoming Danzig US headlining tour, from June through mid-August , which also features Swedish black metallers Marduk. Coal Chamber and American Head Charge will hit the road for nine dates beginning June 15th through June 26th, with Whitfield Cranes's band Medication on the opening slot. Death Angel will play a (not so very) "secret" club show (under the name Kill As One) at San Francisco's The Pound on Saturday, July 6th and not Friday, July 5th, as previously announced, according to The Pound's official web site. Opening the show will be Depressor. Vocalist Jonathan Davis of Korn is planning to launch a museum in Los Angeles, CA to showcase his collection of various serial killer memorabilia. He is working with artist Phil Coleman and architect Arthur Rosenblatt on the project while pieces in his collection include clown suits worn by John Wayne Gacy, drawings by Richard Ramirez and more. The final running order for this year's Bang Your Head festival, which is scheduled to take place in Balingen, Germany on June 28th and 29th is as follows: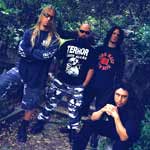 Friday, June 28th:
Rival
Mägo De Oz
Rhapsody
Jag Panzer
Symphony X
Candlemass
Overkill
Gamma Ray
Fozzy
Nightwish
Saxon

Saturday, June 29th:
S.A. Adams
Tankard
Vanden Plas
Iron Savior
Titan Force
Shakra
Rawhead Rexx
Nevermore
Magnum
Halford
Slayer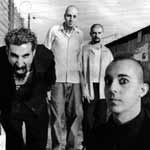 System Of A Down, P.O.D., Meshuggah and Pulse Ultra will be playing an Ozzfest one-off show at the Cumberland County Civic Center in Portland, ME on July 15th. More off dates shows in other states with a similar line-up are tentatively in the works. Soulfly have confirmed a headlining show at the Forum in London, UK on July 10th. The band's new album, 3, will be released on June 25th. Guitarist Alex Skolnick (ex-Testament) will be performing with his band, Alex Skolnick Trio, at Izzy Bar in New York City on Friday, June 7th. Sepultura performed in front of a crowd of over 10,000 in São José dos Campos, Brazil last Sunday night and were joined by Biohazard guitarist Billy Graziadei for renditions of Motorhead's "Iron Fist" and Titas' "Polícia." Pictures taken at the gig can be viewed at this location. Stephen Pearcy (ex-Ratt) has yet to confirm the exact release date of his forthcoming album, Social Intercourse, but says it will be the end of June/ early July. The tour dates in support of the album are also still waiting confirmation, but Pearcy says he will be playing all of his favorites from Ratt, Arcade and Vicious Delite.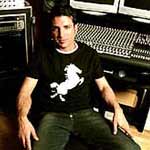 Keyboardist Derek Sherinian (ex-Dream Theater) has finished tracking his parts for the forthcoming Yngwie Malmsteen CD, Attack, which anticipates a late summer release through Spitfire Records. The as yet untitled, the forthcoming solo album from Sherinian will include appearances by Malmsteen, Zakk Wylde, Al DiMeola, Billy Sheehan, Tony Franklin (ex-Blue Murder), Brian Tichy (Ball, ex-Ozzy Osbourne) and Simon Philips. A September release is expected. In addition to the ambitious "Leonardo - The Absolute Man" project and the fourth Magellan album, "Hundred Year Flood," Trent Gardner has written material for a new Explorers Club project. Special guests include drummer Terry Bozzio, bassist John Myung (Dream Theater), Kerry Livgren (Kansas), Gary Wehrkamp (Shadow Gallery), Mark Robertson (Cairo), Marty Friedman (Megadeth), Steve Walsh (Kansas) and James LaBrie (Dream Theater). The album should be available July 30th, 2002.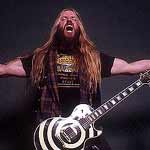 Rob Zombie has been tapped to direct the video for the Black Label Society's new single "Demise Of Sanity." The shoot will take place in Los Angeles, CA on June 24th.

Dio will soon release their video for "Push" featuring special guest, Jack Black of Tenacious D. Superjoint Ritual announce the first dates of their upcoming tour: 06/07/02 Atlanta, GA The Masquerade
06/08/02 Washington, DC 9:30 Club
06/09/02 Philadelphia, PA The Trocadero
06/11/02 Worcester, MA The Palladium
06/12/02 New York, NY The World
06/13/02 Pittsburgh, PA Metropol
06/15/02 Detroit, MI Harpo's
06/16/02 Cleveland, OH The Odeon
06/17/02 Chicago, IL House Of Blues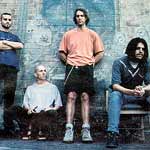 More dates for the Tool and Tomahawk tour have been announced: 07/23/02 Fort Worth, TX Fort Worth Convention Center
07/24/02 Wichita, KS Kansas Coliseum
07/25/02 Tulsa, OK Tulsa Expo Center
07/26/02 Austin, TX Frank Irwin Center
07/27/02 Houston, TX Compaq Center
07/29/02 Bossier City, LA Century Tel Center
07/30/02 Little Rock, AK Alltel Arena
07/31/02 New Orleans, LA UNO Lakefront Arena
08/04/02 Ft. Myers, FL Teco Arena

Pitchshifter guitarist Jim Davies will be rejoining Prodigy on a "full-time" basis during the latter's upcoming festival appearances, according to Kerrang! magazine. However, there are no plans for Davies to leave Pitchshifter. "The work doesn't clash at the moment and the Pitchshifter guys have been really cool about it," the guitarist said. The Headband, a group comprised of vocalist Casey Chaos (Amen) and drummer Shannon Larkin, along with bassist Twiggy Ramirez (Marilyn Manson) and Queens Of The Stone Age's Josh Homme and Nick Oliveri, have now begun work on their debut effort which they plan to release through Rekords Rekords in the fall/winter. More information is expected shortly. Attention Scorpion concert-goers: The event at Manchester, NH on June 28th has been moved from Singer Park to Meadowbrook, due to technical difficulties. If you have purchased lawn seats or vouchers from Strawberries for the Singer Park show, your tickets will be honored at Meadowbrook. You will not need to exchange your tickets. If you have purchased reserved seats for the Singer Park show, your tickets will still be honored but they must be exchanged for seat assignments at Meadowbrook prior to the event. Please call the box office at 603.293.4700 for more details. Attention Shadows Fall concert-goers: The Pittsburgh and Poughkeepsie shows has changed: 05/29/02 Poughkeepsie, NY
05/30/02 Pittsburgh, PA

Also, the Pittsburgh venue has changed from Upstage, to LAGA. The rest of the Demon catalogue (post-Plague) is currently being remastered by Mike Stone and Denis Blackham. They should be available by October 2002. Biohazard have replaced guitarist Leo Curley with axeman Carmine Vincent (ex-Nucleus). Necrophagia's Season of the Dead will be re-released on picture LP with a special Jenna Jameson design on the B side. This album is also scheduled for a digi-book and digi-pak re-release with complete re-mastering, for the future.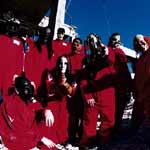 Slipknot's forthcoming UK single, "My Plague (New Abuse Mix)," will be released on July 8th. The full track listing for it is as follows: 01. My Plague (New Abuse Mix)
02. The Heretic Anthem (live)
03. (sic) (live)
04. My Plague (New Abuse Mix) (video)

Engorged's debut self-titled full-length will be unleashed upon the masses on June 4th, 2002. Dreams of Damnation guitarist Ji Durkin (ex-Dark Angel) mastered the album. CircleIICircle, the new band of vocalist Zachary Stevens, have inked a deal with Germany's AFM Records. The group expect to enter the studio in July to begin recording their debut album for a January 2003 release. Centurian has disbanded due to internal conflict in the band. Reverend, featuring Wayne frontman David Wayne (ex-Metal Church), bassist Pete Perez (Riot), and guitarists Davey Lee andNotch Vara (both of Byfist), have lined up the following gigs during August: 08/03/02 Olympia, WA Abrasive Rock
08/05/02 San Luis Obispo, CA TBA
08/06/02 Los Angeles, CA TBA
08/07/02 Los Angeles, CA TBA
08/08/02 Las Vegas, NV TBA
08/09/02 Las Vegas, NV TBA
08/10/02 Phoenix, AZ TBA
08/12/02 El Paso, TX TBA
08/14/02 Dallas, TX TBA
08/15/02 Austin, TX TBA
08/16/02 Corpus Christi, TX TBA
08/17/02 San Antonio, TX TBA

The reunited Warlord, featuring guitarist William J. Tsamis, drummer Mark S. Zonder (Fates Warning), and latest addition, vocalist Joacim Cans (Hammerfall), have posted MP3 clips of two tracks from their forthcoming comeback album, Rising Out Of The Ashes, at the following locations: 01. Enemy Mind
02. Achilles Revenge Rising Out Of The Ashes is tentatively scheduled for a European release in late June/early July through Drakkar Records/BMG Entertainment. Ozzy Osbourne cancelled his performance at Ozzfest in Ireland on Saturday due to a throat infection. He had played at Castle Donington in the UK the night before and was apparently not feeling well enough the next day to perform. The rest of the bands on the Ozzfest bill -- including Tool, System Of A Down and Slayer -- went ahead with Saturday's show despite the headliner's last-minute cancellation. Ozzfest is due to hit Spodek Arena in Katowice, Poland on Wednesday.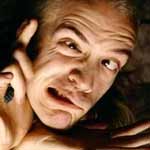 Lamb Of God have tapped Devin Townsend of Strapping Young Lad fame to produce their upcoming new album which they plan to begin recording in VA in November. A release in early 2003 through Prosthetic Records is expected. Townsend has been quite busy in the producer's chair for a number of a Guitarist Paul Gilbert (ex-Mr. Big) has completed work on a new solo CD, Burning Organ, which is due for release on June 26th in Japan. 13 songs were reportedly tracked for the album, including opener "I Like Rock," which features "One hundred guitars all playing at the same time through the entire song, including the solo!" according to Gilbert. Other cuts on the CD include "I Am Satan," "Suicide Lover",and "Burning Organ." The recording line-up for the CD consisted of Gilbert on guitar/vocals, Mike Szuter on bass, and Marco Minnemann on drums.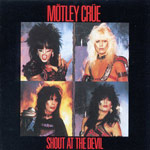 Mega-producer Tom Werman is suing Mötley Crüe and their record company for back royalties from 1983's Shout at the Devil, 1985's Theater of Pain, and 1987's Girls, Girls, Girls, and additionally for the music he produced that was used on the 1998 Greatest Hits collection, as well as any film- and TV-licensing deals involving his work. The producer is asking for damages in excess of $400,000, plus interest, attorney's fees, and court costs.

Deicide's Glen Benton will perform all lead vocals on the forthcoming Vital Remains album, Dechristianized, which is due in late August/early September through Olympic Records in the US and Century Media Records in Europe. Deicide guitarist Eric Hoffman is selling a custom red B.C. Rich guitar for $2,000. Interested parties should contact Eric at: band@deicide.tv. Marilyn Manson spent last week in New York City filming scenes for his role as "Christina" in the film Party Monster, produced by Killer Films. He is currently back in the studio putting the final touches on his upcoming album, The Golden Age of Grotesque. Union Underground's upcoming live EP, Live...One Nation Underground, has now been pushed back to a June 25th release through Portrait/Columbia. In other news, the group is currently hard at work on their upcoming and as of-yet-untitled new album which is being produced by band frontman/guitarist Bryan Scott. A release late this year/ early next year is being planned. Lockup, featuring vocalist Tomas Lindberg (The Crown), bassist Shane Embury (Napalm Death), guitarist Jesse Pintado (Napalm Death), and drummer Nick Barker (Dimmu Borgir) will play three shows in Japan with Will Haven and Converge at the end of June: 06/27/02 Osaka, JAP Club Quatro
06/28/02 Nagoya, JAP Club Quatro
06/30/02 Tokyo, JAP Club Quatro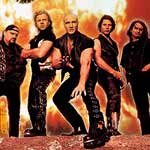 Germany's Primal Fear have been invited to appear as guests on the show Rock via the German Music TV Channel Viva Plus. The entire band will be on hand to present the band's brand new video for the cut "Armageddon." Additionally, Henny Wolter's Dean guitar will be raffled during the broadcast. The episode will be taped today, May 23rd, and will be aired two weeks later staring on June 6th, with three more replays scheduled in the days to follow. The long out-of-print At The Gates classic, 1995's Slaughter Of The Soul, will be reissued through Earache Records this summer, complete with six bonus tracks. The bonus cuts are as follows: 01. Legion (Slaughterlord cover)
02. The Dying (from the original album sessions)
03. Unto Others (demo version)
04. Nausea (demo version)
05. Captor of Sin (Slayer cover)
06. Blister Verklighet (No Security cover, previously unreleased) Stone Temple Pilots' Robert and Dean DeLeo have been in a recording studio with country musician Glen Campbell, assisting in writing and production for Campbell. Killswitch Engage have posted the video for their current single "My Last Serenade" online, you can check it out on the bands newly re-launched official website, killswitchengage.com.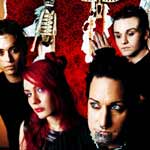 Coal Chamber's forthcoming headlining US trek, which will also feature appearances by American Head Charge and Medication, as well as another, as-yet-undetermined act, will hit the following cities: 06/12/02 Anaheim, CA House Of Blues
06/14/02 Las Vegas, NV House Of Blues
06/21/02 Colorado Springs, CO TBA
06/22/02 Albuquerque, NM TBA
06/23/02 Lubbock, TX TBA
06/25/02 San Antonio, TX TBA
More dates will be announced soon.

Italy's Lacuna Coil have completed work on their third full-length album, Comalies, which is currently scheduled for a September 23rd release through Century Media Records. Courtney Love & Co. have announced that Hole is officially no more. Queensrÿche vocalist Geoff Tate announces additional dates as part of his upcoming headlining tour: 06/22/02 Seattle, WA Sky Church
06/26/02 Denver, CO Gothic
06/27/02 Omaha, NE Ranch Bowl
06/29/02 Bottineau, ND Festival Show
06/30/02 Minneapolis, MN Quest Club
07/02/02 Grand Rapids, MI Orbit Room
07/03/02 Detroit, MI Saint Andrews Hall
07/05/02 St. Louis, MO Quest
07/06/02 Chicago, IL House Of Blues
More dates will be announced shortly.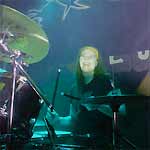 Kittie have lined up Poison The Well, Shadows Fall and Hotwire for their upcoming 7 week summer tour. Dates and venues will be announced shortly. Deeds (formerly Dirty Deeds) have set a Japanese release date for their third full-length album, Blown for August 28th, as to which they will tour there just before the release. No US release date has yet been announced for Blown, which was produced by Iron Maiden bassist Steve Harris. Dillinger Escape Plan have announced their appearance at the prestigious UK Reading and Leeds festivals, sharing the main stage with Guns N' Roses, Prodigy, Slipknot, and Offspring. Aerosmith have confirmed a June 27th concert in Tokyo as part of the festivities surrounding this year's World Cup soccer tournament. Deftones are currently in the studio writing and recording material for their fourth album, tentatively entitled Lovers. Following the completion of the recording, plans exist for the band to take part in this year's Pledge Of Allegiance package, which is due to begin in the fall. More dates have been announced for this years Locobazooka trek which features Sevendust, Filter, Nonpoint, Mushroomhead and many more, the newest additions are as follows: 07/10/02 Altamont, NY Altamont Fairgrounds
07/12/02 Portland, ME Cumberland County Civic Center
07/13/02 Manchester, NH Singer Park
07/14/02 Oswego, NY Oswego Speedway
07/17/02 Huntington, WV Harris Riverfront Park

Jerry Cantrell recently filmed the video for his current single "Anger Rising" out in Los Angeles, CA. The clip is expected to be completed by the first week of June and will precede the release of his upcoming sophomore solo album "Degradation Trip," which is due out in stores on June 18th through Roadrunner/Island/Def Jam. On a related note, Cantrell's official website has been launched at jerrycantrell.com.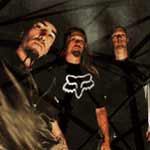 Machine Head will play the following European dates (sans guitarist Ahrue Luster, who recently left the band): 07/01/02 Dublin, IRE Ambassador
07/03/02 London, UK Highbury Garage
07/05/02 Rijssen, NETH Lucky
07/06/02 Dessel, BEL Graspop
07/07/02 Leipzig, GER With Full Force
07/08/02 Cervia, ITA Rock Planet
07/09/02 Zurich, SWI Limmathaus
07/10/02 Amsterdam, NETH Melk Weg
07/12/02 Helsinki, FIN Tuska Open Air
07/13/02 Joensuu, FIN Ilosaarirock

Ex-Led Zeppelin vocalist Robert Plant's single, "Darkness, Darkness," from his upcoming album Dreamland, can be heard here (Real Player) or here (Windows Media). Also, Plant will perform at the following gigs: 09/02/02 Cleveland, OH The Playhouse
09/04/02 St. Louis, MO Fox Theater
09/05/02 Kansas City, MO Uptown Theater
09/07/02 Denver, CO The Fillmore Auditorium
09/09/02 Berkeley, CA Berkeley Community Center
09/10/02 Santa Barbara, CA Santa Barbara Bowl
09/12/02 Los Angeles, CA The Greek Theater
09/13/02 Las Vegas, NV Hard Rock Hotel - The Joint






Please log in to view RANTS

If you don't have a username, click here to create an account!






Represent! Get Your KNAC.COM Bumper Sticker

Happenings This Week on KNAC.COM

LORDS OF THE TRIDENT Premiere 360 Degree VR Video "Zero Hour"

SAXON Unleash New Video For Track "Predator"

MEMPHIS MAY FIRE Announce New Album Broken

BYZANTINE Launches New Video For "The Cicada Tree"

ARCHER NATION Readies New Album Beneath The Dream

WARKINGS Release First Glorious Single, Video "Gladiator"

DECIBEL METAL & BEER FEST: LA Announces PRE-FEST With ARMORED SAINT, NIGHT DEMON, PERSEKUTOR And UADA

WRATH Streams New Track "Draw Blood" From The New Album Rage

DEVILSKIN Release "ENDO" Video With Important Message

KISS Announces The "End Of The Road" Final Tour

MADBALL Release Music Video For "Freight Train"

ICARUS WITCH Return With Goodbye Cruel World Album

TRIBULATION Release "Nightbound" Video

VIRGIN STEELE Will Release With Seven Devils Moonshine Special 5 CD Boxset For Their 35th Anniversary

KNAC-FM DJ THRASHPIE Release Head Bangin' Radio Book

DREAM CHILD Drop "Midnight Song" Video

WITHIN TEMPTATION Announce New Album Resist

BMG To Reissue DIO's Classic 1996 - 2004 Studio Albums

DEE SNIDER Is "American Made" With New Video

STEEL PANTHER Announce More "SUNSET STRIP LIVE!" Tour Dates

IMPELLITTERI Unleash "Run For Your Life" Video

THE POWER OF THE RIFF Makes Its Return To Los Angeles In November

GRAVE DIGGER Stream New Track "The Power Of Metal"

VOIVOD Release "Inconspiracy" Video, 7 Inch EP

CASTLE Unveils New Song "Can't Escape The Evil"

MEGADETH Bassist DAVID ELLEFSON Announces East Coast "BASSTORY" Dates

FIVE FINGER DEATH PUNCH Premiere "When The Seasons Change" Video

UNLEASH THE ARCHERS Stream Track "Ten Thousand Against One"

LACUNA COIL Release "Blood, Tears, Dust" Clip From The 119 Show - Live In London

ARCHITECTS Return With Holy Hell Album

STEELHEART Set To Release Rock'n Milan Live Album, DVD

'A BOWIE CELEBRATION' Announces 32-Date North American Winter Tour

BLACKTOP MOJO Reveal PledgeMusic Campaign To Fund Upcoming Album

POP EVIL Announces 2018 Canadian Headline Tour Dates

SODOM To Release New EP Partisan In November

CIRITH UNGOL Releases First New Track Since 1991 With "Witch's Game"

STRATOVARIUS To Release Enigma: Intermission 2

ENUFF Z'NUFF Release Video For Title Track of New Album Diamond Boy

ALCATRAZZ Reveal Parole Denied-Tokyo 2017 Live LP

SEPTICFLESH Announce Show With Live Orchestra

HELIX To Release A Helix Christmas Album

SUPERSUCKERS Debut "History Of Rock N' Roll" Video

LOUDER THAN LIFE Daily Music Schedule Announced

STEVE VAI Reveals First Round Of Guests Performing At "The Big Mama-Jama Jamathon"

FIFTH ANGEL Unleash 'Can You Hear Me' Lyric Video

GHOST Announces 2019 European Headline Dates

WITHERFALL Release "Ode to Despair" Single/Video

AUDIOTOPSY Reveal Grooving New Track "What Am I?"

KROKUS To Call It A Day With "Adios Amigos Tour"

Former MUSHROOMHEAD Frontman, Co-Founder JEFFREY NOTHING Returns With New Single

METAL ALLEGIANCE Unleash New Beer Visualizer Video For "The Accuser"

FOZZY Announces Full Canadian Tour

SEVENTH WONDER Debut New Song "The Everones"

MADAM X Release 'Monstrocity' Music Video

GRETA VAN FLEET Announces Its Debut Full-Length Album, Anthem of The Peaceful Army

YOB Premiere "Original Face" Video

RIVER CITY ROCKFEST Announces Band Performance Times

BEHEMOTH Launches Video For "Wolves Ov Siberia"

RED FANG Announce Late 2018 West Coast Tour Dates

AFTERSHOCK, LOUDER THAN LIFE Festivals Announce VINNIE PAUL ALL-STAR TRIBUTES

OBSCURA Announce Winter 2019 Headlining Tour Dates

OZZY OSBOURNE Partners With OMAZE To Offer Fans An Epic Concert Experience

HOLTER Set To Release Vlad The Impaler Album

KAMELOT Premiere Video For "MindFall Remedy"

VICIOUS RUMORS Kick Off the "Digital Dictator 30th Anniversary Tour" With SOLD OUT Show In Santa Rosa

SEVEN KINGDOMS Announce North American Headline Tour

ANTHRAX To Celebrate The 30th Anniversary Of State Of Euphoria With Special Edition

STRYPER Guitarist OZ FOX To Resume Touring After Medical Scare

GWAR Takes Over DC's Rick And Morty-Themed Pop-Up Bar

FLOTSAM AND JETSAM Announce New Album, 2019 "Tour Of Chaos"

THE VEER UNION Launch "Living Not Alive" Video

KINGDOM COME Confirms Addditonal Tour Dates For Band's 30-Year Anniversary Tour

SUNFLOWER DEAD Release "Victim" Video

SOULFLY Stream Title Track To New Album Ritual

OPETH Start Pre-Order For "Ghost Of Perdition (Live)" On 10" Vinyl