Armored Saint: Staying Hard at Thirty - An Interview with Vocalist John Bush


By Charlie Steffens aka Gnarly Charlie, Writer/Photographer
Monday, November 26, 2012 @ 5:10 PM


| | | |
| --- | --- | --- |
| | | "I've actually been writing some lyrics down and just some word passages..." |
"Everyone's very excited about this show," says Armored Saint singer John Bush about his band's upcoming gig at the House of Blues on Sunset. The show on November 30th will commemorate Metal Blade Records' 30th anniversary and Armored Saint's three-decade reign. Bush adds, "If we want to play it by the book, Armored Saint started doing shows in 1982. However, I kind of look at it as our first release, the EP that we put out on Metal Blade--the 3-song EP that came out along with Metal Massacre in 1983. There's technically two ways you can look at it. It's either 30, or next year it's 30. In any case, we're old. There's no denying that (laughs).

Armored Saint will share the stage with fellow Metal Blade labelmates Sacred Reich, Gypsyhawk, and a host of guests, including Dug Pinnick of King's X, Ray Alder (Fate's Warning/Redemption), and Amon Amarth's Johan Hegg.

"We have a couple cool surprises," Bush reveals, "some guests that are going to do some different songs with us. We have a couple fun ideas we think the crowd is going to dig. Armored Saint doesn't play as often as a lot of bands do, so when we do play, we're very excited about it. As of now, the only two shows we got is this one and then the ProgPower USA festival that's next year in September in Atlanta, which is cool, because we haven't played in the city of Atlanta in about 20 years. But, other than that we don't have much on the books, so when we play, especially our hometown, we're always very happy about it."

Armored Saint enjoys a loyal fan base while flying low in the often unfriendly skies of rock stardom and popularity. Saint's predictable pattern is to put out a record every ten years, which seems to suit Bush and his bandmates bassist Joey Vera, guitarists Phil Sandoval and Jeff Duncan, and drummer Gonzo Sandoval. Will their critically acclaimed 2010 release, La Raza, be the only fresh music we see for several years? Bush says he thinks not.

"I've thought about some stuff. I have some ideas. I've actually been writing some lyrics down and just some word passages, if you will, that could possibly turn into titles of songs or certain lyrical ideas that I have, but I haven't really worked on anything with Joey [Vera]. We did the bulk of the writing for La Raza. I don't know if he's had any ideas regarding Armored Saint. We've talked, kind of casually, about doing something. And we know if we do do something--based on time--it should be sooner than later, simply because La Raza came out ten years after Revelation did, which came out ten years after Symbol of Salvation did. Now, granted, I was working in that time with Anthrax and doing other things, and so were the other guys, but I don't think doing a record every ten years is probably conducive to being current, necessarily. That being said, I think La Raza is an amazing record and sounds very contemporary Armored Saint, and at the same time a little bit of a homage, if you will, to our influences: bands of the '70s that really inspired us. So it's kind of got this weird, retro thing."

Undeniable is Bush's love for music from the '70s, particularly soulful R&B and Motown. As I shared some of my favorite groups of that genre, he weighed in with his own picks.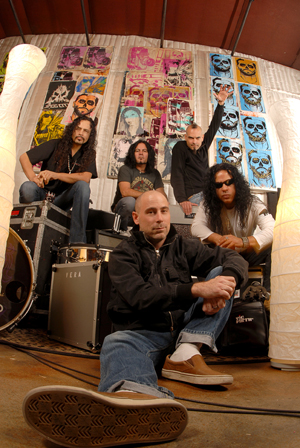 "You're hitting on some bands that I really dig," the singer says with enthusiasm, as I tell him of my love for Philly Soul artists such as the O'Jays as well as The Spinners. "The O' Jays were a little bit edgier," he claims. It's obvious we've hit on a topic we could talk about for hours. "For the Love of Money," and stuff like that, was just a little bit more profound, maybe, lyrically, and just edgier. The Spinners, though, were just incredible. I mean, (begins to sing: "Could it be I'm falling in love...") those were the best songs ever. Ever. "It's a Shame" is a great song, which was actually written by Stevie Wonder. Some of those songs and the singing--it really inspired me. I was listening to that stuff when I was nine years old. I really was. And I think it had a profound effect on me musically and, to this day, still does. The '70s is when I discovered music and it really started having an impact on me. I still can listen to certain songs from the '70s, you know, pop songs, that I think would blow anything away from the current pop roster of successful artists today. I just think that there's no comparison. There really isn't. You know, granted, I'm probably a little biased because that's the time I grew up, but you can't compete with some of that stuff. "Superstition." something like that, which is a pop song, but it's so ballsy. There ain't nobody in the world, especially in the world of hip-hop and R&B today that could ever compete with people like Stevie Wonder. There's no one that would even come close. No one. Hands down. No one. Granted, he's a legend, so it's like saying there's no one that competes with The Stones. I know a lot about old school R&B. I really do. I have a lot of albums from those artists. B.T. Express, The Dramatics, I'm really into that kind of music. And hip-hop is bigger than ever. There are a lot of huge names. Unfortunately there's not any real bands. Whatever happened to keyboardists and a drummer, a couple guys on percussion and some horns? I mean, god, those were bands that were incredible. Because no one can make any money. That's the problem today. Slipknot's one of the rare bands that's got nine guys in the band or something. I don't know how they deal with the money aspect of it. I'm sure that's complicated, because I know what it's like for five guys. So it's hard. Did the trombone guy get as much as the singer? Those are complicated issues and that's probably why bands go, 'We can sample this and we don't need any of those guys.' But you're losing the vibe of a group and a live sound and that's something you can never duplicate. The warmth and all that crap."
A singer who still demonstrates his singing chops (listen to La Raza), Bush attributes vocal longevity to living devoid of exhaustive touring and other rigors that can ruin a singer's voice.
"At this point in my life, not playing that often and doing long, grueling tours where you do ten shows in a row, and then a day off, and then nine in a row. I see bands still doing that stuff and I just marvel at it, because I wouldn't be able to do that any longer. It's not the way I sing. I sing with a very aggressive approach and I've been told for years, 'You gotta back off. Don't push so hard.' I try not to do that, because I really want to try not to suck, in all honesty. I also feel that I'm a better singer now than I ever was. I just think I'm more in touch with what I can and what I cannot do. My voice has found a good little area where it's raspy but it's strong, and I probably know how to sing better than I did 25 years ago, when I was just trying to sing high and try to emulate some of my heroes. I wasn't really there. Rob Halford was always the king, but I couldn't sing like him. I was more like a Steven Tyler-kind of singer. It was about finding my niche and my personality and letting that kind of shine through. And to me that's the most important thing to being a musician as a whole, or really a singer, is to kind of let your personality be the thing that people can connect with. You know who somebody is by the tone of their voice, by the style of their singing, by the playing of their guitar. And that, to me, is more important than anything. I don't know how great of a guitar player, in terms of technical abilities, someone like The Edge is, but it's just undeniable when you hear his playing. That's him."
Bush reflects on times with his friend and bandmate Dave Pritchard, who died of leukemia in 1990, around the time of the Symbol of Salvation sessions.
"Dave was awesome. He was a real special guy. He was unique, from his red hair all the way to his artistic mind. He was just a real creative dude. And funny. He's one of those guys, that when you listen to his technique, it was him. It was Dave. Just the way he bent notes. His personality was spewing out of him on that guitar. It was a real awesome contribution from Dave, just his personality. Sometimes when we think about Dave there's an immediate thought of sadness, because he died way too young. However, he was a funny guy. He was hilarious. He loved humor and he had a huge part in the shaping the identity with Armored Saint in terms of not trying to take ourselves too seriously, which we never really did. Even though we kind of had this image in the early days, we kind of were like a garage band at the end of the day. Because that's where we started and that was the core of the group. We always maintained a sense of humor about ourselves, and I think that was really important. I don't want to always think of Dave and think of sadness. I want to think of him as being someone who was full of life. And the weird thing about it, even though we used his playing on Symbol and he didn't play anything on Revelation, but certain songs of his were on that record that he had written. Up until La Raza that was just about everything we could muster out of Dave and now I don't think there's anything left. But, the strange thing is, even on the recording on La Raza--the vibe when you're listening to it--I feel like he's there. So when Armored Saint plays or when Armored Saint is recording, his spirit is there. And that's coming from a guy who's pretty agnostic, but I just think he's there. He'll always be part of Armored Saint...and I think that's really cool. He's there. He's like the guardian angel now and he will always be there. He was an awesome guy and I miss him. But by knowing and feeling that he's always there it gives me this weird relief about it all, too.
While nothing concrete has been laid down as far as new Armored Saint music, Bush says that there is movement. Maybe getting up on stage together again for the first time in way too long will be the necessary spark.
"I'd like to do something, and I have some ideas I'd like to accomplish. I think La Raza set us up for doing something even more epic and bigger--maybe even using different musical instruments and just doing something that sounds grand. Very 'larger than life,' I think, is what I'd like to do on our next record. But we haven't really quite got there yet. Maybe this will be the catalyst for Joey to get on it."
For me I want to know that I'm in a state of mind to write. After La Raza I was ready for a break, but now I think I have a lot of creative ideas and things I want to say. I feel like the lyrics on the last record were really profound. You know, I'm tooting my own horn here a little bit, but I was digging deep about my life and about how I see things, whether it's the fate of man or my own personal issues that I'm trying to come to terms with. There's no better catharsis than to write about it. It's my own therapy. I can't pay somebody money to be able to do this better. Sitting in a chair and talking about it would be a waste of time in comparison to writing lyrics and putting them on a song and singing it. And then do it over and over again, and hopefully solve the problems that I might be having (laughs).
In closing, Bush exposes humility and gratitude, looking back at a remarkable career while looking forward to its next chapter.
"Just to be able to continue to make music in the age I'm in--there's a lot of people that have fallen by the wayside and people that, I don't think, have grown that much musically, and I feel like I really have and so have the people I've played with. So I never really want to try to duplicate previous records. I think it's always important to always be growing and to show that, because you're growing as a person. I know some people connect with a certain time in their life and I get it. Nothing will ever be like it was for me when KISS Alive came out, but the reality is that you grow and you're discovering new things. You have to go with that, otherwise your kind of stuck in time. And that's just not a good thing. It's not a good thing for a musician. It's not a good thing for a person, quite frankly. I think you have to grow, respect everything you've done in the past, and try to have integrity with the things you go on with. I feel like I've done that pretty well as a musician. There's new things. I'm hoping that this show at the House of Blues is going to be one of those shows where we look back and go, 'Wow. What a great, incredible night.' I can't imagine it not being."




Please log in to view RANTS

If you don't have a username, click here to create an account!