Photos By Jay Roberts
As the capper of a busy weekend, I trekked over to The Greasy Luck Brewpub on Sunday October 14th to catch the HOUSE OF LORDS concert. While I went there on my own, there were a number of people in attendance that I've come to know from going to other shows at the venue, so it was like a meeting of mutual music minds for a night of rock and roll entertainment.
The four band bill kicked off with local JUDAS PRIEST tribute act JUDAS RISING. It was the first time that I'd had the chance to see the band. For the most part, they didn't disappoint. The band sounded great and frontman Hank Perry sure had the Rob Halford look down pat. Two small nitpicks in an otherwise highly enjoyable set was that I thought there could've been more of a growl in the vocals for "Hell Bent For Leather". It just seemed a little too "clean" in comparison to the original track. And though it was cut for length, how can you start and not finish "Breaking The Law"? That's close to blasphemous! Of course I am kidding, but I was really wanting to hear that song as it is my favorite PRIEST song.
The show started a bit late so the set list was cut three songs short but the show I saw only made me want to see more of a full set from the band.
Set List
"The Hellion"/"Electric Eye"
"Metal Gods"
"Turbo Lover"
"The Green Manalishi (With The Two-Pronged Crown)"
"Victim of Changes"
"Heading Out To The Highway"
"Hell Bent For Leather"
"Painkiller"
CONCERT FUN FACT #1 - After the set, bassist Chris Souza saw my KNAC shirt and stopped to chat about the station for a brief two minutes or so. This was an action repeated during the HOUSE OF LORDS set by Mike Rodrigues of Rhode Island Creative who was there to stream the show on Facebook Live.

https://www.facebook.com/jptributejudasrising/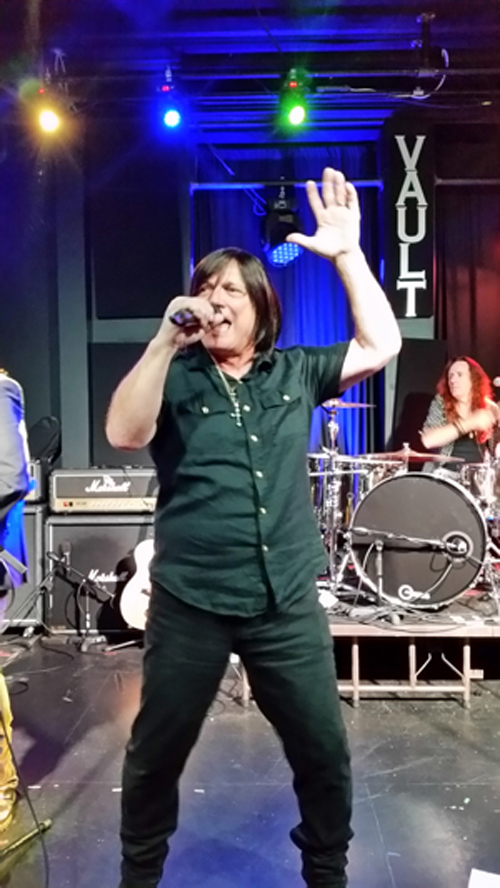 Up next was METAL:101. If you remember my review of the August 4th DIO DISCIPLES show, I really enjoyed the set they played on that night. Much like that show, I was really impressed with their performance on this night as well. While they were missing one of their guitarists (Dave Souza) due to illness, the quartet of rockers (singer Andre Vanchot, guitarist Barry Collins, bassist Tom Walason and their killer drummer Tony Franco) blazed through a who's who set list of 80's metal bands that kept the audience fired up throughout their set.
From FASTWAY to WHITESNAKE and from W.A.S.P. to MOTORHEAD, the band is top notch and both times I've seen them now only makes me want to see another show. I admit that my sampling size is still rather limited, but METAL:101 might just be my favorite local act.
Set List
"Say What You Will" (Fastway)
"Big City Nights" (Scorpions)
"Tooth And Nail" (Dokken)
"Crying In The Rain" (Whitesnake)
"Flight of Icarus" (Iron Maiden)
"I Wanna Be Somebody" (W.A.S.P.)
"Burn In Hell" (Twisted Sister)
"Balls To The Wall" (Accept)
"Stand Up And Shout" (Dio)
"Ace of Spades" (Motorhead)
CONCERT FUN FACT #2: With the exception of drummer Tony Franco, the remaining members of the band also perform in FATAL PORTRAIT, a King Diamond tribute band. They will be playing the Greasy Luck for a special Halloween show on October 31st.

https://www.facebook.com/Metal101Rocks/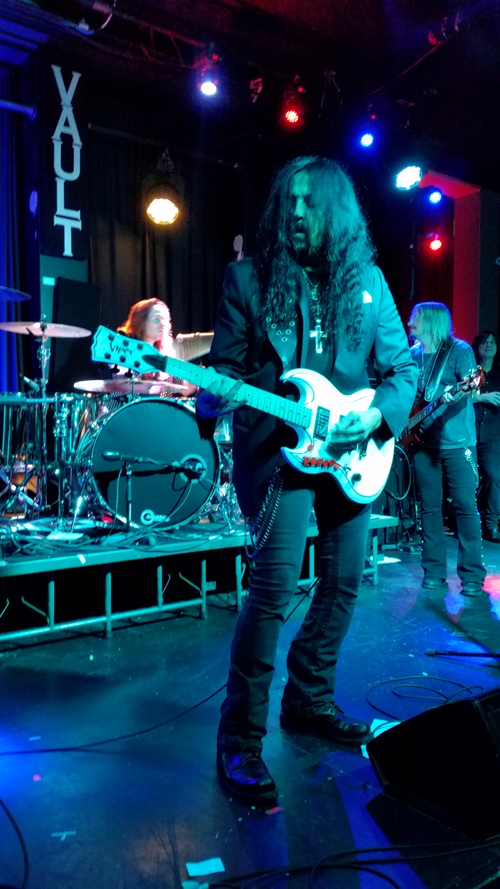 After a short break, Maine rockers SYGNAL TO NOISE hit the stage. I saw them open for Ted Poley back in April and remember writing that I probably would've liked their material more if I'd been more familiar with it before seeing them. Well, this time I was more familiar with the songs and accordingly, I enjoyed the band's show a lot.
This was the second show for the band's new leg of their 'Horns High' tour and they put forth a nine song set that had my attention from the start. While familiarity is said to breed contempt, in a music sense, it also tends to lead to a better impression of what the band is offering. I came away that much more impressed by their musicianship, particularly their lead guitarist who let loose with some fiery licks throughout the set. Oh, and the lead vocal turn by STN's bassist on "Again" was something I really enjoyed.
Set List
"Tightrope"
"Dirty Girl"
"Horns High"
"Soulless Mirror"
"Lady Boner"
"Cliche"
"Broken"
"Again"
"Fed Up"
http://sygnaltonoiserocks.com/
https://www.facebook.com/SygnalToNoise/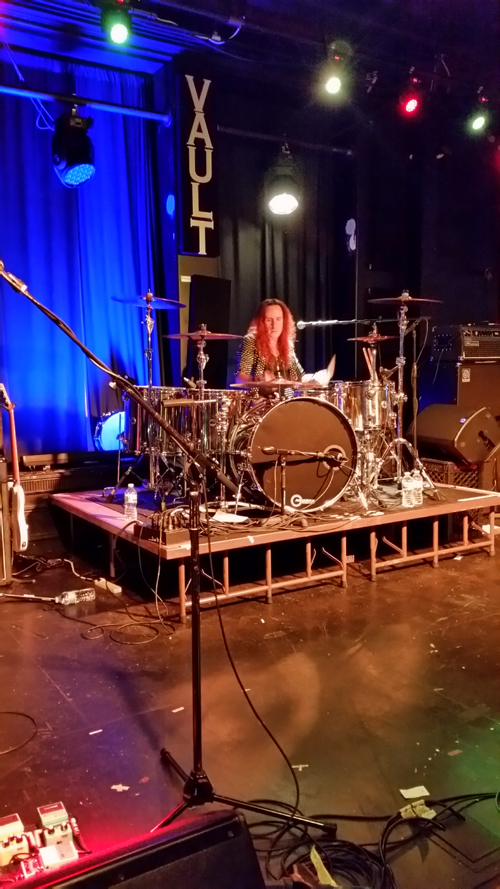 And now it was time for HOUSE OF LORDS! I have a bit of a winding and twisting relationship with the band. I've found that despite liking a number of their albums, I always seem to miss out on a couple of albums before rediscovering the band all over again. But having reviewed a few of their albums in the somewhat distant past and recently rediscovering the Sahara album, my appetite was really whetted to see the band in a live setting again. I say again, because the last time I saw them was in 1991 when I saw them in Boston, MA opening for NELSON. It was a show I took my sister to because she was a fan of the headliners.
Despite the small audience in attendance, (they had to compete with both a Red Sox playoff game and a Patriots football game) once HOUSE OF LORDS took to the stage, they really seemed to light up the place. Opening with "Sahara", the rock and roll was engaging throughout the set. Thrilling guitar pyrotechnics from Jimi Bell combined with the vocals of James Christian and the rhythm foundation provided by Chris Tristram (bass) and BJ Zampa (drums) made for a great sounding show. (Though one fan complained to me after the show that you couldn't hear any rhythm guitar at all during the set).
While ostensibly still supporting their 2017 album Saint Of The Lost Souls, the band didn't play any of the tracks from that release. Instead they opted for a best-of set list. Normally, this might bother me but given that I still hadn't seen a number of the songs that made the list in a live setting before, I was pretty happy in the end. Judging by the displayed enthusiasm, the majority of the audience would seem to agree with me. And I got to be a bit surprised to find that I enjoyed the song "Cartesian Dreams", the title track from their 2009 release. I'd never heard the album so discovering that I liked the song so much means I'm going to be getting my hands on the album sooner rather than later.
I could've done without the solos in lieu of a couple more songs, but for me that would be the only real nitpick with the show. Otherwise, HOUSE OF LORDS rocked The Vault and left fans pretty stoked to have spent their night seeking out quality hard rock to close out their weekends. I can only hope that it doesn't take another 27 years before I see the band again.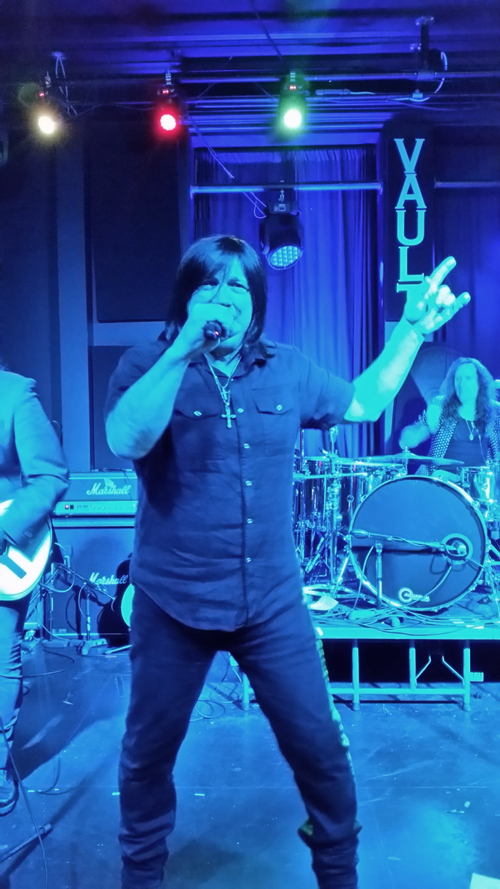 CONCERT FUN FACT #3 - After the show, the band did a meet and greet. I was able to meet all four members of the band and take photos as well as get my CDs signed. James Christian saw the KNAC shirt and remarked how much he loved the station while Chris Tristram saw the shirt and asked if I'd come all the way from LA to see the show. Oh, and I got to thank Christian for a thank you email he sent to a site I used to write for a long time ago for my positive review of his wife Robin Beck's CD Do You Miss Me.
Set List
"Sahara"
"Pleasure Palace"
"Rock Bottom"
"Go To Hell"
"Love Don't Lie
"Battle"
"Cartesian Dreams"
Drum Solo
"Can't Find My Way Home"
"I Wanna Be Loved"
Guitar Solo
"Slip Of The Tongue"
https://www.houseoflordsband.com/
https://www.facebook.com/HouseOfLordsB/
Photos By Jay Roberts