NECRONOMICON Premiere NSFW Official Music Video For "The Thousand Masks"


By Larry Petro, News Monkey
Wednesday, December 11, 2019 @ 1:54 PM


| | | |
| --- | --- | --- |
| | | From The Latest Release, Unus |
Canadian blackened death metal masters NECRONOMICON have premiered their horror-fueled music video for the song, "The Thousand Masks". The track is taken from the band's latest record, UNUS, which was released this October via Season of Mist. The NSFW video, which serves as a cautionary tale of why you shouldn't mess with the grimoire, can be seen on KNAC.COM HERE.

Speaking of the video, Rob "The Witch" comments: "Over 30 years ago we started a project called NECRONOMICON writing about H.P. Lovecraft mythos and with time passing, we decided to pay homage to the origin of our name and fully embrace it. The stars are aligned the time is right to reveal the many forms under "The Thousand Masks"."

NECRONOMICON have previously revealed the album cover of UNUS, together with the tracklist. Both can be found below. The cover art has been created by Simon Bossert.

Tracklist
"From Ashes into Flesh"
"Infinitum Continuum"
"Paradise Lost"
"The Price of a Soul"
"Singularis Dominus"
"The Thousand Masks"
"Ascending The throne of Baator"
"Fhtagn"
"Cursed MMXIX"
"Vox Draconis"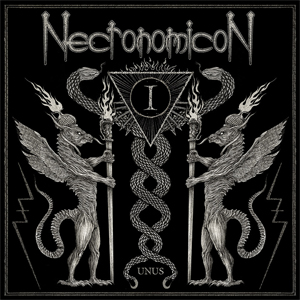 Montreal's premier blackened death metallers are back with UNUS, the crushing and cinematic follow up to 2016's Advent of the Human God. With each record NECRONOMICON has created in the span of their 31-year career, the band has steadily evolved in both sound and power; UNUS is no exception to this.

Inspired by H.P. Lovecraft's legendary grimoire, NECRONOMICON formed in 1988 by founding guitarist and singer Rob "The Witch" in the deep, northern part of Canadian province Quebec, Fjord of Saguenay. Since then, the band have carefully released each full-length without haste, allowing them to perfect every nuance before unleashing their sonic assaults upon the masses. In 2019, NECRONOMICON was presented with a certificate of honor for over 30 years of service via H.S. production/Tommy Tremblay, and the people of Saguenay Lac St Jean, making them the second band after VOIVOD to ever receive this honor.

UNUS is a searing cacophony of blistering riffs, machine-like drums, and a symphonic ambience, culminating in a sound that calls to various metal icons such as DIMMU BORGIR, SEPTICFLESH, BEHEMOTH, and DEICIDE. The record combines the furious elements of death metal with the orchestral prowess of black metal, creating the perfect synthesis of both genres. Standout tracks like "Paradise Lost" and "Singularis Dominus" only solidify NECRONOMICON's ability to continuously produce high quality metal that's just as dark and brutal as it is elegant.

Please log in to view RANTS