SUNBOMB Evil And Divine


By Andrew Depedro, Ottawa Corespondent
Thursday, June 10, 2021 @ 9:20 AM


| | | |
| --- | --- | --- |
| | | |
SUNBOMB
Evil And Divine
Frontiers Records




When one thinks of spirit-lifting motivational atmospheric heavy-sounding music, many names in the doom metal scene come immediately to mind such as TROUBLE, CANDLEMASS and especially its spiritual and spiral architects BLACK SABBATH. Yet, when one thinks of a collaborative supergroup combining many of the influential elements and sounds of these such bands, understandably, Michael Sweet and Tracii Guns aren't the sort of names that one would immediately assume would be lending themselves to such a hot project; indeed, even the powerful angelic vocals of STRYPER's colorful frontman and the gritty sleazy tone of L.A. GUNS' esteemed axeman and co-founder matched together on any sort of musical project was considered to be several worlds apart from each other many decades ago.

At least until now. Or, rather, up until the spring of 2019 when L.A. GUNS had just released their 13th studio album The Devil You Know and Tracii had some leftover riffs from the recording sessions to tinker with, inspired mostly from his latest doom metal muses in the form of the powerfully brooding vocals of Messiah Marcolin and Eric Wagner, tweeting the details about a planned side project before officially confirming those same plans on Trunk Nation With Eddie Trunk a year later. Coincidentally, it had also been at around the same time as Michael Sweet and STRYPER's ongoing resurrection back on the music scene, having been given a new lease on life with a new record deal with Frontiers Records back in 2013, saw the legendary Christian metal band recording some of its most heaviest material in years, which had started with Second Coming and continues unabated; indeed, Sweet himself has been active with some of his own side projects outside of STRYPER's regular studio routine – SWEET & LYNCH in particular – but he hasn't been as successful with getting many of these projects to otherwise be fully committable through no fault of his own. Fortunately, with both their bands sharing the same label, both Tracii and Michael were able to get in touch with each other and collaborate on ideas, with Tracii handling the music composition end and Michael in charge of writing the lyrics.

And from there, with the addition of the rhythm section comprised of bassist Mitch Davis and Tracii's L.A. GUNS bandmate/drummer Adam Hamilton, the glimmering banger known as SUNBOMB saw the light of day, their debut album representing a ying to an ever-yearning yang in the form of Evil Or Divine.

Championed by Tracii himself as being "the Metal record I would have made when I was 17 years old" and incorporating the energy – and the rhythm section – of L.A. GUNS' The Devil You Know, this debut album also boasts much of the traditional and doom metal elements which had inspired its music and lyrics. Whether it's the thundering Dio-era SABBATH sound on opening numbers "Life", "Take Me Away" and "Better End", the Psalm 9-era TROUBLE groove of "Stronger Than Before" or the stomping fast-paced swagger of "Born To Win" with its subtle nod to LED ZEPPELIN's "Good Times Bad Times" in the intro, there's lots of brilliant explosions throughout this album. Both Tracii and Michael's performances are at their most dynamic and crushing here, showcasing exceptionally well above their range.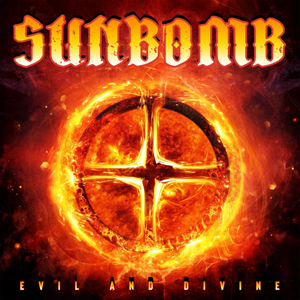 Tracii's riffs, particularly during "Take Me Away" and "World Gone Wrong", display some of the best energetic bottom-end grooves and tones to ever challenge Tony Iommi while Michael Sweet's high-octave and high-octane vocals remain stark reminders to both his past and present contemporaries that he can dominate a falsetto with the ease of a riled-up street fighter, especially if his vocal workout on "No Tomorrows" is anything to go by with its syncopated "Steal Away (The Night)"-style riffs and galloping bass grooves. Even a more relaxed number such as the acoustic guitar-driven "Been Said And Done" is both deep and vibrant (and finally gives Michael Sweet a chance to bring his vocals down a half octave).
Finally, the album's closer "They Fought" is a bit of an impromptu L.A. GUNS reunion of sorts, even if a sizeable portion of its material was the darker-sounding blueprint of The Devil You Know as Tracii's colleague Johnny Martin subs for Mitch Davis on bass, sticking to the script of some fine galloping grooves throughout.
It's not always that a side project with as many different types of subgenres from one whole genre can shine as bright as with the case with a band like SUNBOMB, but yet Evil Or Divine managed to present itself a glowing and explosive example of distinctive musical expressions coming together as one under the same stratosphere.
5.0 Out Of 5.0
https://www.instagram.com/sun_bomb/
https://www.facebook.com/SunbombMetal/

Please log in to view RANTS