OVERKILL
Scorched
Nuclear Blast
www.wreckingcrew.com




On April 14, 2023, legendary Thrash Metal act OVERKILL will release their 20th studio album. 20th! The New Jersey 5-piece have shown no signs of slowing down in their 40+ years of existence. Watch our interview with Bobby "Blitz" Ellsworth on KNAC.COM HERE.

Dave Linsk kicks things off with a fiery guitar lick that gives way to thunderous double-kick drums on the album's title track "Scorched". Frontman "Blitz" Ellsworth is just as angry and ornery as he's ever been with his delivery. As the track concludes, it's an instrumental stand-off, with "D.D." Verdi's bass thumping through it all.

"Goin Home" has a blusey swagger to its intro, but the song quickly shifts into a full-tilt thrasher. Ellsworth's vocals are powerful and fierce. "The Surgeon" recalls the vocal cadence of some of OVERKILL's early material. A lot of early Thrash acts employed this technique of a spoken word, rap-style flow as well. Except here, Ellsworth speeds things up and mixes it with his signature snarls and wails.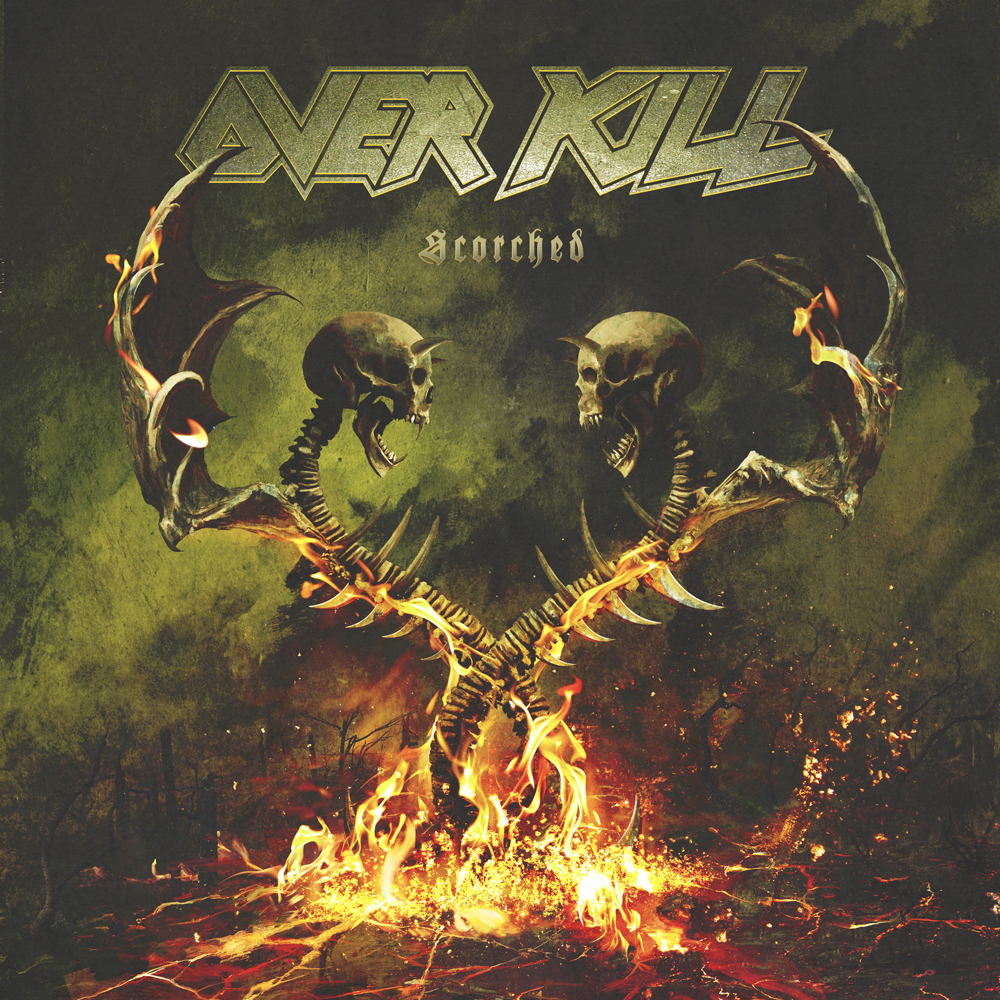 Dave Linsk and Derek "The Skull" Tailer match each other's licks on the opening phrases of "Twist of The Wick". From there, the guitar duo go riff for cutting riff. During the solo section things get dark and ominous. OVERKILL lean a lot more towards Blues Rock with "Wicked Place". The song is sure to get the live crowds' heads bouncing and fists pumping.
Verdi takes center stage with some deep bass grooves on "Won't Be Coming Back". Linsk adds that little extra something with his simple yet effective licks. OVERKILL slows things down quite a bit with "Fever". It's a sinister ballad at first, until "Blitz" Ellsworth unleashes his ire.
"Harder They Fall" hits at break-neck speeds. It's loaded with spitfire vocals and devastating drums. Jason Bittner's drum work is taken to another level on "Bag of Bones". Ellsworth delivers an instantly catchy chorus on this one.
Scorched stands as one of OVERKILL's best. It has all of the intensity, energy, and fury you expect from great Thrash Metal. What sets it apart, is that the band isn't afraid to inject other music styles into the mix. Whether they go a bit bluesy, a bit modern, or a bit prog-y here and there, it works.
4.8 Out Of 5.0