Two TRAPEZE Albums, Medusa And You Are The Music...We're Just The Band Set For New Vinyl Release

By Larry Petro, News Monkey
Thursday, November 9, 2023 @ 9:55 AM

| | | |
| --- | --- | --- |
| | | Via Deko Entertainment |
Originally released in 1970, Medusa was recorded at Morgan Studios, and was produced by THE MOODY BLUES bassist John Lodge. The line-up of Glenn Hughes (DEEP PURPLE), Mel Galley (WHITESNAKE), and Dave Holland (JUDAS PRIEST) recorded this album and the follow up, You Are The Music...We're Just The Band, in 1972 before that lineup disbanded. You Are The Music...We're Just The Band also featured a wide range of guest performers, including guitarist B. J. Cole, pianist Rod Argent, and saxophonist Jimmy Hastings. Now, Deko Entertainment will reissue both albums, fully remastered and repackaged, on February 2, 2024 in the following configurations:

Medusa, not released on vinyl since 1979, has now has been fully remastered on 180-gram vinyl, an awesome gatefold sleeve, in two beautiful versions. The Platinum Edition - comes on transparent, 180-gram amber vinyl with purple, green, and black splatter (limited to 250 copies pressed), featuring a signed 10" x 10" band photo by Glenn Hughes (limited to 100 copies). The Standard Edition - comes on gold nugget, 180-gram vinyl (limited to 250 copies pressed).

You Are The Music... We're Just The Band, not released on vinyl since 1978, has now has been fully remastered on 180-gram vinyl, in two beautiful versions. The Platinum Edition - comes on 180-gram, white, red, and black twist vinyl (limited to 250 copies pressed), featuring a signed 10" x 10" band photo by Glenn Hughes (limited to 100 copies). The Standard Edition - comes on red galaxy, 180-gram vinyl, and handsomely repackaged (limited to 250 copies pressed).

TRAPEZE store: https://bit.ly/TRAPEZE-VINYL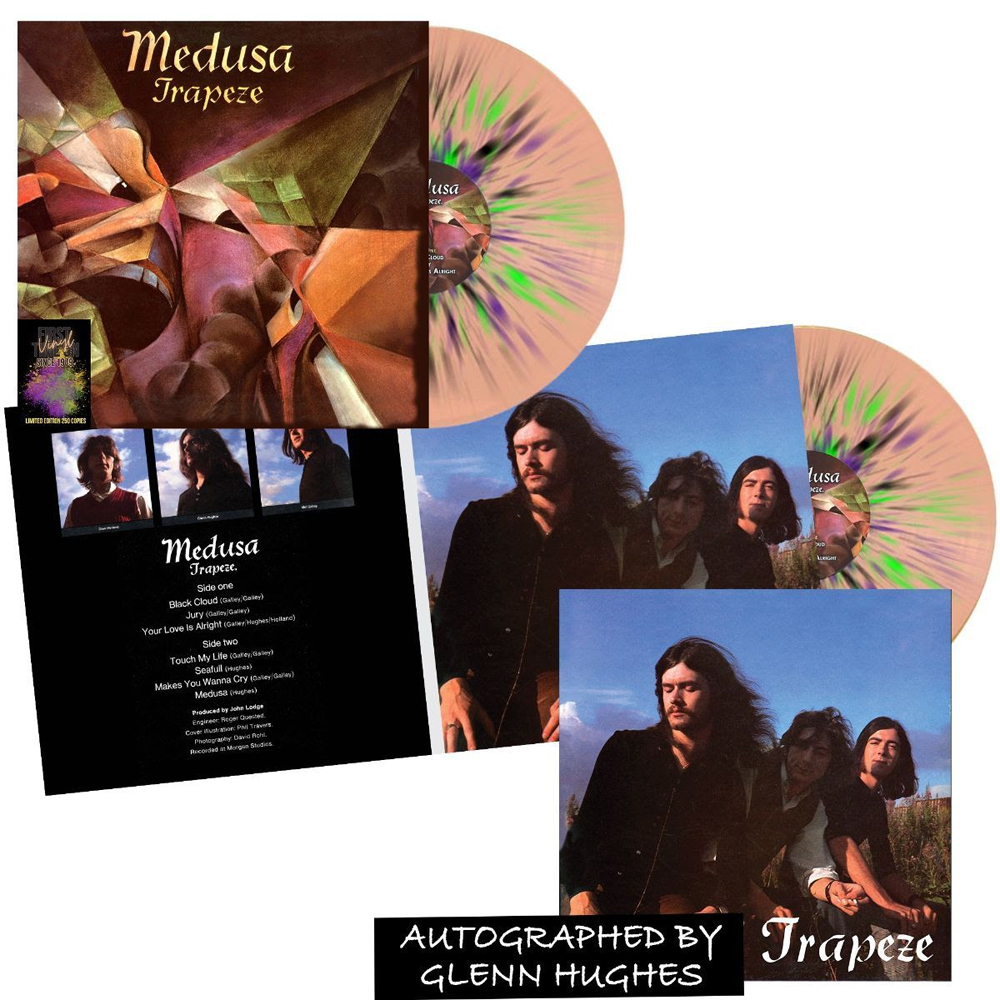 Deko Entertainment president, Bruce Pucciarello, enthuses about Glenn Hughes, "Tremendously influential but not fairly credited with blending funk, rock, and energy together. Trapeze showed us that Glenn Hughes was a monster in rock well before he moved on to DEEP PURPLE."
Tracklist - Medusa
SIDE A
"Black Cloud"
"Jury"
"Your Love Is Alright"
SIDE B
"Touch My Life"
"Seafull"
"Makes You Wanna Cry"
"Medusa"
Tracklist - You Are The Music...We're Just The Band
SIDE A
"Keepin' Time"
"Coast to Coast"
"What Is a Woman's Role"
"Way Back to the Bone"
SIDE B
"Feelin' So Much Better Now"
"Will Our Love End"
"You Are the Music"