DEEP PURPLE
Now What?!
Eagle Rock Entertainment - 2013
http://www.deep-purple.com





For the most part, let us just leave the fact that DEEP PURPLE is a "classic rock" band to the side when talking about this album.

Instead of repeating ad nauseum the age of the band, their songs etc., I find it more interesting to focus on this album as it stands on its own before the inevitable comparisons to Purple's rich musical past is brought into the conversation.

Now What?! was reportedly recorded with no rules as to the songwriting. In fact, the band along with producer Bob Ezrin are credited with having written each of the 11 tracks on the disc as one unit. I don't necessarily believe that it happened that way but what the lack of individual songwriting credits does show is that the songs themselves were the most important part of the process. And it shows when they turn out such a interesting collection of tracks.

I don't know if it was intended but Purple seemed to have a lot of thematic elements to the makeup of some of the songs here.

The opening track, "A Simple Song", felt like you were languidly floating on a slow lazy river without a care in the world at the beginning before it kicked things up a notch a blasts out of the speakers about 1:45 into the song.

There was the gothic old time horror movie vibe conjured up on the closing song "Vincent Price" (I loved the solo from guitarist Steve Morse) and "Blood from a Stone", in parts, had a cinematic noir thing going for it.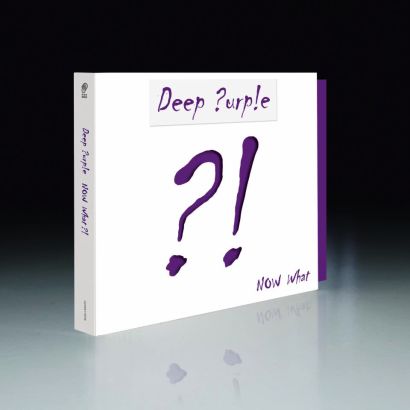 After so many years as a band and with this particular lineup in place, the band is seemless in their ability to blend their individual parts together. They can even make a song that would make other artists of their era sound like dirty old men sound classy. I'm speaking of "Bodyline", which has a quirky yet slinky intro and then manages to sound smoky hot throughout. A bit of credit goes to singer Ian Gillan for the refined and restrained way he puts in the vocal performance here.
But restraint isn't always called for and DEEP PURPLE shows how they ROCK on the speedy and highly caffeinated "Hell To Pay" and "Apres Vous". Another fast paced track was "Weirdistan" but sadly the song lived up to the first half of its title and I didn't really care for it.
While Gillan's vocals are always welcome, let us not forget that when they want, Purple can jam it out for an extensive time frame. While not as long as their concert instrumentals of course, the track "Uncommon Man" opens with a 3 minute study in wordless musical appreciation as it always feels cinematic, growing in intensity as it approaches those first lyrical lines.
"Above and Beyond" is dedicated to the late Jon Lord (if I have to explain who he is to Purple, there should be no reason you are reading this review in the first place). The album's dedication to Lord is "Souls, having touched, are forever entwined". It's also a lyric in the song here and Gillan's performance really stands out here.
The writing is outstanding on certain songs where lyrical passages really stood out to me. The entirety of "Out of Hand" is amazing. It is probably the best track on the disc and the rhythm of the song helps the lyrics stand out that much more.
The aformentioned "Apres Vous" includes this lyrical chestnut: "Things got looser as they tend to do / more liquified confusion / As we displayed our skills of romance / and the art of self delusion".
Finally there is the song "All the Time in the World". It's a track that features another outstanding solo from Steve Morse and the overall middling tempo of the song works well with lyrics like "I could have been a high- flying dealer / But i have no desire for speed / I could have been a wide receiver / But I've got everything I need."
I haven't forgotten Roger Glover, Ian Paice or Don Airey by the way. They are an essential part of the band as always and get their individual moments to shine throughout the disc. But what they and Gillan/Morse do best is show that you can make an album that harkens back to the glory days of the heavy rock 1970's and still manage to put out a wonderfully crafted disc that sounds as modern as possible all at the same time.
Now What?! may be the album title but it also serves as a coda to the album, because fans will be longing for the answer to that question because they are not going to wish the band would go away, they are definitely going to want more...and more.
4.5 Out Of 5.0