METAL CHURCH Live In Houston, Texas With Photos!


By Larry Petro, News Monkey
Saturday, February 22, 2014 @ 10:17 AM


| | | |
| --- | --- | --- |
| | | Ronny Munroe, Kurdt Vanderhoof And Company Destroy The Concert Pub North |
Another day, another kick ass concert at the Concert Pub North situated on the north side of Houston, Texas. I just can't say enough what an awseome job John Escamilla at Jetspeed Entertainment has done in bringing national acts to this venue. Of, course, the location of the club doesn't hurt my feelings any, especially considering how close the place is ot my home. It sure beats driving all the way into the heart of Houston for a show.

The show last night, February 21st was none other than metal veterans METAL CHURCH, out on the road in support of their latest release, Generation Nothing, a stellar disc and one that you should absolutely pick up if you haven't done so yet. In fact, you can purchase the CD in the KNAC.COM More Store right HERE.

Kicking things off on this fine metal evening were what I presumed to be a couple of local bands, OWL WITCH and their brand of original thrash metal, and SHAVING SUSIE, an odd name for a band, but nonetheless they also brought their A-game to the show and certainly whet the crowd's appetitie for what was to come.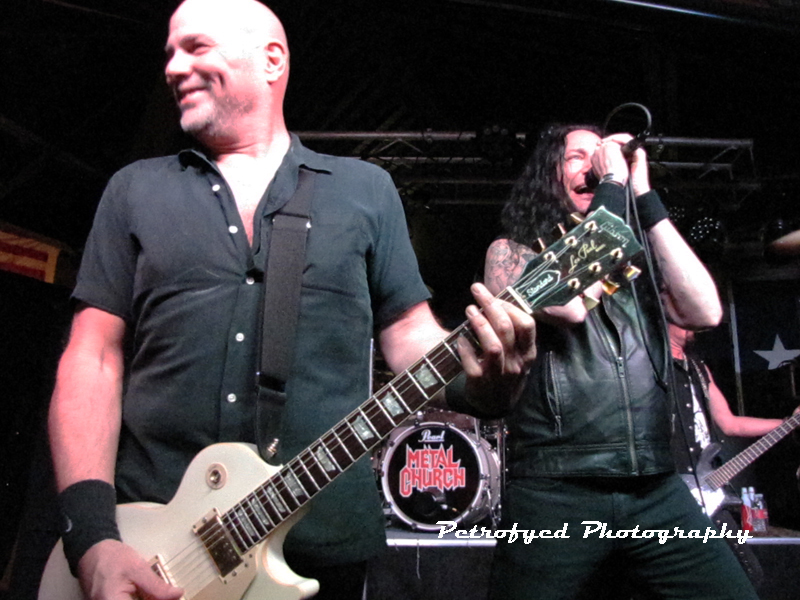 At precisely 11 p.m., the masters took the stage. To say that this show was intense would be a complete understatement and an insult to what took place. From the moment METAL CHURCH hit the stage and kicked off their hour and a half set with "Ton Of Bricks", from the bands 1986 album, The Dark, you could feel the electricity in the air as the crowd went absolutely fucking nuts! Now, originally the plan was for METAL CHURCH to record his show for an upcoming DVD release but shortly upon arrival I was told by a waitress at the club that the band had nixed the idea, allegedly due to inadequate lighting. What a bummer that was because with the show that was put on, this would have made one hell of a recording! The band was in absolute top form and the intensity of the crowd just seemed to fuel the band even more as they rolled through their selection of material, including such hits as "Fake Healer", "Badlands" and "Watch The Children Pray". Of course, the show would not be complete without some tracks from the new disc, and the band did not disappoint with their choices of the title song, "Generation Nothing" and "Dead City". Vocalist Ronny Munroe belted out the songs with incredible ease, even handling the bands back catalog without effort. Guitarists Kurdt Vanderhoof and Rick Van Zandt were impeccable, with bassist Steve Unger and drummer Jeff Plate locking down the backbeat of a show that didn't let up until the band finished up their set with a cover of DEEP PURPLE's "Highway Star", during which a lucky female fan, who had been crowd surfing, was surfed right up to the stage and was helped up by Munroe, who then proceeded to share the microphone with her for the duration of the song.
There was cetainly no lack of of craziness on the part of the crowd, with a huge mosh pit right smack in the middle of the floor area for most of the show, an event that caused me to have to vacate my position at the barricade or risk being crushed in the melee. I had never seen moshing at the Concert Pub, nor had I ever seen crowd surfing there, but it was so prevalent during this show that even Ronny himself got into the surfing act, being carried all the way to the back of the crowd before weaving his way through the fans back to the stage.
Within just a few short minutes following the show the entire band was out to sign autographs and take pictures and were some of the most hospitable rockers I have ever encountered! They were all in the greatest of spirits and it was quite evident how much this band truly appreciates its fans. Also a special thanks to their tour manager (you know who you are) for taking care of me for this show. Another top notch professional! The current US tour runs through mid-March so if they come anywhere near you, this is an absolute MUST see show!
Setlist:
"Ton Of Bricks"
"Start The Fire"
"Generation Nothing"
"The Dark"
"Light In The Dark"
"Fake Healer"
"Badlands"
"Gods Of Wrath"
"Dead City"
"Mirror Of Lies"
"Watch The Children Pray"
"Beyond The Black"
"Metal Church"
Encore:
"Human Factor"
"Highway Star" (DEEP PURPLE cover)
METAL CHURCH Remaining Tour Dates:
2.22 - OKC, OK - CHAMELEON ROOM
2.23 - DALLAS, TX - TREES
2.25 - INDIANAPOLIS, IN - THE HEADQUARTERS
2.26 - CHICAGO, IL - REGGIE'S
2.27 - CUDAHY, WI - METAL GRILL
2.28 - WESTLAND, MI - TOKEN LOUNGE
3.1 - TORONTO, ON - THE ROCK PILE EAST
3.2 - TORONTO, ON - THE ROCK PILE WEST
3.4 - BROOKLYN, NY - ST VITUS
3.5 - NEW CASTLE, DE - JB MCGINNES
3.6 - AMITYVILLE, NY - REVOLUTION BAR
3.7 - PITTSBURGH, PA - ALTAR BAR
3.8 - SPRINGFIELD, VA - EMPIRE
3.9 - CLEVELAND, OH - AGORA BALLROOOM
3.12 - LAKEWOOD, CO - ECKS SALOON
3.13 - SALT LAKE CITY, UTAH
3.14 - LAS VEGAS, NV - LVC
3.15 - RAMONA, CA - RAMONA MAINSTAGE
3.16 - SAN RAMON, CA - VINNIE'S
Check Out More Photos From The Show!
All Photos By Larry Petro/Petrofyed Photography




Please log in to view RANTS

If you don't have a username, click here to create an account!






BLACK LABEL SOCIETY, PRONG And OBITUARY In Portland, OR With Photos!

GEMINI SYNDROME 3rd Degree - The Raising

DORO/WARLOCK Triumph And Agony Live

BETWEEN WORLDS Between Worlds

ALCATRAZZ V

BEHEMOTH Sventevith (Storming Near the Baltic) Reissue

ALICE COOPER, ACE FREHLEY In Nashville, TN With Photos!

CARNIFEX Graveside Confessions

BLOOD RED THRONE Imperial Congregation

GUS G. Quantum Leap

BILLY IDOL The Roadside EP

AVATAR, MAGIC SWORD In Houston, TX With Photos!

APRIL WINE, MONKEYJUNK At The Ottawa Bluesfest

MINISTRY Moral Hygiene

CRYPTA Echoes Of The Soul

SKILLET In Houston, TX With Photos!

Immortal Axes: Guitars That Rock Book

IRON MAIDEN Senjutsu

GRINDER BLUES El Dos

GEORGE LYNCH Seamless Review #2

IN THIS MOMENT, BLACK VEIL BRIDES In Houston, TX With Photos!

WARLANDO Festival 2021 Photo Gallery

KISS In Ridgefield, WA With Photos!

LAURENNE/LOUHIMO The Reckoning

TREMONTI Marching In Time

ROCKLAHOMA 2021 Day 3 Photo Gallery

ROCKLAHOMA 2021 Day 2 Photo Gallery

ROCKLAHOMA 2021 Day 1 Photo Gallery

CARCASS Torn Arteries

SETH La Morsure de Christ

GEORGE LYNCH Seamless