MUSHROOMHEAD Live in Cleveland, With Photos!


By Geoff Ketler, Cleveland Contributor
Monday, March 17, 2014 @ 4:08 PM


| | | |
| --- | --- | --- |
| | | Sold Out Homecoming Show At The Agora |
Fresh off of their first Australian tour, MUSHROOMHEAD came home to a sold-out show at the Cleveland Agora. With a new album on deck and a new look on stage, the band was firing on all cylinders. These frequent hometown shows are sort of like reunions or get-togethers with friends. Everyone in attendance seems to know one another and the band members are always mingling before and after the show. There is always a plethora of local talent that open these shows. I guess when doors open at 6:30pm and MUSHROOMHEAD doesn't go on until midnight you have quite a few holes to fill. After the seemingly endless parade of opening acts, including a hip hop duo, it was finally time for the real reason we were all there.

MUSHROOMHEAD took the stage under black lights that made the new paint scheme on their masks glow. It was sick – be sure to check out the pics. For every tour; every string of dates, the band will do something new with their masks and attire. They will often change up the color schemes, tweak the designs, etc. to keep the shows fresh and keep the fans guessing. Drummer Steve "Skinny" Felton is always dreaming up new ideas to wow the masses.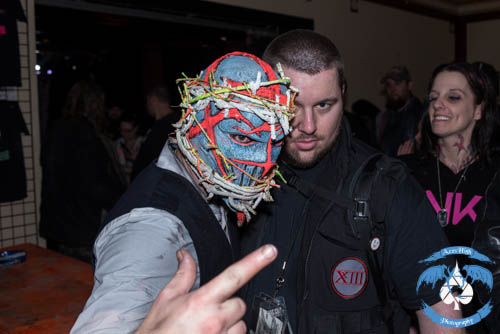 The set included a new song titled "We Are the Truth", off of their upcoming release The Righteous & The Butterfly, as well as the usual mixed bag of classics. The set flowed without a hitch and involved many stage antics including silly string, water drums, and a raft for crowd surfing. The crowd was typical of a MUSHROOMHEAD show. I have seen quite a few bands live and MUSHROOMHEAD by far has to have some the most dedicated and ravenous fans out there. I saw many MUSHROOMHEAD masks in the crowd as well as hoards of fans that had inked the band's logo on their body. Before the band ever took the stage a pit had already erupted in the center of the packed floor. It was a triumphant return for the band. There truly seems to be a lot of momentum building up with their new album dropping in May as well as a major tour announcement at the end of this month.
I always seem to leave a MUSHROOMHEAD show sore, tired, bruised, covered in confetti and silly string, and soaked with sweat. People ask me if it is worth it…I tell them; "Every single time".
Setlist (My best recollection of it)
"43"
"Sun Doesn't Rise"
"Kill Tomorrow"
"Save Us & Embrace the Ending"
"Bwomp"
"Simple Survival"
"The Dream is Over"
"Solitaire/Unraveling"
"We Are the Truth"
"Come On"
"Becoming Cold (216)"
"Never Let It Go"
"Empty Spaces" (PINK FLOYD Cover)
"Born of Desire"
Check out some photos from the show!
All Photos By Geoff Ketler/Steve Keller - Aces High Photography




Please log in to view RANTS

If you don't have a username, click here to create an account!