Y&T Live In Dallas, Texas


By Damian J. Cousins aka "The Maestro", Dallas Contributor
Sunday, March 23, 2014 @ 11:05 AM


| | | |
| --- | --- | --- |
| | | Dave Meniketti And Company Blow The Roof Off Of Trees In Dallas, Texas |
OK. Full disclosure: I was never much of a Y&T guy. Sure, they'd put out videos on MTV that I'd catch on Headbangers Ball, but other than "Summertime Girls" nothing really did it for me. Crazy, I know, but that's me in a nutshell. Fast forward to last June during an interview with singer-songwriter ALEXX CALISE, who is much younger than me, and she's telling me how amazing they are live, especially Dave Meniketti, leader and frontman/guitarist. Next thing I know the announcement comes up that they're playing WHERE? You guessed it, my home away from home, Trees Dallas (thanks so much for taking care of me for this show, Clint!), so I simply had to be there.

I knew I was in for a great night because the opening band HONEY rocked the balls off the place and I could feel it in the air. Plus, the sea of Y&T shirts from tours past showed me that the faithful had made their pilgrimage from far and wide. The band is celebrating 40 years of rockin' and rollin' and it was a party from start to finish. Now I had made an iTunes playlist based on some of the setlists I'd seen online and I was really starting to dig some of it, but those versions PALE in comparison to when Y&T plugs in and plays live. Man alive this band was incredible!! Leadoff number "Open Fire", "Mean Streak", "Don't Be Afraid Of The Dark" (which is rapidly becoming a favorite !), "Don't Stop Runnin'" (this one, too!!), and "Lonely Side Of Town" all took on lives of their own at Trees that night.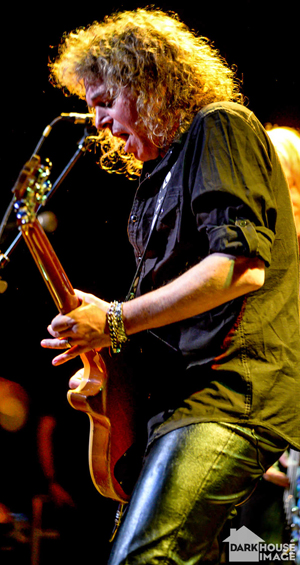 The three and four-part harmonies from bassist Brad Lang, guitarist John Nymann and drummer Mike Vanderhule mixed with Meniketti's still-amazing-after-all-these-years voice made these songs extra memorable for a first-timer like me, and to be honest, I don't think I've ever seen four guys having so much fun up on a stage; probably not since VAN HALEN live in 1991. Brad and John are the perfect complement to Dave and they are certainly a well-oiled machine with not a note out of place. If "Dirty Girl" started making the fans nuts then they were downright certifiable during "Midnight In Tokyo". Everywhere I looked I saw people singing along to every single word and just having a great fucking time at the rock show. I myself wasn't exactly keeping still either, caught up in the music of Y&T, jamming to the riffage of "Lipstick And Leather", the ferocity of "Black Tiger" and newer songs from 2010's Facemelter, like "Shine On" and "I Want Your Money", the latter of which is lyrically VERY telling about the times we live in.
It was back to 1987 for title track "Contagious" off that record, and I do remember liking this one back then with its big gang vocals on the choruses. Once again, it shredded live. Slow-jam instrumental "I'll Cry For You" turned into an eight-minute jam session that featured Meniketti completely going off on his guitar, coaxing notes from it that the late STEVIE RAY VAUGHAN would be proud of. When Brad stepped up to the mic and said, "Give it up for Dave Meniketti!" I thought the roof might cave in we were so friggin' loud! "Rescue Me" was another great one before they launched into my jam, "Summertime Girls". Fuck me running, those harmonies!! No backing tracks, no bullshit, Y&T play and sing everything, and it was never more evident than on this timeless classic. Also featuring one of my favorite bass lines, this was the high point of my night in a night FULL of high points, can you imagine??
The boys slowed things down one more time for "I Believe In You", Dave once again soloing his face off, and then closed out the regular set with "I'm Coming Home" and said goodnight. But we weren't dooooone…"Barroom Boogie" had the drinks raised high, then "Eyes Of A Stranger" and "Forever" finished up the evening with a double dose of galvanizing riff-rock. Two hours and change later I didn't want the night to end. Y&T live can easily put bands half their age to shame with their high-octane ass-kickin' show any night of the week, and you can take that to the bank. Oh, and by the way, I now own every single Y&T record that iTunes made available. My credit card got a workout when I got home. I cannot stress enough the big, gaping hole that will be left in your life if you fail to catch Y&T on this tour, friends. Don't say I didn't warn you!
Setlist:
"Open Fire"
"Lonely Side Of Town"
"Mean Streak"
"Don't Be Afraid Of The Dark"
"Don't Stop Runnin'"
"Dirty Girl"
"Midnight In Tokyo"
"Lipstick And Leather"
"Rhythm Or Not"
"Black Tiger"
"Winds Of Change"
"Shine On"
"I Want Your Money"
"Contagious"
"I'll Cry For You"
"Rescue Me"
"Summertime Girls"
"I Believe In You"
"I'm Coming Home"
Encore:
"Barroom Boogie"
"Eyes Of A Stranger"
"Forever"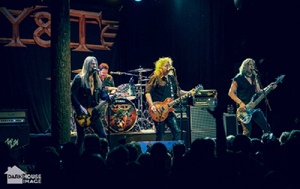 Photos By Darkhouse Image




Please log in to view RANTS

If you don't have a username, click here to create an account!