ANTI-MORTEM
New Southern (2014)
Nuclear Blast Records





I'll start off by saying that the more I listen to this album, the more I enjoy it. Fucking a lot!

Ok, so my preferences for metal are normally speed/thrash/death/power etc., but when I had a chance to review this first full length release by ANTI-MORTEM, who are from my home state of Oklahoma, I couldn't pass it up. From the very first notes played, I knew I was in for something good. I will have to say though that the music style was not what I expected with a band name like ANTI-MORTEM. That is until I saw the album cover. It all made sense after that.

The title New Southern really sums up the feel of the whole album; what the "In-Your-Face-New-Southern-Metal" sound is all about. This whole album is full of killer songs and awesome guitar work. From the opening track "Words Of Wisdom", which has some good tempo changes, to the final track "Jonesboro", that has a passionate yet heavy sound to it is sure to please the most finicky metal listeners. There are a couple songs that I would call "radio play" like "Black Heartbeat", but are still driven home with awesome guitar work and powerful vocals.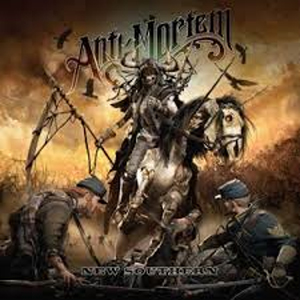 "I Get Along With The Devil" is by far my favorite song on the whole album. It has a style reminiscent of HELLYEAH, and a kick ass chorus: "I get along with the devil. Yeah! I get along… but I hate the mother fucker!" Fuckin' love it! If you buy this album for just one song, this is it.
"100% Pure American Rage" is another powerful song that also has a good video to go with it. This song reminds me a lot of early PANTERA. This is the most brutal song on the album, and it fuckin' rocks!
"Path To Pain" is another kick ass song that has a strong ARMORED SAINT sound and feel to it. Larado Romo's vocals on this song bear an uncanny resemblance to John Bush.
"Ride Of Your Life" and "Hate Automatic" really remind me of the band SENTENCED. I think it is Larado's vocals that do it, but both of these songs are charged full of energy that make you go back and listen to them over and over.
Considering how young these guys are, and that this is their first full length album, it was produced and mixed very well. Combine that with powerful vocals and killer guitar work and you have an album noteworthy of high praise. This album is as solid as it gets and the sound they put out makes it seem like they have been doing this a long time.
If you are a true metal fan, then you should definitely get this album because it kicks ass! If you are an Oklahoma metal fan then you should buy this album to support homegrown metal bands like this, AND because it kicks ass!
Note: The word "FUCK" and any derivative of it was used the appropriate amount of times on this album. Enjoy!
Track Listing:
"Words Of Wisdom"
"New Southern"
"100% Pure American Rage"
"Hate Automatic"
"Black Heartbeat"
"I Get Along With The Devil"
"Path To Pain"
"Wake Up"
"Ride Of Your Life"
"Stagnant Water"
"Truck Stop Special"
"Jonesboro"
Rating: 4.0 Out of 5.0

Preorder your copy of New Southern in the KNAC.COM More Store right HERE.