Jake E. Lee's RED DRAGON CARTEL Live In Ottawa


By Andrew Depedro, Ottawa Corespondent
Wednesday, April 23, 2014 @ 4:22 PM


| | | |
| --- | --- | --- |
| | | Band Treks Up To The Ottawa Badlands To Rock Obsession Live Lounge With BLU BONES And ADRYNALINE, April 9, 2014 |
It's not quite a proper review without a tale of drama leading to a build-up of anticipation towards the concert itself.

In this case, it was a toss-up between catching death metal legends BROKEN HOPE on their Best In Brutality tour at Mavericks and the return of legendary guitarist Jake E. Lee and his new band on the other end of town. My mind was made up for me when unspecified random vehicle issues broke the band's hopes of continuing with the tour up north. This left me with the opportunity to finally catch the man whose wild arpeggios which brought Ozzy Osbourne back from the brink on Bark At The Moon and The Ultimate Sin in the mid-80's as well as his own band BADLANDS later on.

First off were one of two opening bands taking the stage beforehand, starting with Toronto's BLU BONES. The sound system almost made lead singer Gord Prior sound like he was introducing his band as BLU BALLS at first; thankfully he was wearing his band's T-shirt which corrected my assumption that this was the worst-named band I've ever reviewed. And thankfully BLU BONES' mix of 70's-inspired punk/glam and 90's alt-rock made the small audience remember them for more than just a name. As it stood, the band have made their own name for the past 20+ years mostly as early 90's AOR metallers HAREM SCAREM before they went through numerous line-up changes and musical transitions before settling with their current incarnation. That must explain why their bio has lots of large gaps in between then; it couldn't keep up with the frequent changes. Regardless, they put on a performance that was energetic, flawless and rife full of hook-laden guitar. And frontman Gord played up the audience in his best Bowie-meets-Weiland swagger on songs like "Everyone Rise", "Something's Gonna Give" and the closing number, "Real World", about his less than memorable Catholic high school experiences. The show only ended when he got down on his knees and delivered an impassioned prayer of forgiveness before passing out. A tad dramatic but after two decades of elusive fame maybe some divine intervention could just be what BLU BONES could use at this point after baring all from their set that night.

https://myspace.com/blubones

Co-headliners and local rockers ADRYNALINE may not have been able to boast about being the most original-sounding band that night as their set was entirely covers but they could boast about having the best collection of covers. Starting with their rendition of "Lay Down" by PRIESTESS, the five-piece band fronted by the uber-hot (and perhaps modest) Just Kim snagged the audience's attention and had them on their feet within seconds. Their own addition to their covers according to their bio included "syncopations, a little blues, some showmanship and brute force" which were all present in their further renditions of classic rockers such as "Perfect Strangers", "Shoot To Thrill", "Heaven And Hell" and even Lee Aaron's "Metal Queen". Their closing number would be a riveting cover of "Run To The Hills" which definitely exemplified the brute force tenfold with Kim's soaring vocals on the song's climax. Imagine if ADRYNALINE ever went the same route as HALESTORM and threw in some originals in theietlist every now and then. They'd be even more of a force to be reckoned with.

https://www.facebook.com/Adrynaline

With that said, I hope I wasn't coming off as being too hard on ADRYNALINE for their setlist being comprised of covers especially since the headliners also had a few of their own covers in between their originals. In this case though, RED DRAGON CARTEL have a legacy going back some 30 years with two of their particular members with not only the aforementioned Jake E. Lee handling his six-stringed duties but also frontman Darren James Smith whose previous band stints included performing with Toronto groove thrashers WARMACHINE but also with the aforementioned HAREM SCAREM. Yep, much like 3/4's of BLU BONES at one point.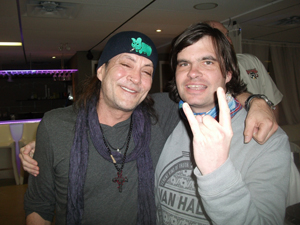 But Darren and Jake (along with bassist Ronnie Mancuso and drummer Jonas Fairley) aren't just here to relive the past but also to forge onward into the future. Hence why the show started with a blistering rendition of Ozzy's "The Ultimate Sin", which showcased Darren's broad vocal range and Jake's virtuoso playing before launching into two RDC originals, namely "Deceived" and the very slyly-titled "War Machine". The songs were tight, fast-driven and neatly tied together with Jake E. Lee's trademark riffs from which they were written around along with Darren's powerful and soul-filled vocals laced with gritty undertones. And clearly Darren had picked up lots of inspiration from Jake's predecessors in the vocal delivery department when he took on the BADLANDS classics such as "Highwire", "In A Dream" and the bluesy-sounding "Sun Red Sun", channeling the soul-bearing spirit of late frontman Ray Gillen in his delivery. Not to be outdone in the vocal stakes, he traded places with Jonas Fairley during renditions of "Rock 'N Roll Rebel" and "Shine On". Not bad for a once-struggling musician straight outta Oshawa, Ontario who earlier this year had made headlines for all the wrong reasons when his debut with RDC resulted in a less than impressive performance due to a combination of hectic recording schedules (their debut album was recorded in four days with sessions going on until 4 AM according to close sources) coupled with his then-first attempt at singing in front of a live crowd as opposed to being behind a drumkit for most of his performing career. You can only get better after your first performance through tenacity and lots of practice so thankfully since then Jake kept Darren on for the remainder of RDC's first nationwide club tour. Since their debut album was released in late February, the band have landed lots of European festival tour dates for the summer season with appearances at the UK's Download and Italy's Gods Of Metal among them. And judging by the fans' reception that night they also agreed that Darren and Jake possess a solid chemistry in this Cartel and that breaking it would indeed be bad.
In summary, stand up, believe, don't be deceived by an off-night and get high on a new thing in the form of Jake E. Lee's crystal red persuasion at a stage near you.
https://www.facebook.com/reddragoncartel
Setlist:
"The Ultimate Sin"
"Deceived"
"War Machine"
"Highwire"
"Rock 'N Roll Rebel"
"Shine On"
"Shout It Out"
"In A Dream"
"Rumblin' Train"
"Sun Red Sun"
"Feeder"
"Bark At The Moon"




Please log in to view RANTS

If you don't have a username, click here to create an account!






TRIVIUM, AVATAR, LIGHT THE TORCH In Portland, OR Photo Gallery

DEVILDRIVER, JINJER In Cleveland, OH With Photos!

CORROSION OF CONFORMITY In Dublin, Ireland

CAULDRON New Gods

STEVE GRIMMETT'S GRIM REAPER In Ottawa, Canada

JUDAS PRIEST, KREATOR In Quito, Ecuador

CAL JAM '18 Photo Gallery

BLOODBATH The Arrow of Satan Is Drawn

STRIKER Play To Win

NIGHT RANGER "Dawn Of Madness" Show In Waukegan, IL

BUTCHER BABIES, KOBRA AND THE LOTUS, SKARLETT RIOT, IGNEA, MAERTYRIUM, In Siegburg, Germany

HOUSE OF LORDS In New Bedford, MA

GRETA VAN FLEET Anthem Of The Peaceful Army

IMPELLITTERI The Nature Of The Beast

ALICE COOPER In Houston Photo Gallery

ICARUS WITCH Goodbye Cruel World

TARJA, STRATOVARIUS, SERPENTYNE In Cologne, Germany

CLUTCH, SEVENDUST, TYLER BRYANT & THE SHAKEDOWN In Portland, OR With Photos!

ACCEPT In Houston, TX With Photos!

U.D.O. Steelfactory

SKULL FIST Way Of The Road

SOULFLY Ritual

ANTHRAX State of Euphoria 30th Anniversary Deluxe Edition

FIFTH ANGEL The Third Secret

STEVE GRIMMETT'S GRIM REAPER In New Bedford, MA

ANAAL NATHRAKH A New Kind of Horror

PRIMAL FEAR Apocalypse

BEHEMOTH I Loved You At Your Darkest

DORO Forever Warriors, Forever United

SLASH FEATURING MYLES KENNEDY AND THE CONSPIRATORS In Houston, TX Photo Gallery

BILLY MORRIS AND THE SUNSET STRIP Holdin' All The Aces

VINCE NEIL In Houston, TX Photo Gallery

DEE SNIDER For The Love Of Metal

UNLEASH THE ARCHERS, STRIKER, HELION PRIME In Houston, TX W/Photos!

DREAM CHILD Until Death Do We Meet Again

SCORPIONS, QUEENSRYCHE In Tampa, FL With Photos!

HUMBLE PIE Live At The Ottawa CityFolk Festival

BEHEMOTH Album Listening Party In Los Angeles For I Loved You At Your Darkest

THE DEAD DAISIES, HOOKERS 'N BLOW In Ottawa, Canada With Photos!

DRAGONLORD Dominion

STONE BROKEN Ain't Always Easy

BRANT BJORK Mankind Woman

KORPIKLAANI Kulkija

BRAINSTORM Midnight Ghost

SLEAZY WAY OUT, INSUFFICIENT FUNDS In Ottawa, Canada

DEEP PURPLE, JUDAS PRIEST In Jacksonville, FL W/Photos!

HELLOWEEN In Worcester, MA With Photos!

RED TIGER Evolution