CONQUERING DYSTOPIA
Conquering Dystopia
Self Released





He's one of the most well-known guitarists of the era; he's in every guitar magazine, he's emulated by every fledgling guitarist with a web-cam and YouTube account, and he's sought after for endorsements or to give clinics more than any other guitarist in the metal world right now. He's Jeff Loomis.

Previously he was the in-your-face lead guitarist of metal legends NEVERMORE, but Loomis trekked out on his own and released two solo CDs for Century Media records, Zero Order Phase and Plains Of Oblivion. Those releases firmly cemented him as a trailblazer amongst shredders.

Now, he returns with a new band called CONQUERING DYSTOPIA. He has partnered with fellow guitarist Keith Merrow to produce twelve tracks of blistering instrumental metal via their self-titled debut. Originally a crowd-funded project that was independently released, the album garnered so much attention that a deal was negotiated with Century Media for a July 8th release on vinyl.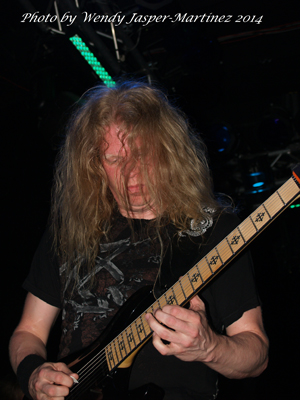 The band also boasts veteran players Alex Webster of CANNIBAL CORPSE on bass and Alex Rudlinger on drums. The foursome have just wrapped up a tour with instrumental contemporaries ANIMALS AS LEADERS.
Mixed at Audiohammer Studios by Mark Lewis, the albums gets off to a screeching start with opener "Prelude To Obliteration". Syncopation is smooth as we roll right into "Tethys" and then on to what is probably the album's most recognized tune, "Ashes Of Lesser Men". This particular tune is a staple of the band's live show and is frenzied in its energy. "Doomsday Clock" is up next and then we segway right into "Inexhaustible Savagery".
"Totalitarian Sphere" features a guest solo by THE HAUNTED's Ola Englund and sets the pace for the rest of the CD. "Lachrymose" and "Autarch", which features THE FACELESS guitarist Wes Hauch, are both haunting, yet riveting in their intensity.
"Nuclear Justice", "Kufra At Dusk" and "Resurrection In Black" will melt your face off with the lightning speed exhibited by Loomis' frenetic, seven- stringed mastery. Merrow has also been hailed as one of the most dexterous players in the genre and he and Loomis are sheer perfection with their blend of technical metal and instrumental virtuosity.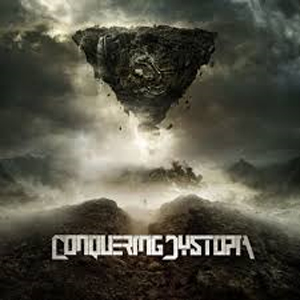 Closing out this masterpiece is "Destroyer Of Dreams" and this song is as magical recorded as it is live. Just hearing it will make you anticipate the moment that this band comes through your town and you can witness them for yourself.
CONQUERING DYSTOPIA will conquer fans worldwide. They have already amassed such a following that it is highly anticipated that we will see them on the road a lot over the course of the next year. In order to keep up with what they are doing, you can find them at www.facebook.com/conqueringdystopia or on their band site, www.conqueringdystopia.com. 5.0 Out Of 5.0
Pick up a copy of Conquering Dystopia in the KNAC.COM More Store right HERE