VHF Very High Frequency


By Larry Petro, News Monkey
Monday, July 21, 2014 @ 9:15 AM


| | | |
| --- | --- | --- |
| | | |
Up for review today is the debut EP from the group VHF. Consisting of members Joel Hoekstra (NIGHT RANGER, TRANS-SIBERIAN ORCHESTRA) on guitars, Tony Franklin (THE FIRM, BLUE MURDER) on bass and Todd "Vinny" Vinciguerra on drums, whose last names nicely make up the VHF moniker, this CD takes on the appearance of a big jam session.

The creation of this CD is somewhat unique from how others are done in that all the tracks were started with drum arrangements by Vinciguerra. Once he's laid the foundation, it is passed off to Franklin, then Hoekstra for them to add their pieces, with each contributor able to add what they feel the song needs. Complete artistic freedom reigns supreme here and the end result is 7 tracks that all have a different sound but yet together is a very cohesive piece of work.

The EP starts with the track called "Shattered Insomnia", which is a slight misnomer because with its Joe Satriani "Surfing With The Alien" vibe this track will certainly not put you to sleep. It's here that we also get our first taste of guitarist Hoekstra's skill set and it's quite impressive. Given the openendedness to do whatever he likes, he shines on this one and set the tone for the entire EP. His melodies and solos are exquisite and the listener can picture him playing these songs with grace and ease, never breaking a sweat. One has to wonder how long it will be before Hoekstra decides to release a solo CD.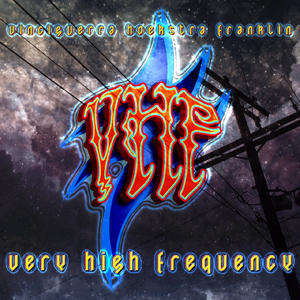 The EP for all intents and purposes is an instrumental piece and though there is one track ("Backside Of Your Eyes") that does have some vocal parts, lyrics are not the focus of this project, the musical content is. From the first song/video for "Whispers Of The Soul" with it's Middle Eastern, psychedelic sound, to "Suspended Animation" with it's shades of flamenco grooves, there is something everyone can appreciate about this release.
The EP finishes off with the bass-centric track "All Is Within". Bassist Franklin is front and center here and it's very easy to see why he has earned the nickname "The Fretless Monster". His playing is smooth and fluid and once again done effortlessly.
The production and sound mix of the CD is top notch. Everything is so crisp and clear that the listener can easily pick out a single instrument and follow it throughout any track you choose. This CD is a must have for any afficionado of fine musical talent. From the steady backbeat of Vinciguerra's drum foundations to Hoekstra's ripping solos and Franklin's deep bass grooves, you can't miss with this one! Very High Frequency should be played at 'very high volume'!
4.7 Out Of 5.0
Pick up your copy of Very High Frequency in the KNAC.COM More Store right HERE.
Check out the video for "Whispers Of The Soul" right HERE.




Please log in to view RANTS

If you don't have a username, click here to create an account!