Inaugural ALTERNATIVE PRESS MUSIC AWARDS Recap


By Geoff Ketler, Cleveland Contributor
Monday, July 28, 2014 @ 5:54 PM


| | | |
| --- | --- | --- |
| | | Held At The Rock N' Roll Hall Of Fame And Voinovich Bicentennial Park |
Cleveland, Ohio has been in the news all summer long. It all started when the Cleveland Browns drafted Johnny Football, followed by the announcement that the Republican National Committee was making Cleveland the site of their 2016 convention, and then there was Lebron James' decision to come home. What also managed to creep into the headlines was the first ever Alternative Press Music Awards (APMAs). With the increased awareness of the Revolver Golden Gods Awards and the perpetual slide of the Grammy's into irrelevancy, it was time for a new awards ceremony where the winners were chosen directly by the fans.

The day started with a red carpet ceremony right out in front of the Rock n' Roll Hall of Fame. I headed to the media tent to grab my ticket and since we had time to kill, decided to go into the rock hall to see what was new. It had been several years since I had been there. Admittance to the rock hall was included with the ceremony ticket, however once I got inside I was immediately informed that the museum would be closing in ten minutes. This seemed silly since media check in wasn't until 3:30pm and my phone read 3:50pm. So back outside I went to wait for the artists to arrive at the red carpet. I managed to post up near the entrance where I could see their arrival before they headed onto the carpet. As the artists began to poor in, it quickly occurred to me that I had no clue who most of them were. Amongst the endless parade of what must have been droves of bands from Warped Tour were a few stars peppered in. ICE T arrived with a bulldog on a leash in each hand. ICE T and his crew from BODY COUNT walked right in, skipped the line that had been backing up, and headed straight out onto the red carpet to cheers from the fans that had gathered. I managed to catch glimpses of THE MISFITS, Slash, Billy Corgan, KORN and AEROSMITH guitarist Joe Perry before they headed onto the carpet. They all received the same treatment as ICE T - there was no waiting and everyone made way for their entrances to the red carpet.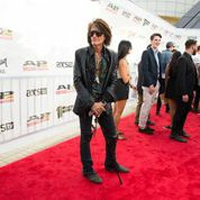 While waiting to see who would be pulling up next, I was approached by Cristian Machado, vocalist of ILL NINO. He was waiting for the rest of his bandmates to arrive and wanted to chat. We talked about ILL NINO's new album that dropped July 22nd, Till Death, La Familia and touring with the Mayhem Festival as well as playing off-dates with Cleveland's own MUSHROOMHEAD. Since then I picked up the new album and let me tell you, it is brutal. It was great catching up with Cristian.
Joe Perry of AEROSMITH fame was one of the last artists to arrive. He stopped for a few autographs and even took a selfie on the way in. With the aid of a cane, Joe crept out onto the carpet to the sound of crickets. It was kind of sad really. The predominately young audience that enveloped the red carpet was there to scream for their favorite alternative punk, emo, pop bands, but here was Joe Perry, an absolute legend as someone who shaped the rock music landscape, and these kids had no idea who he was. This is proof of the generational gap between me and the majority of those in attendance. I commend the APMAs for attempting to bridge that gap by inviting Joe Perry, THE MISFITS, and giving awards to Billy Corgan, Slash, and Joan Jett. I cut my teeth listening to music that was written several years or even decades before I was born. I can only hope that someday these youngsters will learn to appreciate the artists that were precursors to their favorite bands of today.
Once the red carpet ceremony was wrapped up the mob of people headed down the street and out onto the peninsula of land on Lake Erie known as Voinovich Bicentennial Park just north east of the Rock n' Roll Hall of Fame. It was an absolutely beautiful evening for the ceremony and since the red carpet ran late, things got underway immediately. The event was emceed by BLINK 182's Mark Hoppus and featured the Cleveland Youth Orchestra center stage, performing intros, outros, and sometimes along with some of the other performers. I felt like the orchestra gave everything a classier feel, but sometimes it was just a bit out of place. The stage was divided in half with large banners covering either side, allowing bands to load in without getting noticed. The performances would alternate using each side of the stage to allow for a smooth transition between presenters/performers/speeches. As the next band was announced, one of the banners would rise up and the performance would begin. I really liked this idea since the ceremony was being broadcasted live on AXStv, they really couldn't afford any dead air time.
I found the performances to be rather diverse, which was interesting because it really seemed like it was the same six or seven bands (or their members) that were nominees for every single award. FALLING IN REVERSE got things rolling with a cover of COOLIO's "Gansta's Paradise", which featured an appearance by COOLIO himself. Doing covers seemed to be a theme, which was also puzzling. I mean if I was a band performing in front of 6,000 people and broadcasted live across the country, I think I would want everyone to hear my own material, but the trend continued. ASKING ALEXANDRIA covered DURAN DURAN's "Hungry Like A Wolf" which included guest vocals by Jonathan Davis of KORN and later on Joan Jett did a ROLLING STONES cover that featured Slash on guitar. Honestly, my favorite performance of the night would have to go to BODY COUNT. The band fronted by ICE T started off with "There Goes the Neighborhood" and finished up with "Talk Shit, Get Shot" that featured a drum solo and an extended guitar solo. I am pretty sure that they're attitude and lyrical themes scared the hell out of most people in attendance. The crowd was shocked more than anything and I just felt that they were the only band up there that just brought it, unapologetically.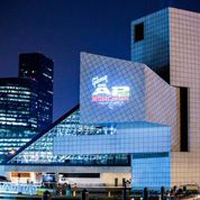 Since this was the first ever APMAs, I kind of expected plenty of miscues and screw ups, but for the most part, the night went on smoothly. The most noticeable hiccup was the missing envelope. The first award was for "Best Vocalist" and the presenters were unable to locate the envelope with the winner in it. Everyone had a nice laugh and quickly a stage hand made his way up there with the envelope. No other envelopes went missing. Like I mentioned before, there were several awards given out to what seemed like the same bands over and over, if you are interested in seeing the full list of winners, check the link at the end of this article, otherwise I am going to hit on a few of them. The Vanguard Award was presented to Billy Corgan of SMASHING PUMPKINS, who then made a pretty memorable speech. Billy cited the fact that a long time ago he decided to try to push buttons with his music instead of writing music for the fans. He also mentioned that it is okay to make money; that music is, in fact, a career. I think this was a direct hit on those who constantly paint artists who make it big as "sellouts". His speech was short and sweet and really got me jacked up. Other notable awards given were the Icon Award and Guitar Legend Award given to Joan Jett and Slash respectively.
Before I end this recap I want to mention the food. The organizers of the event assembled a bunch of the city's best gourmet food trucks to serve as the food and drink vendors. I had a beef brisket sandwich that was just amazing and fresh cut fries with a truffle sauce that made me weak in the knees. It was a nice touch that interjected the tastes of Cleveland and provided dozens of choices instead of the same old six-dollar hotdog.
Altogether it was a very interesting evening. I think having the awards in Cleveland, the hometown of Alternative Press Magazine, was a nice touch given the city's connections to music. I think with time this ceremony will grow and bigger names will roll in in bigger numbers. The performances were well received and Mark Hoppus did a great job as the host. I heard through the grapevine that Alternative Press has a three year deal to continue this at the Rock n' Roll Hall of Fame. If this is true I hope to attend again next year. For more details on all of the winners, as well as videos of the performances check the link below.
http://www.altpress.com/apmas




Please log in to view RANTS

If you don't have a username, click here to create an account!