Blazing Haley
Mas Chingon


By Frank Meyer, Contributing Editor
Thursday, August 22, 2002 @ 10:41 PM


| | | |
| --- | --- | --- |
| | | (Road To Ruin Records) |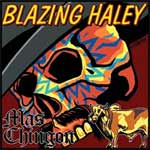 Taking their cue from the punk-a-billy sounds of Reverend Horton Heat and the rootsy hard rock leanings of Jason and the Scorchers, Santa Barbara's Blazing Haley raise some serious hell on their sophomore effort, Mas Chingon. Mixing equal bits of rock-a-billy rhythms, OC punk attitude and heavy metal riffing, Blazing Haley have been carving themselves a nice little niche in the California music scene by playing all the hot rod rallies and car shows along the coast and making some scene stealing appearances on the Warped Tour and Hootenanny. On Mas Chingon, the band makes a serious case for being not only the baddest band in the land, but one of the best too. On tracks like "Time To Burn (Straight To Hell)" and "Never Again," Blazing Haley -- named after a fire that engulfed the singer's home on Haley Street in their hometown – recall the best years of Social Distortion and/or X, muscular rock n' roll with plenty of country leanings and twang. Vocalist Matt Armor shines throughout this disc, crooning the blues and belting out power rock like he was born with a pair of horns and a pitchfork. On "A Date With Ivy," the band's ode to the Cramp's hot and nasty female axe-slinger, Armor out Lux's Lux Interior with some deep, bassy howling that puts all other rock-a-billy frontmen to shame. Guitarist Brian Lakey also shines on this number (as well as "Another Time and Place" and, heck, just about every other cut on this sweet baby), as he mixes typical blues-based rock-a-billy histrionics with Angus Young style hard rock pyrotechnics. The result is a super-charged six-string attack that starts at the blues and finishes somewhere around '70s arena rock. The rhythm section of drummer Chris Story and stand-up bassist Dave Kruger pushes all this along with massive power and authority, giving every tune a runaway freight train kinda vibe. This stuff may be a bit bluesy sounding, but you sure can bang yer heard to it, too!!!! Yup, fightin', fuckin' and drinkin'. They are all discussed here in great detail. "El Dorado" is a tale of a road trip gone haywire that results in all of the above sins. "Runaway Truck Ramp Love" is a sleazy number that hails the joys of roadside romance and truck stop amour. "Hellbilly '58" cruises along with a sexy beat that's sure to get the ladies asses a-shakin', while "They Get Bad Fast" is one for the boys to smash some skulls to. So it's all here, folks, everything you could want out of a rock n' roll record and then some and certainly the best thing to come out of Santa Barbara since… well… EVER!!! Nerf Herder and Ugly Kid Joe must be rolling in their graves… oh yeah, I forgot, they're not actually dead yet… whatever… * * * *




Please log in to view RANTS

If you don't have a username, click here to create an account!





WARRIOR SOUL Back On The Lash

LOU DIBELLO Heat Wave

DRIVE IDEFI (A Tribute To David Earl Taylor And Rick Chavez)

Dimevison 2: Roll With It Or Get Rolled Over

TARJA From Spirits And Ghosts (Score For A Dark Christmas)

BEYOND THE BLACK, KOBRA AND THE LOTUS, BEAST IN BLACK In Cologne, Germany With Photos!

ATROPHY Live In Ottawa, Canada With Photos!

NIGHT LEGION Night Legion

IRON SAVIOR Reforged- Riding On Fire

BUTCHER BABIES Lilith

GREAT WHITE In Houston, TX With Photos!

ARCH ENEMY, TRIVIUM In Portland, OR With Photos!

QUEENSRYCHE In St. Petersburg, FL With Photos!

SORCERER The Crowning Of The Fire King

SWEET & LYNCH Unified

MORBID ANGEL Kingdoms Disdained

BABYLON A.D. Revelation Highway

RIOT Through The Storm Reissue

SAMMY HAGAR AND THE CIRCLE In Clearwater, FL With Photos!

PRIMAL FEAR Best Of Fear

GWAR, U.S. BASTARDS, HE IS LEGEND, GHOUL In Portland, OR With Photos!

ALARM FOR WAR Enemies Of The State