Alex Figueroa.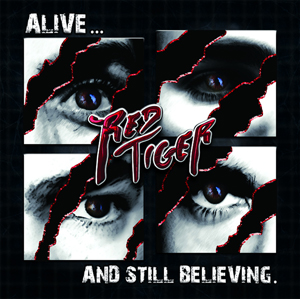 Song after song the listener is exposed to the varying influences the band uses to create their own sound. Bands like KISS, SCORPIONS, RUSH and IRON MAIDEN show through on tunes like "Overcrowded Emptiness", the only track on the CD sung by someone other than Latu, that being drummer Figueroa, with its blistering guitar solo, and "Free". Once again, take every element from 80's hard rock and metal, roll it all into a nice ball of musical content and you have what RED TIGER is all about. OF course, none CD from that bygone era would be complete without at least one ballad, and Alive...And Still Believing follows that formula with 2 tracks out of the 12 being of the ballad variety, "Forever Young" and "Until".
Being from Puerto Rico originally there would obviously be a touch of Latin influence in their music, and true to form, the majority of the band's first release was done in Spanish (8 of 14 songs). So, it would be reasonable to assume that there might be a song or two on this new release in Spanish as well. There are 3 on this CD, "Tendran Que Escucharme", "No Hay Razon" and "Prision De Amor". It doesn't matter what language is being used because music is the universal language, and in this case you don't have to be bilingual to know that these songs kick ass, it shows in the music.
The CD closes out with the title track, "Alive And Still Believing", and just when you thought you were done being surprised, RED TIGER pulls a couple more rabbits out of the hat. In addition to Latu's great, melodic vocals, the listener is treated to some nice incorporation in the arrangement, like the inclusion of piano, acoustical guitar and orchestral elements into the mix which combine to provide the fullest sound production possible.
From a production standpoint, Alive...And Still Believing was produced by the band themselves and judging from the output, they do know what they're doing! This CD has been in my player pretty solid since it was received and once you hear it, you'll become hooked as well.
So, if you have been looking for a new band that carries the hard rock and heavy metal flame into a new generation, look no further, RED TIGER is it. Congrats RED TIGER, Alive...And Still Believing has just made my Top Ten list for 2014 releases!
4.9 Out Of 5.0
www.redtigermusic.com
www.reverbnation.com/redtigermusic
www.facebook.com/redtigermusic