Raging Slab
(pronounced eat-shit)


By Frank Meyer, Contributing Editor
Monday, September 16, 2002 @ 3:56 PM


| | | |
| --- | --- | --- |
| | | (Tee Pee Records) |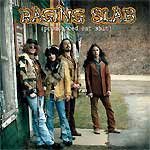 Those swamp rock, dirt metal merchants that call themselves Raging Slab are back with yet another ass-load of truck drivin', beer swilin', gut punchin' boogie blues hard rock and the party still rages on. Kicking around since the mid'80s, and with enough albums to prove it, Slab has basically revolved around the husband and wife guitar team of Greg Stryempka and Elyse Steinman (him of lead vox, and her on slide) and features Alec Morten on bass and Rob Cournoyer on drums. Pronounced eat-shit is the second of their "comeback" albums after a long forced hiatus due to legal problems with their former major label. 2000's The Dealer was not only a return to form for the band that helped inspire the stoner rock and southern metal movements but arguably their best effort yet. If you're not familiar with these Noo Yawk City roughnecks and ain't sure what to make of the name, one look at the cover of (pronounced eat-shit) will tell you exactly where they're coming from, the cover is a dead-on recreation the classic (pronounced leh-'nerd skin-'nerd ). So there you go. Southern rock, boogie blues, a little soul, a lotta riffs. Raging Slab. Thirteen songs deep, (pronounced eat-shit) is meaty, moodier batch of tunes. The riffs are still heavy and the volume is up, but the lyrics are darker and the tone is smokier, less obvious, with more space. This is their blues album. If The Dealer was their Deguello then this is their Tejas. Know what I'm sayin'? And these cats do not take the easy route. I mean, shit, who the hell opens their album with a Todd Rundgren song ("Little Red Lights") slowed down to a sludge pace and burning with evil slide guitar? It's a bold move and one that pays off (thank God!). Tracks like "Boogalooser" and "Miss Delicious" grind with hips a mile wide and strut like a two dollar whore, revealing images of Humble Pie, Montrose, and the almighty ZZ Top. "Black Bell" features some tasty Stevie Wonder "Superstition"-style keyboards and a slinky Aero-boogie groove. But it's not all swamp rock here either, kids. Nope, they got headbangin' riffs for days… "Chrome Won't Get You Home" could give Fu Manchu a run for their money and "Hell Yawns Before Mine" just plains slams. If you dig Nashville Pussy and don't know Raging Slab, yer missin' the boat here, partner… "Ruby" is a ballad dedicated to the late backup singer of Black Oak Arkansas Miss Ruby Starr and is sure to make even badass ol' Jim Dandy shed a tear or two. In fact, it's the ballads that make this band stand head and shoulders above their peers. They know how to rock, and rock they do, but more importantly, they know how to roll. "Shake What You Can" is pure Zeppelin cock-strut by way of the Black Crowes' white R&B and "Bury Me Deep" (featuring Elsya on lead vocals!) sounds like Sonic Youth if they grew up in the Louisiana delta. The space boogie jam "Dry Your Eyes" is another highlight, with it's tubular guitar riff and harmony leads, it's a strange and wonderful trip and as truly psychedelic as rock music gets these days. All in all, a deeper, weirder journey for this always great band and a treat for longtime fans. This will likely be a bitter pill for the average modern alternative rock/nu-metal fan, but I have a feeling the Slabbers don't give a fuck. This is a band that's clearly looking at the big picture -- they're making albums, not just singles. For a first time listener, this might be a trippier place to start than some of their other releases, but if you like your rock hard and bluesy, than it's as good a place to begin as any. Just one more fine album in the catalog for this husband and wife team, now on to cookin' dinner and cleanin' up the front yard!!! * * * *




Please log in to view RANTS

If you don't have a username, click here to create an account!






METAL CHURCH Damned If You Do

RAZOR In Ottawa, Canada

AMORIELLO Amoriello

DOOM SIDE OF THE MOON In Austin, TX

METALLICA, JIM BREUER In Portland, OR With Photos!

WARKINGS Reborn

URIAH HEEP Living The Dream

MONUMENTS Phronesis

2018 AFTERSHOCK Festival Photo Gallery 2

2018 AFTERSHOCK Festival Photo Gallery 1

TED NUGENT The Music Made Me Do It

FIVE FINGER DEATH PUNCH In Portland Photo Gallery

GHOST In Inglewood, CA With Photos!

ASHES OF ARES Well Of Souls

STRIKER, SKULL FIST, NO RESPITE In Essen, Germany With Photos!

UNEARTH Extinction(s)

WITHERFALL A Prelude To Sorrow

ARCHITECTS Holy Hell

RED DRAGON CARTEL Patina

ARTILLERY The Face of Fear

REVOCATION The Outer Ones

CATTLE DECAPITATION Medium Rarities

ARIA Proklyate Morey (Curse of the Seas)

BRITISH LION, CONEY HATCH In Ottawa, Canada

SUNFLOWER DEAD C O M A

SURF CITY BLITZ In California Photo Gallery

TRIVIUM, AVATAR, LIGHT THE TORCH In Portland, OR Photo Gallery

DEVILDRIVER, JINJER In Cleveland, OH With Photos!

CORROSION OF CONFORMITY In Dublin, Ireland

CAULDRON New Gods

STEVE GRIMMETT'S GRIM REAPER In Ottawa, Canada

JUDAS PRIEST, KREATOR In Quito, Ecuador

CAL JAM '18 Photo Gallery

BLOODBATH The Arrow of Satan Is Drawn

STRIKER Play To Win

NIGHT RANGER "Dawn Of Madness" Show In Waukegan, IL

BUTCHER BABIES, KOBRA AND THE LOTUS, SKARLETT RIOT, IGNEA, MAERTYRIUM, In Siegburg, Germany

HOUSE OF LORDS In New Bedford, MA

GRETA VAN FLEET Anthem Of The Peaceful Army

IMPELLITTERI The Nature Of The Beast