HIGH ON FIRE
Luminiferous
eOne Music




Since HIGH ON FIRE's last album, 2012's De Vermis Mysteriis, guitarist/vocalist Matt Pike spent a stint in rehab, and has done quite a bit of work with his once former band SLEEP, a couple of pretty big distractions to be sure. But if his focus is elsewhere, you'd hardly know it from HIGH ON FIRE's seventh and latest album.

Luminiferous is at once one of the fiercest and deepest albums in the trio's 15-year career, careening from the borderline thrash roil of the title track and "Slave To The Hive" and the d-beat bludgeon of "The Black Plot" to the ethereal psychedelics of "The Cave" and brontosaurian drone of "The Lethal Chamber" and just about everywhere in between. It channels MOTORHEAD as much as BLACK SABBATH and delivers its thunder with more clarity and focus than the band's somewhat meandering recent works, perhaps owing to Pike's sobriety – tenuous though it has been.

Pike's riffs are, as always, gargantuan, and they are delivered in cascading waves on Luminiferous that just keep coming. And from the opening salvo of "The Black Plot", bassist Jeff Matz and drummer Des Kensel match Pike blow for blow with their galloping, turbulent rhythms that make for little let up. While there is some welcome ebb and flow on the quivering "Carcosa" and "The Sunless Years" much of Luminiferous is surprisingly ferocious – especially for anyone discovering HIGH ON FIRE via the ultra-stonery SLEEP gateway.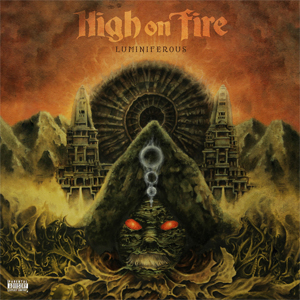 "The Falconist" slows to a mid-tempo crunch at the album's midway point, riding a deliberate hook from Pike that is downright catchy until the song careens to a close in a fusillade of drums and caterwauling leadwork that hails from the Hanneman/King school. Indeed much of Pike's soloing here has that same dissonant, "what the fuck is he doing?" feel.
"The Cave" offers the album's most dramatic swings of mood. The nearly 8-minute epic is built around a trippy "Planet Caravan"-like chill punctuated by big riffy choruses and, like "The Falconist", a cacophonous crescendo. It lets the finesse HIGH ON FIRE are capable of shine through instead of burying it under a sonic barrage – as opposed to the title track that follow it like a runaway train – and is certainly the album's more interesting tune.
Depending on your taste for Pike's sometimes bat-shit crazy lyrics, there's not much to complain about with Luminiferous other than perhaps its length. While the title track and "Slave To The Hive" are a brisk 4 minutes, others – like "The Black Plot" and "Carcosa" - could have benefited from shaving a couple minutes off and also sticking to that length. And at nearly nine minutes, "The Lethal Chamber" makes for a rather ponderous finale.Still, for sheer, unbridled and unapologetic metal heaviosity, Luminiferous is about as metal and heavy as it gets. And too much of that is just fine.
4.0 Out Of 5.0
Grab a copy of Luminiferous in the KNAC.COM More Store right HERE.