DENNER/SHERMANN
Satan's Tomb
2015 Metal Blade




When news of this supergroup burst out of seemingly thin air, the buzz from old and new school metallers alike was loud & strong. With Snowy Shaw (MERCYFUL FATE, KING DIAMOND, MEMENTO MORI & DREAM EVIL) on the drums, Marc Grabowski (CORRUPTION and another supergroup with Hank Shermann called DEMONICA) on bass, and who I feel should be mentioned as vocalist elite for the new generation (along with Tim 'Ripper' Owens, Russell Allen & Todd La Torre) Sean Peck (CAGE, DEATH DEALER), along with of course, Hank Shermann & Michael Denner from the underground legends MERCYFUL FATE on guitars, I had hoped that the music would live up to my already lofty expectations.

The guitar tandem themselves should be mentioned in the same breath to me as the icons (Downing/Tipton, Gorham/Robertson) but because of the image/lyrical content of MERCYFUL FATE (which to be fair also brought them a fair amount of fame) they remain sadly underrated instead of the mass accolades they should have received.

Speaking of MERCYFUL FATE, how would this stack up to one of the undergrounds most revered bands? The duo had tried before (unsuccessfully) to relaunch their career back in 2003 when they formed FORCE OF EVIL, along with Hal Patino (MALTESE FALCON, KING DIAMOND) on bass, Bjarne Holm (ZOSER MEZ, MERCYFUL FATE) on drums & Martin Steene (IRON FIRE) on vocals. They released 2 fine albums (Black Empire being my fave) but never really grew larger than cult status, a lot of MF fans not even knowing of the aforementioned project. But with the legendary Metal Blade Records and Brian Slagel behind this project, that will no doubt not be a problem with DENNER/SHERMANN.

A four song EP, entitled Satan's Tomb is the worlds first taste of what this alliance has in store. A dark & demonic cover, which will sit nicely besides MF's Don't Break The Oath beckons you inside, where title track "Satan's Tomb" awaits. That unmistakable twin lead harmony, a MF staple kicks off the mellow interlude with Sean's vocals subdued before the rest of the band kicks in to join the full blown Metal assault. Peck's scream lets you know that they surely mean business, and of course, all the well-known tempo and time changes are here, sounding fresh and powerful. Plenty of riffs abound as Sean's voice is the perfect fit for this unholy alliance. A stunning opening track to be sure.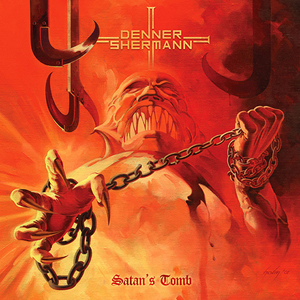 "War Witch" follows with Snowy's drumming kicking the song into gear with a pounding Thrash beat before it settles into a mid-paced banger with Sean's voice seemlessly going from highs to lows and those tasty and outstanding leads from both Hank & Mike welcome you back like an old friend. A crushing riff towards the end of this track makes you just grit your teeth and bang thy head.
"New Gods" starts very subdued and rather odd almost, before both Sean & band settle into a groove with another unmistakeable riff and tempo change. MF never wrote simple chorus, bridge, chorus songs and neither does DENNER/SHERMANN. That being said, the constant structure changes flow effortlessly and seemlessly, keeping you engaged, instead of boring you with needless noodling and incessant overblown and too drawn out ideas. Guitar lead trade-offs and crystal clear production by Arnold Lindberg make this another brilliant track.
Harmony twin leads start off the final track, "Seven Skulls" and continue along until the song kicks up the tempo before changing gears again. I surely hope this dynamic group can make it to these shores as this live will simply smash your skull not only with heaviness but with the skill and precision that D/S possess. Peck's voice ending this aural assault with his several octaves high voice overdubbed together making it the perfect end to this slab of pure Mayhem.
With a running time of over 20 minutes, this EP is great value for your hard earned cash. I'm very much looking forward to the next chapter of DENNER/SHERMANN as this taster has most assuredly grabbed my attention. A must have for all Old-Skool AND New School bangers as well.
And for my Vinyl-loving brethren, there is a Vinyl release scheduled for this, so starting turning in those empty beer cans for cash!
4.6 Out Of 5.0 Skulls
Pre-order your copy of Satan's Tomb in the KNAC.COM More Store right HERE.