STRYPER Fallen


By Larry Petro, News Monkey
Monday, October 5, 2015 @ 12:51 AM


| | | |
| --- | --- | --- |
| | | |
STRYPER
Fallen
Frontiers Music srl




Soaring vocals, check. Harmonious choruses, check. Catchy hooks and great guitar solos, check and check.

When STRYPER returned from their hiatus of the 90s and early 2000s with 2005's Reborn, much to the chagrin of their critics, the Rockers For God simply picked up right where they left off, releasing a string of solid albums using the tried-and-true recipe whose ingredients are noted above. It isn't going to change now for STRYPER, who have yet to put out a bad album in their entire career, as they unleash Fallen on the masses, solidifying their stranglehold on the top of the Christian Rock heap. After all, if it ain't broke, right?

Singing about God and Christ has always been their thing, but for the band that unabashedly wears their faith on their yellow and black sleeves, it has just about become chic for them, and the songs on Fallen are as Christ-centered as you will find on any previous release.

The album's opening track, "Yahweh" (penned with Clint Lowery of SEVENDUST), removes any doubt about their musical intentions and with the "Yahweh" church chant to start things off, followed by a heavy intro and a patented Michael Sweet scream, the CD fully immerses the listener in its heaviness. The crunching title track "Fallen" follows, a song about Lucifer and his fall from grace as God's Angel of Light. "Pride" is on deck and "Big Screen Lies", a song that takes a shot at Hollywood's portrayal of Christianity, is next, followed by "Heaven" and "Love You Like I Do", a great, catchy tune that is slightly reminiscent of their hit "Always There For You".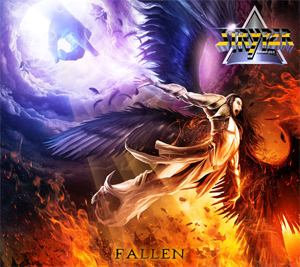 Fallen's only ballad, "All Over Again", is next and though it was my initial thought that this was the weakest link on the album, after repeated listens it's not a bad song at all and the slide guitar usage is a nice added touch, though I'm still not a big ballad guy.
There is one cover song on Fallen, that being the BLACK SABBATH song "After Forever". This one is really interesting. STRYPER pulls off this one flawlessly but what caught my attention was the lyrics. Having never followed the original that much I actually thought that STRYPER had rewritten the lyrics to fit their God-praising image but no, the lyrics were left alone and it certainly can be a topic of debate as to what SABBATH's intentions were with lyrics that certainly give the impression of being Christian in nature.
A couple more songs and the CD closes out with another great pair, "The Calling" and "King Of Kings". The first, "The Calling", could easily be the love-child of the riff from RATT's "Top Secret" and the groove of SAMMY HAGAR's "There's Only One Way To Rock". It's addictive melody will have you putting this one on repeat. The closer "King Of Kings" is cut from the same cloth as the iconic "Soldiers Under Command", with another blistering guitar solo thrown in for good measure. Another spine-chilling scream from Sweet and the album closes in the same fashion in which it began; presenting the listener with goosebumps.
Is Fallen the heaviest record to date as has been claimed? Maybe, but then again, maybe not. Production techniques that have evolved over the past 30 years certainly add a fuller, heavier sound to their music and add to that the fact that Fallen was once again produced by Michael Sweet and you certainly have a solid effort from start to finish for the band. Ultimately, it will be up to you to decide where in their catalog it ranks with regards to heaviness, but one thing is certain: With the release of Fallen, STRYPER has created a complete logjam at the top of my Best Releases of 2015 list. Thanks guys.
4.9 Out Of 5.0
Pre-Order your copy of Fallen in the KNAC.COM More Store right HERE.




Please log in to view RANTS

If you don't have a username, click here to create an account!