GENTLEMANS PISTOLS Hustler's Row


By Peter Atkinson, Contributor
Tuesday, November 10, 2015 @ 4:47 PM


| | | |
| --- | --- | --- |
| | | |
GENTLEMANS PISTOLS
Hustler's Row
Nuclear Blast Records




If '70s-style retro rock is your thing, England's GENTLEMANS PISTOLS should be right up your alley. While I can't profess to being the biggest fan of the genre, these guys have something – or I should say someone – other bands of their ilk do not: one William Geoffrey (Bill) Steer, guitarist with death metal titans CARCASS and a veteran of NAPALM DEATH's formative years.

And while Steer does not bring any of his death metal/grindcore proclivities to the PISTOLS, he does add a certain oomph and his considerable skills as a lead guitarist are certainly a noteworthy addition. And it's not like this style – or this role – is really all that new to him. Following the post-Swansong break up of CARCASS, he led the blues/stoner rock trio FIREBIRD for a dozen years over six albums and played second guitar with New Wave of British Heavy Metal pioneers ANGEL WITCH for a stretch following CARCASS' triumphant return.

Steer and founding vocalist/guitarist James Atkinson team especially well on this the PISTOLS' third full-length. Though Steer played on the band's last album, 2011's At Her Majesty's Pleasure, the chemistry between the two hadn't developed to near the degree it has on Hustler's Row, which is a more buoyant and ballsy effort all the way around.

While the decidedly vintage British rock basis of the band's sound remains, the riffs here are punchier and rock considerably harder – particularly early on - and Steer and Atkinson's guitar harmonizing and tag-team lead trade-offs are more pronounced, recalling old THIN LIZZY or WISHBONE ASH but with the hooks of classic SWEET and – on the epic finale of the title track and "So Long Fade Away" - the breadth of TRAFFIC or CREAM and, oddly enough, old IRON MAIDEN. Betwixt and between is a sprawl of soulful, if labored, blues showcasing Atkinson's eloquent vocals and the band's easy-going jamminess.

Hustler's Row gets off to a rollicking start with a left-right, left-right combo of hard rockers, starting with the opener "The Searcher" and carrying through "Devil's Advocate On Call", "Time Wasters" and climaxing with "Private Rendezvous" which vies with the Stained Class-era PRIEST-like "Coz Of You" as the album's liveliest, hookiest track. Simple and catchy, they ride the rhythmic bounce of drummer Stuart Dobbins and frisky new bassist Robert Threapleton and Steer and Atkinson's razor-sharp tangle of riffs and solos. Atkinson's airy, unpolished production gives the material here an old-school edge that keeps it from sounding too metallic, while still delivering plenty of kick.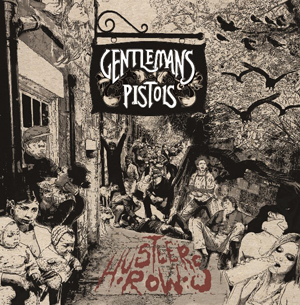 Things take a bluesier turn over the album's midsection, as "Stress And Confusion", "Personal Fantasy Wonderland", the T-REX-style "Lady Teaser" and "Dazzle Drizzler" work their dynamics at a slower pace – mixing in brisker passages for leads and choruses, then easing off the pedal. There's actually more complexity and raw emotion here than on the earlier tracks, but the arrangements are more controlled – sometimes perhaps more than they need to be, as on the plodding "Dazzle Drizzler".
The title track swaps the blues for a psychedelic air, with its lush, wistful vocal harmonies and guitars contrasted by deliberate hooks that recall – indeed outright mimic - IRON MAIDEN's "Revelations", though again without quite as much metallic weight. It's a strange combination that works almost in spite of itself. "So Long Fade Away" is in a similar vein, but stretches things out over eight minutes and adds some ZEPPELIN-esque crunch and aching vocal caterwaul, making for a somewhat somber finish.
Indeed, while Hustler's Row overall is a solid, undeniably enjoyable album, its sequencing leaves a bit to be desired, given that it's front-loaded with the more rousing tracks, leaving the back half sounding a bit staid – save for the quick hitter "Coz Of You". Shuffling the order of things here might have made a good album – packed with stellar guitar work, terrific songs and and an engaging retro vibe that sounds reverential without seeming calculating – truly great.
3.5 Out Of 5.0
Grab a copy of Hustler's Row in the KNAC.COM More Store right HERE.




Please log in to view RANTS

If you don't have a username, click here to create an account!