Great White
Thank You... Goodnight!


By Rolf Vellek, Contributor
Thursday, February 13, 2003 @ 3:17 PM


| | | |
| --- | --- | --- |
| | | (Knight Records) |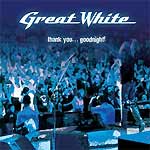 As a sort of commemoration to what would have been the band's 20th year as recording artists, the close of 2002 saw the release of Great White's last 'offishal' release, the swan song, "Thank You…Goodnight!" That the band's final release is a live album is appropriate considering its status among fans as an outstanding live act that consistently delivers, giving 100% to its fans. The band's former producer/collaborator Alan Niven wrote in the liner notes to 1994's stage that, "In many respects... Great White have always been at their best in 'live' performance." In the early to mid '90s it seemed like going to see old friends as the band consistently toured year after year. In fact, I almost flew to California to see this show, but due to a risk of not making it on standby for holiday flights, I remained home. Naturally, the release of the live document on CD in late 2002 served as a nice consolation. Interestingly, founding members Jack Russell and Mark Kendall are currently touring under the name Jack Russell's Great White and playing a set of Great White tunes, yet the band has not reformed. The band generously includes two previously unreleased songs, co-written by Jack Blades (Night Ranger, Damn Yankees), the man at the helm for the previous studio effort, Can't Get There From Here -- another solid, consistent, and generally overlooked work from the GW guys. The new tracks could be leftover songs written for that recording session, yet they stand up well to the best of the band's work. "Back On The Rhythm" is a straight ahead boogie & blues rocker, somewhat in the vein of "Rollin' Stoned," while "Play On" is a an acoustic based mid-tempo ballad, similar to "In The Tradition," an outstanding track from Can't Get There From Here. The live sound is somewhat raw, yet intimate. The liner notes, in fact, indicate that the production intentionally attempted to capture the band with "squeaks, feedback, buzzes, rattles & rolls." One senses that the show was recorded in a smaller venue (the Galaxy Theater, Orange County, CA). As well, audience participation is encouraged on several choruses. I enjoyed the experimentation evident on some re-arrangements such as a slightly alternate arrangement of the beginning of Face The Day. Mark Kendall's signature lead guitar tones are relatively high in the mix, as are Jack Russell's vocals. Russell's voice, often regarded as one of the most consistent voices in hard rock that seems to only get better, is as strong as ever. Mr. Kendall's almost signature sound is bluesy and emotive. "Cant' Shake It" provides a fresh re-arrangement of the tune, showcasing his tasty guitar work in an extended solo as well as the band's ability with boogie-n-blues. Longtime collaborator and producer Michael Lardie fills in the rhythm with acoustic and electric guitar as well as with emotive, melodic keyboard lines, such as in "Old Rose Motel." Newer members Sean McNabb on bass and drummer Derrick Pontier competently round out the grooving rhythm section. Between tracks, Russell comments sincerely to the audience about the origins of songs and bestows much appreciation to the fans. When confirming that it is the last night live as a band, a rise of boos emerges from the audience, after which Russell jokingly quips, "Okay, you can't boo until the show's over!" The booklet includes some nice live shots of the band and sincere, yet brief liner notes from the president of Knight Records, the indie label releasing the album as well as Jack Russell's new solo CD. The only criticism of the album is the omission of songs from the two previous studio albums (where are Rollin' Stoned and Wooden Jesus?). I suspect that, in part, the omission is likely due to Portrait, Great White's former label, not granting the rights for the release of those songs on the new disc. In fact, though the disc is a generous 79+ minutes, the band certainly played a longer set that night and the show could have been spanned over two CDs. As this is, to some degree, a record for the fans, it would have been nice to include the full show. The bottom line, this album delivers on several fronts. It serves as a document of some of Great White's best work captured them in their element – live. It serves to pay tribute to the fans who've respected their work and turned out for the shows, year after year. For those who may be new to the band or had overlooked them in the past, Thank You, Goodnight provides a decent platform of song representation and solid live musicianship. * * * *




Please log in to view RANTS

If you don't have a username, click here to create an account!






UNLEASH THE ARCHERS, STRIKER, HELION PRIME In Houston, TX W/Photos!

CLUTCH, SEVENDUST In Houston, TX

KING KOBRA Sweden Rock Live

DREAM CHILD Until Death Do We Meet Again

SCORPIONS, QUEENSRYCHE In Tampa, FL With Photos!

HUMBLE PIE Live At The Ottawa CityFolk Festival

BEHEMOTH Album Listening Party In Los Angeles For I Loved You At Your Darkest

THE DEAD DAISIES, HOOKERS 'N BLOW In Ottawa, Canada With Photos!

DRAGONLORD Dominion

STONE BROKEN Ain't Always Easy

BRANT BJORK Mankind Woman

KORPIKLAANI Kulkija

BRAINSTORM Midnight Ghost

SLEAZY WAY OUT, INSUFFICIENT FUNDS In Ottawa, Canada

DEEP PURPLE, JUDAS PRIEST In Jacksonville, FL W/Photos!

HELLOWEEN In Worcester, MA With Photos!

RED TIGER Evolution

ALTER BRIDGE Live At The Royal Albert Hall Featuring The Parrallax Orchestra

CLUTCH Book Of Bad Decisions

ANGRA In Winter Park, FL With Photos!

TALES FROM THE PORN H.M.M.V.

CARRY THE STORM i/E

PIG DESTROYER Head Cage

SAXON Strong Arm Of The Law Reissue

THE DEAD DAISIES In Houston, TX Photo Gallery

ALICE IN CHAINS, BUSH, THE CULT, STONE TEMPLE PILOTS In Ridgefield, WA W/Photos!

SUICIDAL TENDENCIES STill Cyco Punk After All These Years

OPERATION:MINDCRIME, TILL DEATH DO US PART In Portland, OR With Photos!

TNT XIII

DC4 Atomic Highway

CAL JAM '18 POP UP In Los Angeles With Photos!

SLAYER, LAMB OF GOD, ANNTHRAX, TESTAMENT And NAPALM DEATH In Ridgefield, WA With Photos!

JIZZY PEARL OF LOVE/HATE All You Need Is Soul

NIGHT DEMON Live Darkness

RAVENSCROFT Rebel

NASHVILLE PUSSY Pleased To Eat You

QUIET RIOT In Houston Photo Gallery

WARRANT, STEELHEART In Houston Photo Gallery