QUEENSRYCHE, MEYTAL, HALCYON WAY In Houston, TX With Photos!


By Larry Petro, News Monkey
Saturday, January 30, 2016 @ 9:21 AM


| | | |
| --- | --- | --- |
| | | Condition Human Headline Tour Stops At Scout Bar |
All Photos By Larry Petro/Petrofyed Photography
Starting off the 2016 year with their first headline tour in support of the recently released new album, Condition Human, the best band to come out of Seattle, QUEENSRYCHE, made a stop at Scout Bar in Houston, TX on January 16th, with relative newcomers MEYTAL and Georgia's own HALCYON WAY in tow.
Kicking off the evening's festivities was local Houston act PULSE RATE ZERO, a band I had not yet had the opportunity to see live, most probably because their shows mostly take place on the south side of town, particularly at Scout Bar which, if you've read any of my reviews from this establishment, is not a place that I frequent. The stage is fairly small, they hardly ever have the barricade set up (having which is a God-send for us photographers), and I'm not a big fan of the stage lighting that is installed. They do have some great national acts play there and so trips there are sometimes a requirement. PULSE RATE ZERO played an impressive set and their sound was heavy and melodic, a perfect fit for the bands on the bill.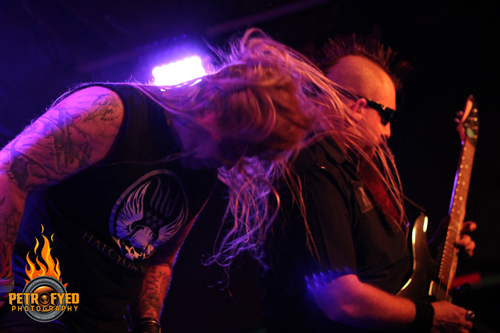 Next up was HALCYON WAY. I became a fan of these guys ever since they opened for SAXON a few years ago on the British band's Sacrifice tour and I have to admit, it was quite perplexing to see them as the third band on this bill. Certainly taking nothing away from MEYTAL, who got second billing, but I personally had never heard of MEYTAL (pronounced may-tall) prior to this tour, so how they got the second slot over HALCYON WAY is anyone's guess. At any rate, the guys in HALCYON WAY, vocalist Steve Braun, guitarists Jon Bodan and Max Eve, bassist Skyler Moore and drummer Ernie Topran, were more than psyched to be out on this tour and it showed in their brief, six-song set. The band started things off with the title track to their most recent album, Conquer, and proceeded to kick the crowd's ass with high energy tracks "Save Your Tears", "On Black Wings", "Hatred Is My Cause", "Desecration Day" and set closer "Home". If you haven't checked this band out yet, do yourself a favor and do it now!
As already mentioned, the direct support slot on the QUEENSRYCHE tour fell to MEYTAL, a somewhat unknown act (at least to this reviewer) that derives its name from the band's star drummer, Meytal Cohen, an Israeli-born musician with quite an interesting backstory. Her first break came when her and some friends recorded a "metal violin" cover of SYSTEM OF A DOWN's "Toxicity", a video that garnered over 3 million views within a few months time. Meytal has managed to surround herself with some pretty good musicians as well, including former GOD FORBID axeman Doc Coyle and THREAT SIGNAL's Travis Montgomery. The band did play a nice, solid set of mostly original material and the closing number, a cover of DREAM THEATER's "Pull Me Under", was definitely a highlight, with HALCYON WAY's Braun joining them onstage to handle the vocal duties. A great set from these guys (and girl)! I'm sure if you haven't heard of them yet, you will soon.
Finally it was time for the mighty QUEENSRYCHE. Having seen the band once already with new frontman Todd LaTorre, I knew what to expect and evidently so did the Houston area as the club was packed when they hit the stage. Because of the small stage size the band wasn't able to make use of both video screens they've taken on the tour with them, but they still managed to get one in place behind bassist Eddie Jackson, who I interviewed prior to the show, and guitarist Parker Lundgren. The lights dimmed and various images and variations of the QUEENSRYCHE name and logo flashed on the video screens before the band launched into "Guardian", the first single and video from the new album, Condition Human". If there was any concern about how vocalist LaTorre's voice would stand up to the rigors of touring, they were quickly erased as he handled the band's storied catalog with relative ease. The band tossed up their setlist a bit and played some tunes that hadn't been played in a while and it was certainly a breath of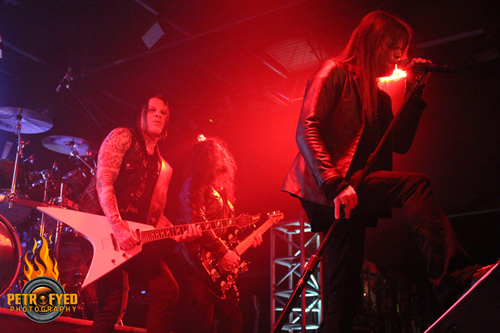 fresh air to other bands that play the same old stale set of songs. Following the opener, the band kicked it into "Operation: Mindcrime", "Best I Can" and "Damaged", from the band's 1994 opus, Promised Land. Other notable inclusions were "The Mission" (Operation: Mindcrime), "The Killing Words" (Rage For Order) and "Screaming In Digital" (Rage For Order). The band was in fine form with probably the most obvious facotr; they're having fun and enjoying themselves again. The pre-encore set was finished off with "Queen Of The Reich", "Jet City Woman" and "Take Hold Of The Flame". They returned for the aforementioned "Screaming In Digital" and final encore "Eyes Of A Stranger". The biggest surprise of the evening was what they didn't play; "Silent Lucidity", which suited me just fine. Don't get me wrong, I like the song, it's just that it has to be one of the most overplayed ballads in the history of rock music and I was burned out on it years ago, so my ears definitely said 'thank you' when it was over.
A band like QUEENSRYCHE should easily be able to play 1 1/2-2 hours, so I found their set again a bit short (15 songs, 1 hour 15 minutes total playing time) for the money ($30), but it was definitely worth every penny to see what they did perform and the band hasn't sounded this good in years so check 'em out when they hit your town!
Setlist
"Guardian"
"Operation: Mindcrime"
"Best I Can"
"Damaged"
"The Killing Words"
"The Mission"
"Bulletproof"
"Empire"
"Anbody Listening?"
"In This Light"
"Queen Of The Reich"
"Jet City Woman"
"Take Hold Of The Flame"
Encore:
"Screaming In Digital"
"Eyes Of A Stranger"
Check out some photos from the show!
All Photos By Larry Petro/Petrofyed Photography




Please log in to view RANTS

If you don't have a username, click here to create an account!