MACHINE HEAD In Dublin, Ireland With Photos!


By Justin Ryan - Dublin, Ireland, Contributor
Friday, March 11, 2016 @ 8:02 AM


| | | |
| --- | --- | --- |
| | | At The Olympia Theater |
All Photos By Justin Ryan
Currently in their silver jubilee year, Oakland's MACHINE HEAD performed for the third time in their career at Dublin's Olympia Theater tonight (Sunday, 6th March, 2016). As part of their present world tour, twenty-four European shows have already been completed (mainly around Eastern Europe) in September and October, 2015. This run of European shows commenced on February 2nd, 2016 in Geneva, Switzerland, with Dublin being show number twenty-one of twenty-nine scheduled. Eleven shows to date have been advance sell outs.
As the name and format for this world tour is "An Evening With MACHINE HEAD", it came as no surprise when the band announced that they would not be taking a support band on the road with them. Whereas some fans expect to see a support act at a live event, others don't see it as a necessity and welcome the opportunity to see more stage time from the headliners. A career that now includes eight studio albums, one of the ongoing challenges that a band of MACHINE HEAD's vintage now have is compiling a set list that will do their mostly impressive back catalog justice. Unfortunately, some big name metal bands are presently choosing to deliver live shows of around ninety minutes or less. This severely restricts the amount of material that gets played, which inevitably leads to fan disappointment. Tonight's show represents MACHINE HEAD's first show in Dublin since December 2014, when a hugely enjoyable concert was delivered as part of their "Killers And Kings" tour. That show exceeded two hours in running time, so one of many points of interest tonight would be to see how the present "An Evening With MACHINE HEAD" show would compare in both content and running time to their previous visit.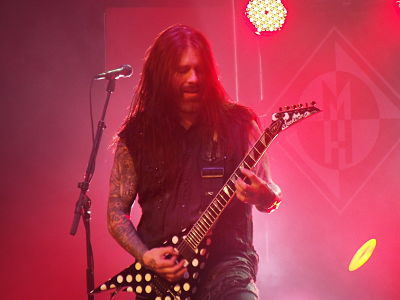 By the time Ozzy Osbourne's "Diary Of A Madman" was played on tape as the show's intro, the atmosphere in the venue had already started to simmer. A variety of metal classics had been played over the PA system in the build up to the show, culminating in the twelve hundred person strong crowd singing METALLICA's "Sad But True" in unison just before the house lights were shut off at 8:20 p.m. . With the exception of Nottingham, England, each one of the twenty shows already played on this leg of European shows had kicked off with "Imperium" from Through The Ashes Of Empires (2003). However, as in Nottingham, the almost eleven minutes long "Clenching The Fists Of Dissent" opened tonight's gig. It's unpredictable combination of subdued melodic intro superceded by frantic riffing, blistering solos, tempo changes and starkly contrasting harsh and melodic vocals created an atmosphere of turbocharged adrenaline in the venue. With the slightest of pauses, another track from The Blackening, "Beautiful Mourning", followed. Similarly dramatic to the shows opener, this song also contrasts monstrously crushing riffs with spine tingling melodic vocals. The shows early blistering momentum was sustained with "Now We Die" from Bloodstone & Diamonds, a song containing a guitar solo worthy of a specific mention.
Five of the first six songs on the night were culled from MACHINE HEAD's most recent four studio releases, which showcased and exemplified their present day sound. Although no less intense, "Take My Scars" and "Ten Ton Hammer" from 1997's The More Things Change... were smile inducing reminders of the band's more stripped back, less complex, straight to the point song structures found on their groove metal second album. Before "Locust" was performed, front man Robb Flynn took a moment to speak with the audience for the first time on the night. "Dublin, Ireland, it's great to be back. From what I can see, everyone in this venue is having a great time here tonight. Well, everyone except this one guy here in the front row. Brother, all you've done since we walked out here tonight is stand there filming us on your phone. What is up with that? You're at a MACHINE HEAD concert, do you know what that means? It means we give a show to our fans and our fans give us a show back! It's a two way thing, brother. Is that a V.I.P. laminate around your neck? Okay, well V.I.P. or not, when you're at a MACHINE HEAD concert, we expect you to participate!".
After "Locust", three of the next four songs performed were taken from their third studio record, The Burning Red. Much like the majority of content on the album Supercharger, the material delivered on The Burning Red not only saw the band missing the bull's-eye by quite some distance, they almost missed the entire target completely. That said, there were a small number of tracks on both records that are worthy of mention. On The Burning Red, they are namely the rarely performed live, solid "Exhale The Vile" and the impressive "The Blood, The Sweat, The Tears". Both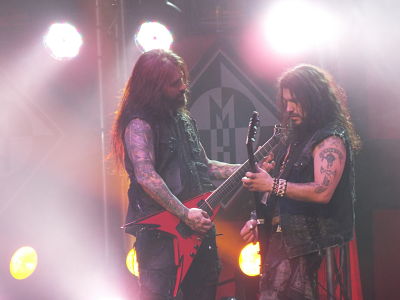 songs were played live tonight as was the overtly Nu-metal "From This Day" from the same album. "Bulldozer" (played live tonight), "Only The Names" and "Deafening Silence" are the three tracks on Supercharger that are worth a listen. After "The Blood, The Sweat, The Tears", Phil Demmel delivered a short guitar exhibition, which was played under deep green stage lighting. At one point during the four minute solo, he threatened to break into THIN LIZZY's "The Boys Are Back In Town", but it didn't materialize. At its conclusion, Robb Flynn addressed the crowd for the second time on the night. "I mentioned the last time that we played here about how strong the connection between Dublin, Ireland and MACHINE HEAD is. I know that a lot of people here tonight have heard me talk about this before but I want to say it again for anyone who wasn't at our last show in Dublin. Twenty-two years ago, yes, twenty-two years ago, we played our very first show outside of the USA in Dublin, Ireland at a venue that I think was called the S.F.X Club [correct venue, Robb]. We supported SLAYER that night and I'll always remember what their tour manager said to us after we came off stage. He commented on how impressed he was with both our performance and the amazing response we got from SLAYER's crowd. As a new metal band starting out, believe me it means a great deal when the mighty SLAYER's tour manager tells you that you nailed it in front of SLAYER's own crowd! Many of you will also know that Phil Demmel's live debut was also in Dublin. I can't remember the name of the venue. [Voice from the crowd shouts out the correct venue's name]. Yes, thats right, The Ambassador, that was the place. And as many of you who saw us the last time we were here know, we finished our "Killers And Kings" Tour in Dublin. What a night that was. A killer show followed by an end of tour party at Fibber Magee's rock bar. One of our crew, who'll remain nameless, ended up meeting an Irish girl at the party and you know how that usually ends up! Yes, he missed his flight back home to the States the next day! We've so many great memories of this city and we once again thank you for your continued support."
Another track with a spine tingling guitar solo, "Darkness Within" was complimented by fine backing vocals from the crowd. It preceded a tight five minute impressive drum solo from skins man Dave McClain. "The next song is called "Killers & Kings" Dublin and you know what that means? It means circle pit" was how Flynn introduced the wall shaking second track off the Bloodstone & Diamonds album. Unimpressed by the fans first attempt to generate the requested pit, Flynn remarked, "You call that a circle pit? That's a pussy pit, Dublin. I want to see a MACHINE HEAD circle pit!". The floor standing sections second attempt induced an approving smile from the bearded, tattooed front man. Much to the dismay of the venue's security, the pit's utter chaos continued straight into the following tune, the timeless classic, "Davidian". The pace of the show was then taken down several gears when the band jammed on the breaks with "Descend The Shades Of Night". As the lead single from their comeback album, Through The Ashes Of Empires, "Imperium", which is a fine song, represents a hugely important pivotal point in the bands history. However, many MACHINE HEAD fans consider, "Descend The Shades Of Night" as the best track on an overall solid album. Combined with the clever use of orange and yellow stage lighting during its performance tonight, it was a strong contender for song of the night.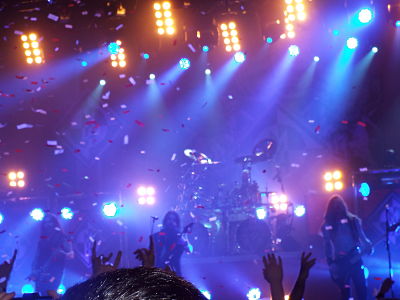 Two encores followed the shows main sixteen song set. A special treat was "Block" from Burn My Eyes, which is not performed on a regular basis; tonight was only the second time on this European leg of the tour that it was heard live. The nine minutes and four seconds "Halo" brought the total running time of the exceptional eighteen song show (plus guitar and drum solos) to over two and a half hours (8:24pm to 11pm). The night's awesome concert was fittingly brought to a celebratory close by a ticker tape finale with smiles all round from the band as they distributed guitar picks and drum sticks in generous numbers to fans close to the stage.
Setlist:
Intro Tape: "Diary Of A Madman" (Ozzy Osbourne)
"Clenching The Fists Of Dissent"
"Beautiful Mourning"
"Now We Die'
"Take My Scars'
"Locust'
"From This Day"
"Ten Ton Hammer"
"Exhale The Vile"
"The Blood, The Sweat, The Tears"
Guitar Solo (Phil Demmel)
"Darkness Within"
Drum Solo
"Bulldozer"
"Killers & Kings"
"Davidian"
"Descend The Shades Of Night"
"Now I Lay Thee Down"
"Imperium"
Encore 1:
"Aesthetics Of Hate"
"Game Over"
"Block"
Encore 2: Check out some more photos from the show!
All Photos By Justin Ryan




Please log in to view RANTS

If you don't have a username, click here to create an account!