UFO In Houston, TX With Photos!


By Larry Petro, News Monkey
Friday, March 18, 2016 @ 2:10 PM


| | | |
| --- | --- | --- |
| | | UK Icons Invade The Concert Pub North |
All Photos By Larry Petro/Petrofyed Photography
2016 has not been very kind to rock stars thus far. We're barely four months into the new year and rockers are seemingly dropping like flies. So when the opportunity presented itself to catch long-running UK rockers UFO at a Houston show, it couldn't be passed up. After all, with UFO vocalist Phil Mogg nearly 70 years old now, one can't help but wonder how many more times we here in the States will get experience this legend of a group.
Sunday, March 13th marked the band's 3rd appearance in the Bayou City in the past 5 years or so and, as with the other 2 shows, local favorites LOVE N WAR was once again selected to open the show. The band has always considered it an honor to open for UFO, but given the fact that two of its members (drummer Donny Bragg and guitarist John Adams) are also members of the UFO tribute band LIGHTS OUT makes their opening performances just that much more memorable. The band kicked off the evening with "We All Fall Down", a perfectly blistering, kick ass opener of a song, one of several brand new tracks from the band that will appear on their sophomore effort that should be out later this year. "Mercenary Man" was another new one played, along with tracks from their debut release, Up The Annie, like "Meltdown" and crowd favorite and set closer "Six Feet Under". This band has opened for more national acts than probably anyone else in Houston and once you've seen them live you'll understand why.
https://www.facebook.com/upannie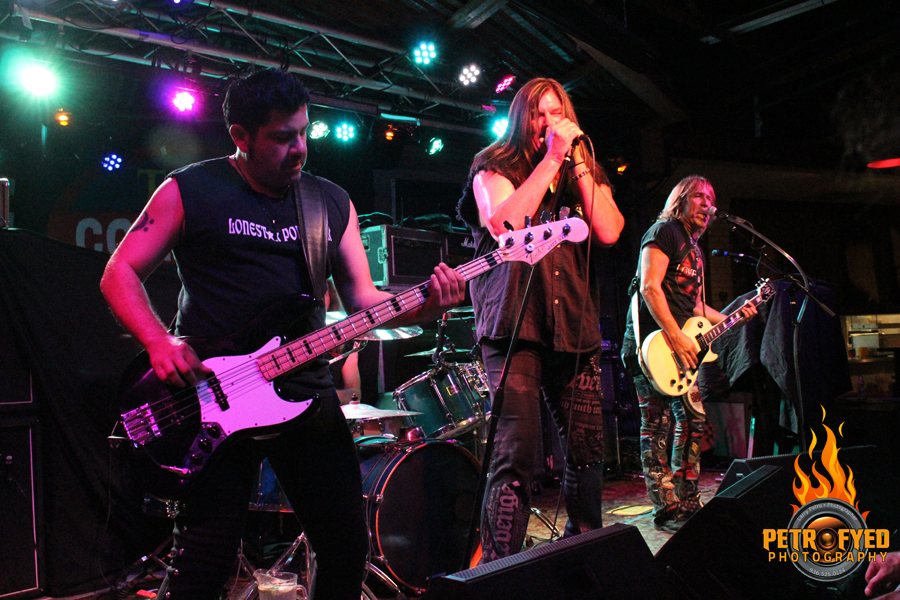 Finally, at 10:15, the band that the packed house at the Concert Pub came to see: UFO. The band is in the midst of their North American tour in support of the album A Conspiracy Of Stars, which was released a year ago. Having witnessed the band's two prior Houston performances, forget the age of the band or any of its members; they just get better every time I see them! The band launched their set with "We Belong To The Night" from the 1982 Mechanix album, a rousing opener that instantly had everyone's attention. The band was as tight and flawless as I've ever seen them. Forget about vocalist Phil Mogg's age; the guy still has the pipes! He sounded fantastic as the band steamrolled through their set of classics like "Lights Out", "Only You Can Rock Me" and "Rock Bottom". Of course, when you have the uber-talented and highly underrated guitarist Vinnie Moore on your team, even the shortest of UFO songs has the potential to become a 7 or 8 minute epic, and that's exactly what transpired in Houston on this night. One only has to make note of the 15-song, one hour and 45 minute set that was performed. For those of you that are mathematically challenged, I'll do the math for you. That translates into an average length of 7 minutes per song, which I'm sure served a dual purpose; to allow Vinnie to display his intricate chops and to also give Mogg a bit of a breather during each number. It was every bit the guitar clinic as it was a UFO concert. In fact, during the track "Makin Moves", off of the 1981 album The Wild, The Willing And The Innocent, Moore ripped off such a beautiful, soulful solo that the crowd responded with what was just short of a deafening roar of approval.
Such was the entire evening, from the cuts off A Conspiracy Of Stars like "Run Boy Run", "Rollin Rollin" and "Messiah Of Love", to more classics such as "Love To Love" (1977), "Cherry" (1978) and "Burn Your House Down" (2012), the band, Phil Mogg, Vinnie Moore, Andy Parker and Paul Raymond were an unstoppable force. Even touring bassist Rob De Luca (SEBASTIAN BACH), who doesn't appear in many of the band promo photos, provided an intregal part to the show with his backing vocals and thundering bass lines. The band finished up the initial portion of their set with the seminal 1974 hit "Rock Bottom" before taking a quick break that allowed the full house to entice their heroes back to the stage with chants of "UFO, UFO, UFO". The band returned for two double-word encores, "Doctor Doctor" and "Shoot Shoot" before calling it a night.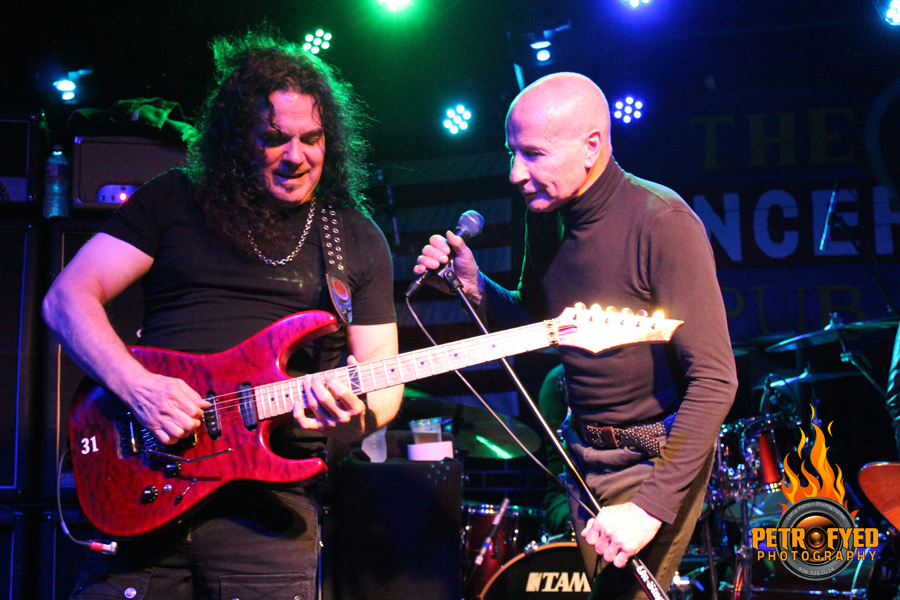 Though the show was on a Sunday and a good portion of the crowd, yours truly included, had to work the next morning, it was well worth the exhaustion we would face the next day to catch this legendary band. If they're coming anywhere near you on the remainder of their tour, you must catch this show, you will not be disappointed!
Setlist:
"We Belong To The Night"
"Fight Night"
"Run Boy Run"
"Lights Out"
"Rollin Rollin"
"Venus"
"Only You Can Rock Me"
"Burn Your House Down"
"Cherry"
"Love To Love"
"Messiah Of Love"
"Makin Moves"
"Rock Bottom"
Encore:
"Doctor Doctor"
"Shoot Shoot"
Remaining US Dates:
3/18: Ramona, CA @ Ramona Mainstage
3/19: Corona, CA @ M15
3/20: San Juan Capistrano, CA @ The Coach House
3/21: Phoenix, AZ @ Joe's Grotto
3/23: Las Vegas, NV @ Count's Vamp'd
3/24: Agoura Hills, CA @ The Canyon
3/25: Los Angeles, CA @ The Whiskey
3/26: San Francisco, CA @ The Independent
Check out some more photos from the show!
All Photos By Larry Petro/Petrofyed Photography




Please log in to view RANTS

If you don't have a username, click here to create an account!