VOODOO CIRCLE
Whiskey Fingers
AFM Records




"Bringing Back the VooDoo vibe to Hard Rock" has turned into VOODOO CIRCLE's band motto. VOODOO CIRCLE is the brainchild of guitarist Alex Beyrodt (SILENT FORCE, SINNER, PRIMAL FEAR), who founded the German band in 2008.

To describe this band in a short version I'd say Blues meets Melodic Metal meets good old late 1980's Hard Rock. If you're a fan of WHITESNAKE/DAVID COVERDALE, DEEP PURPLE, YNGWIE MALMSTEEN and RAINBOW this band will be one to add to your playlist ASAP. David Readman-vocals(PINK CREAM 69), Mat Sinner-bassist (SINNER, PRIMAL FEAR) Alessandro Del Vecchio-Keyboards(HARDLINE) and of course the founder, Alex Beyrodt-guitarist round out this five-man show along with the newest member, Tim Husung on drums.

The freshman album release, VooDoo Circle in 2008, was a complete collaboration and influenced musically by bands such as WHITESNAKE and DEEP PURPLE. I urge any fan of Yngwie Malmsteen to listen to the song "White Lady Requiem" on that album. Great homage to the sounds that influenced this track.

"Kingdom Of The Blind", another song on this first album just proves that this band is here to remind us what real Hard Rock is all about. 2011 was the band's second album release Broken Heart Syndrome. A couple of songs to get familiar with are "Don't Take My Heart" and "This Could Be Paradise", of which fans fell in love with. More Than One Way Home was the the third album and the title track is very much similar in sound to WHITESNAKE's "Is this Love?". David's vocals are amazingly reminiscent of Coverdale's.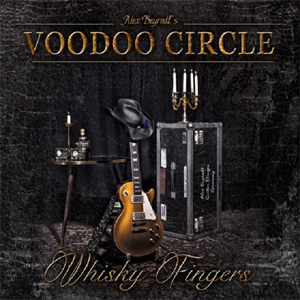 Whisky Fingers is the latest album release, which contains 11 tracks and not even one is lacking anything in my opinion. I am a forever fan of the 80's & early 90's hard rock sound. If you're a fan of hard hitting rock melodies and power ballads then this will be something you need to listen to. High pitch vibratos and keyboards mixed with blues rock. "Trapped In Paradise" is a great intro to this album and quite frankly into to the evolution of how this talented group has evolved. David's vocals punch you with high notes and range, keyboards are awesome and in this song all the guys are spotlighted perfectly. It's a badass song if you're needing to figure out what VOODOO CIRCLE is about.
For all power ballad fans out there and I'm well aware there's a great number of you, "The Day The Walls Came Down" is one for you. Easily one of my favorites of all VC's songs to date. "Straight Shooter", the 7th song on the album, is just a feel good rock song that reminds you what the real rock arena concerts were like if you were lucky enough to be in attendance of any back in the late 80's.
This entire album will restore your faith in Hard Rock music and appreciate the genre. VOODOO CIRCLE is keeping it alive one album at a time.
Whisky Fingers was released in November 2015 and I hope it should gain more momentum here in the States. Currently the band has tour dates only for Germany, but keep your eyes peeled for some possible U.S. shows. Visit their website and Facebook page to stay up to date.
5.0 Out Of 5.0
Grab a copy of Whisky Fingers in the KNAC.COM More Store right HERE.