EVERY MOTHER'S NIGHTMARE In Houston, TX With Photos!


By Larry Petro, News Monkey
Thursday, April 14, 2016 @ 12:09 AM


| | | |
| --- | --- | --- |
| | | Southern Hard Rockers Make Long Awaited Return At BFE Rock Club |
All Photos By Larry Petro/Petrofyed Photography
From late 1999 until around 2003 it seemed as though Tennessee natives EVERY MOTHER'S NIGHTMARE were playing Houston every other month. Okay, yeah, it only seemed that way, but the band did in fact play Houston probably 5 times during that span. They also managed to release 3 studios, Smokin' Delta Voodoo (2000), Back Traxx (2001) and Deeper Shade Of Grey (2002), along with one live album, Live Songs From Somewhere (2002), also during that same timeframe. Then things went remarkably silent, with the band only playing the occassional one-off show or two, usually around their home state. That is all about to change though as the band recently released a brand new EP, Grind, accompanied by two videos ("Loco Crazy" and "Blown Away"). EMN is once again more active on the touring front and for the first time in about 13 years the band returned to Houston for a show at BFE Rock Club.
For some reason the club found it necessary to book five, that's right, five opening bands. That's a lot of rock for one night but unless it's a rock showcase or festival of some sort it was really overkill. Case in point: when the first band took the stage at around 7:30 there was maybe a handful of people there. After meeting the guys in EMN and catching up on the missed time, the better part of the next 2 hours for me was spent on their bus watching the movie Ted 2. I entered the club once again in time to catch the final song of the 4th opener, WOLFBLITZER and the entire set from SLAYTERICA, a SLAYER/METALLICA/PANTERA cover act. They were quite entertaining, especially when the bassist and guitarist came down from the stage and hopped on top of the bar to play for a tune.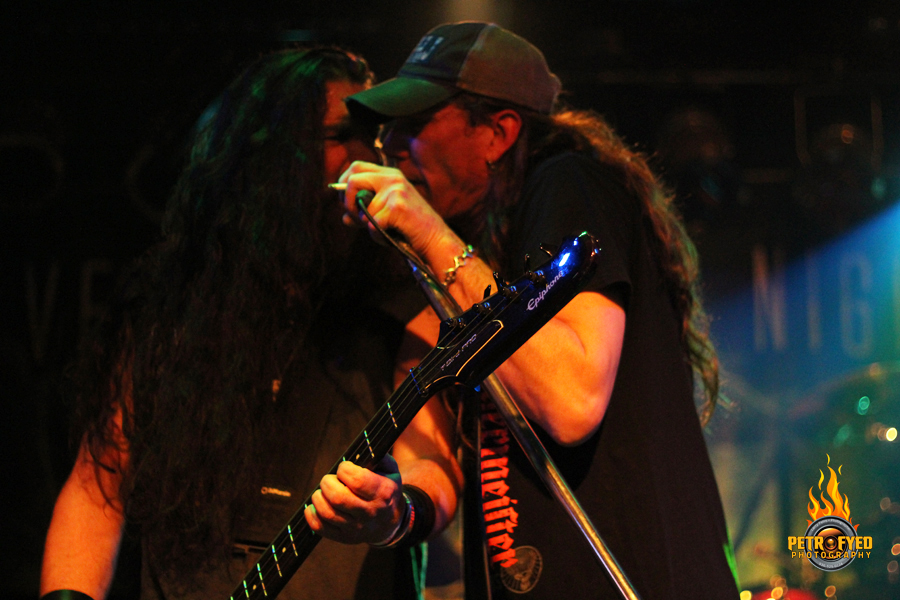 Finally at around 12:20am, EMN took the stage and opened things up with "Push" from the Smokin' Delta Voodoo disc. The band has changed a bit from the last time they played Houston, with founding vocalist Rick Ruhl and longtime bassist Troy Fleming the sole remaining members from those days. The new EMNers now include lead guitarist Travis "Gunner" Butler, drummer Lonnie Hammer and touring guitrist John Guttery. Quite possibly the best lineup this band has ever had, they rolled through their 12 song set with a couple of tracks from the band's early days ("Walls Come Down", "Love Can Make You Blind", Closet Down The Hall"), a couple off of the aforementioned Delta Voodoo CD ("Push", "#3") and the entire set of 5 tracks from the new Grind EP before capping off their time with their classic, raucous cover of the CHARLIE DANIELS hit "Long Haired Country Boy".
The band looked every bit rejuvenated and re-energized with the infusion of new members and leader Ruhl was as healthy and happy as I've ever seen him. The band has quite a few tour dates on the books now with more to be added so if you like your hard rock southern fried with attitude, be sure and check them out when they come near you!
Setlist:
"Push"
"Sacred Circle"
"Walls Come Down"
"#3"
"Upper Hand"
"Closet Down The Hall"
"Loco Crazy"
"Blown Away"
"Holding On"
"Snake"
"Get Away"
"Love Can Make You Blind"
"Long Haired Country Boy"
Check out some more photos from the show!
All Photos By Larry Petro/Petrofyed Photography




Please log in to view RANTS

If you don't have a username, click here to create an account!