THE DARKNESS In San Diego, CA


By Junkman, On-Air Personality
Tuesday, April 19, 2016 @ 12:49 AM


| | | |
| --- | --- | --- |
| | | At The House Of Blues 4-10-16 |
I headed down the coast recently to the House of Blues in San Diego, a great place to see a show. Which show you ask? A great bill of some solid British rock, featuring THE DARKNESS, who were touring the states for the first time in a while. I had seen them a few years ago at the Rock On The Range festival in Ohio, and was impressed with their live show. Seeing them in the intimacy of a smaller, but comfortable club made my decision to make the 90 mile drive a good one.

Another reason was the fact that RAVENEYE was on the bill as well. This 3 piece British band that I again, had first seen at a festival, and now could enjoy in the comforts of a club setting. I would not be disappointed. This band, which consists of guitarist/vocalist Oli Brown, bassist/vocalist Aaron Spiers, and drummer Kev Hickman, put on a first-rate rock show. All of my favorite qualities, great songs, energetic performance, and no distractions, such as lighting effects or pyro to take away from a lack of substance. And it really shows that they are having a good time onstage. At one time, towards the end of their performance, Brown was hoisted onto Spiers shoulders, mid song, a'la vintage AC/DC. The crowd ate it up. Selections from their 2015 EP Breaking Out were performed. Don't miss these guys when they come to your town. They are getting ready to record a full length release. Check out www.ravenye.com for more info.

At around 9:15 the house lights dimmed, and THE DARKNESS appeared onstage to an intro of Gaelic/Irish style music. That changed quickly as the band tore into their opening number "Barbarian" from 2015's excellent Last Of Our Kind release. It was on! The crowd was into every bit from every song the band played. And rightly so. THE DARKNESS has a great catalogue of music over their 4 albums. And their stage show enhances every song.

Singer Justin Hawkins is a trip, to say the least. Dressed for the evening in a light blue satin suit with a red satin shirt, and the occasional white Gibson Les Paul guitar, he posed and pranced like a twisted Freddie Mercury. His humor is evident with everything, from his posing in front of the white stage lights to form a silhouette, to bidding farewell to the photographers in the pit as they exited after the traditional third song-"Thank You, come again". He commands attention, and that is what a great front man does. Sporting braces on his teeth (He IS British after all…) and a nose jewel, he even toyed with the crowd. "Do you like our British accents?" a few laughs later from said crowd turned into roars, as the guitarist Dan Hawkins (Justin's younger brother) launched into the power chords of "Black Shuck" one of my favorite DARKNESS numbers.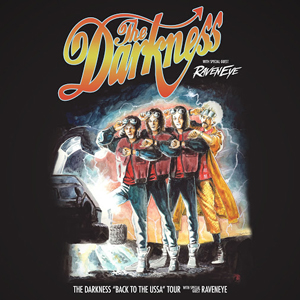 Hawkins sometimes comical falsetto vocals provide a uniqueness to this band. It used to turn people off when they first became famous, but years of hard work and a great live performance have made it not so terrible. Of course his onstage personality brought smiles to many faces in the crowd, time and again. "There is always an air of prestige about a House Of Blues show" he quipped. "A bit of professionalism is involved". With that, bassist Frankie Poullain struck a pose and banged off the cowbell opening to "One Way Ticket", again drawing plenty of sing-alongs on the chorus from the very "prestigious" House Of Blues audience.
Hawkins continued his hilarious sarcastic ranting to the adoring crowd. "Of all the audiences we have performed for, this would be the one this be the one that I would be most comfortable with while unconscious." It was then that drummer Rufus Tiger Taylor (son of QUEEN drummer Roger Taylor) led the band into "Get Your Hands Off My Woman", again setting the place off. As Hawkins asked the band to clap their hands, he then did a hand stand in front of the drum riser and clapped his FEET in time, while upside-down. Now THAT'S entertainment, folks.
Ending their set with their first big hit "I Believe In A Thing Called Love", again with its fabulous combination of great power chords and Hawkins over the top falscetto, the energy in the room was at full tilt boogie. As the band left the stage, the place erupted. As for the encore, Hawkins returned to the stage in ultra short white tennis shorts that harkened back to the days of Bjorn Borg and John McEnroe, but continued to slay the crowd with "Open Fire" from 2015's Last Of Our Kind release, and then ended things with the terrific "Love On The Rocks With No Ice", a perfect capper on a boozy, sweat, rockin' evening in San Diego. If you like a great British rock show like I do, this is the one to see. They will be coming to a city near you, and it's a great way to spend the evening, with plenty to talk about the next day.
SETLIST
"Barbarian"
"Growing On Me"
"Mudslide"
"Black Shuck"
"Roaring Waters"
"Giving Up"
"One Way Ticket"
"Love Is Only A Feeling"
"Friday Night"
"English Country Garden"
"Concrete"
"Every Inch Of You"
"Get Your Hands Off My Woman"
"Stuck In A Rut"
"I Believe In A Thing Called Love"
Encore:
"Open Fire"
"Love on The Rocks With No Ice"




Please log in to view RANTS

If you don't have a username, click here to create an account!