HATEBREED
The Concrete Confessional
Nuclear Blast Records




HATEBREED is as HATEBREED does, to turn a phrase from the ever-prescient Forrest Gump. The Connecticut-based quintet has been dependably doling out its metalized hardcore with only slight variations on that theme for more than 20 years, and the same holds true for its latest effort.

The Concrete Confessional, HATEBREED's seventh album, leans more toward the hardcore side of things musically and adopts a modestly more world view lyrically, instead of just turning inward – as frontman Jamey Jasta is wont to do, though there is plenty of that here as well. "A.D." sets the tone right off the bat with its "corruption of the American dream" theme, tense, bludgeoning riffs and gang-shouted backing vocals.

And at 2:51, it's the album's third longest song, showing that HATEBREED isn't in the mood to waste time mincing words or indulging in, well, indulgences here. Indeed, the baker's dozen of tracks on Confessional are dispatched in just over 33 snub-nosed minutes, concluding rather abruptly when "Serve Your Masters" simply cuts off. Forget dropping the mic, it seems like the band just up and pulls the plug altogether.

Before then, though, the bracing "Us Against Us" echoes "A.D" in Jasta's drill sergeant-like "we are all just caught in the injustice machine" diatribe while "In The Walls" and the wickedly hooky "From Grace We've Fallen" decry moral and social decay with equal fury. "Remember When" boasts an old school hardcore vibe – despite Jasta's "the past is like a virus" lack of sentimentality - with its churning bass line and lurching breakdown.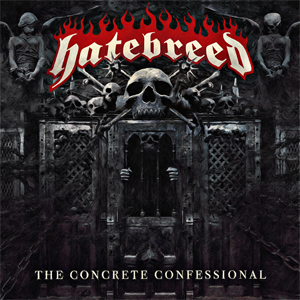 "The Apex Within" even busts out some MISFITS-like "Whoa oh, whoa ohs," though they sound rather odd and out of place, especially as Jasta implores the "prey" to "become the hunter" when the wolves "come knocking in the night". "Looking Down The Barrel Of Today" and "Seven Enemies" offer more of his bug-eyed motivational speaking on the power of inner strength.
The metal-leaning songs on Confessional are actually the weakest of the lot. Despite its crunching groove, "Something's Off" stumbles over its more deliberate "rock song" construction and metalcorey clean vocals. The SEPULTURA-like chug of "Slaughtered In Their Dreams" doesn't come close to matching Jasta's vehement delivery, leaving it to sound overdone and ham-handed. "Walking The Knife" though, is modestly better with its brief blasty bits and the SLAYER-esque licks on the otherwise lumbering "Serve Your Masters" are pretty rad.
There also is no real genuine anthem here - a la "Live For This", "I Will Be Heard" or "Destroy Everything" - guaranteed to make everyone go off when it's played live. But in the end, that probably won't matter much. Fans flock to HATEBREED for its unwavering aggression and sheer brute force, and Confessional offers plenty of both. So there will be plenty of action in the pit for the new stuff regardless.
3.5 Out Of 5.0
Grab a copy of The Concrete Confessional in the KNAC.COM More Store right HERE.