Making Some Noise: An Exclusive Interview With THE DEAD DAISIES Guitarist DOUG ALDRICH


By Charlie Steffens aka Gnarly Charlie, Writer/Photographer
Monday, July 25, 2016 @ 2:00 PM


| | | |
| --- | --- | --- |
| | | "You just gotta go out there and grind it out. One show at a time. One fan at a time, and people will remember you." |
Since its formation in 2012, THE DEAD DAISIES has been a straight-ahead-no-gimmicks rock and roll band. Founder, guitarist, and songwriter David Lowy (RED PHOENIX, MINK) has been the group's constant member over the years, enlisting some of the finest musicians in the rock scene.

Make Some Noise, THE DEAD DAISIES' upcoming third release set to drop on August 5th, features Lowy, John Corabi (MOTLEY CRUE, RATT) on vocals, Doug Aldrich (WHITESNAKE, DIO) on guitar, Marco Mendoza (WHITESNAKE, THIN LIZZY) on bass, and Brian Tichy (OZZY OSBOURNE, FOREIGNER) on drums. This new lineup has already played numerous shows together, with a focus on promoting the new record and turning on a new audience to their guitar sound that is rooted in the 70s.

Guitarist Doug Aldrich spoke to KNAC.COM about the new album and what's it like to be in a band unceasingly unified in its kick-ass, take-no-prisoners credo.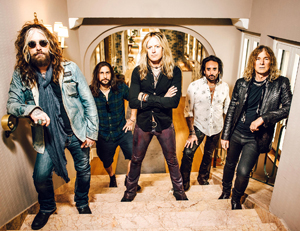 "It's a no-frills, kick-in-your-teeth, riff-rock record", Aldrich says about Make Some Noise. "We wrote a bunch of stuff, but this is a snap shot of the moments in February of this year when we got together and we just went in and just recorded it right away; we actually wrote it and recorded it at the same time. It's not trying to change the world of doing things. It's basically saying 'This is what we got right now, people. This is the new DEAD DAISIES sound.' So that's what we came up with. We did it really quick. I think we recorded it in a month, total."
"When people hear the record, they'll hear a lot of different riffs. When we were writing we came up with a few different things. We have a couple ballads that we worked on, and this and that, but the record just felt like it was more of a unit with that group of songs that didn't distract, that didn't deviate too far away from the mood that it sets."
The songs exude the group's undeniable love for the music they make. The song "Last Time I Saw The Sun" depicts the total American rock and roll band.
"Everything you hear on the record we worked up together," says Aldrich. "Everybody had input on it. Everybody was a songwriter on all songs. It was the first time I've ever done that. It's five guys. So John brought that riff in for "Last Time I Saw The Sun" and then we were working on that. And then Brian says 'Yeah, maybe we should use this title, "Last Time I Saw The Sun"'. He kept jokingly singing it over different parts of the song. Eventually John said just to shut him up--'Alright let's just call it that for now', and he eventually wrote lyrics. But the title came from when Brian was out with THE DEAD DAISIES, at the time Dizzy Reed was playing keyboards, and he and Dizzy were up all night. They got out of the bus and it was still dark, and he said something like, 'Man, it's been a long time since I last saw the sun.' Dizzy said, 'That's a great song title, man!'"
Aldrich says that working with John Corabi has been a rewarding experience: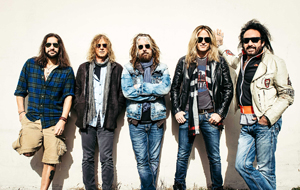 "He's a great front man. He's a great MC at the party and it feels like I'm jamming with an old time friend that I've known and played with for years, although we never did a note of music together until this record. He's got a really cool, fat, thick voice. We've already done a bunch of shows in New York and Europe this Spring. I gotta say I was very impressed with how he handled it all. He is the same guy onstage as he is offstage. He's just in control and really funny and talented. He has a way of bringing people—the way he talks to them—into his world and making them feel comfortable."
Two cover songs, CREEDENCE CLEARWATER REVIVAL's "Fortunate Son" and THE WHO's "Join Together" attest to the band's love for rock classics.
"They were doing that song previous to me being there", Aldrich says regarding "Fortunate Son". "They were doing it as an encore. THE DEAD DAISIES always does some covers. The way they look at it is that it's 70s rock, and the 70s and 60s bands would do other people's songs, you know? Like Hendrix would do a Bob Dylan song or whatever… he might have done a BEATLES track or something just because he liked the song. So that's what THE DEAD DAISIES' thing is, why the band likes to do it. No matter where they were, the song always went over great. We cut it really quickly. "Join Together"-- we actually kind of worked that up as a band to change it a bit. But "Fortunate Son" was just like a last minute, 'Let's chuck it down so we have it.'"
Speaking about what it is like to be working with Marco Mendoza again, Aldrich emphatically states: "I love it. He's so fun to hang out with and he's really always positive. With Marco, nothing you can do is wrong. I'm trying to learn all these songs right now—not only the old songs. We're rehearsing the entire new record. I was telling Marco, 'Man, I'm just trying to get all these songs mixed up, even the songs that I wrote.' He says, 'Man, don't even worry about it. It sounds awesome.' He's just always like that. If you got Marco in the band--it's really a thing."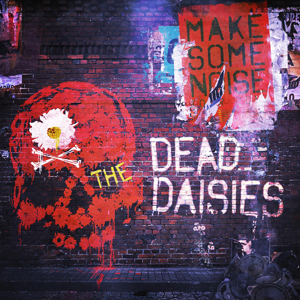 "We're committed to this record. This is the band. It's always a little tricky when you change members because people don't really want the band to change that much. There are fans of the band that were there before me, so they, of course were fans of the lineup with Richard Fortus and Dizzy."
"You never know what's going to happen in the future, but at this point right now we're really excited about this lineup and this record. That's what we're promoting. So it's hard to say what happens in the future. It's the same thing. You just gotta go out there and grind it out. One show at a time. One fan at a time, and people will remember you. If you just try to get a record played it's a little difficult. We're going to tour for the rest of the year and probably into next year if there's legs. Hopefully we'll gain more new fans. Then we can make more music. There's definitely no shortage of ideas for THE DEAD DAISIES."




Please log in to view RANTS

If you don't have a username, click here to create an account!