PAIN Coming Home


By Peter Atkinson, Contributor
Tuesday, September 13, 2016 @ 1:06 PM


| | | |
| --- | --- | --- |
| | | |
PAIN
Coming Home
Nuclear Blast Records




Once a quirky industrial/electronic side project for HYPOCRISY mainman Peter Tägtgren, PAIN has taken on a life of its own, especially with the relative success of its last few albums. At the same time, the sonic lines between the two bands have blurred considerably, especially with PAIN's anthemic You Only Live Twice album from 2011.

Well, things have strolled back into leftfield again for PAIN with its eighth album, Coming Home. Tägtgren's recent work with RAMMSTEIN frontman Till Lindemann on his unhinged and quite perverse LINDEMANN album in 2015 seems to have rubbed off, so to speak, because Coming Home is one of the weirdest, most experimental and provocative albums PAIN has done.

"Designed To Piss You Off" sets the tone from the get-go, with its Western twang meets KMFDM-style electro-metal pulse and bird-flipping "my rules, I'll do what I want" lyrics, and Tägtgren delivers on that promise the rest of the way.

"Piss You Off" is followed by the techno-fied throb of "Call Me" and industrialized martial stomp of "A Wannabe", though both are draped in rich symphonic/synthesized flourishes – something that repeats throughout with the aid of CARACH ANGREN keyboardist Ardek. SABATON's Joakim Bróden adds his trilled vocals to "Call Me", giving its call-girl fantasizing an extra bit of seediness. "Pain In The Ass" is even more overtly lascivious - or gross, depending on your predilections - as lines like "When little ain't enough and your needs are too big, learning by doing, chugging pee from a coffee cup," illustrate. It is something that probably would have been right at home on the LINDEMANN album, given its tunes about ladyboys, golden showers and such. Good times.

"Black Knight Satellite" flips the script from Penthouse Forum to conspiracy theorizing with its sci-fi story line about an alien object that supposedly has been orbiting Earth for 13,000 years and straight-forward electro-metal chug, while the earnest title track is one of the most personal, honest and reflective tunes Tägtgren's done maybe ever as he ruminates on aging and the end of innocence. "I'm getting tired, I just wanna go home," he notes. It's a jarring juxtaposition on an album that's full of them.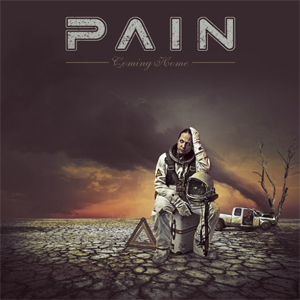 The U2-like pop rock of "Absinthe-Phoenix Rising" offers more personal reflection, but this time of the drunken mayhem variety, recounting an evening with the "mean green Devil" - much like one that ended with the band getting assaulted after leaving an Absinthe bar while on tour with NIGHTWISH a few years back. The song's light, buoyant beat and rousing "Hey, hey, hey" gang vocals make it all seem pretty fun though - and there is no real mention of the punches, or the regret, that came later.
The doomsday anthem "Final Crusade" and "Natural Born Idiot" bring a note of djent to the proceedings with their drop-tuned, staccato riffs and hulking rhythms as Tägtgren offers a nod to modern convention while at the same time retaining his industrial metal foundation. Album closer "Starseed" does as well, though briefly near its conclusion, and only after its hippy-era BEATLES meets early OZZY string-soaked Spartan pop/epic metal back and forth.
It's a fittingly jumbled finale to an all-over-the-place effort from PAIN, as Tägtgren once again puts some distance between it and HYPOCRISY, which is probably a wise move. With his son Sebastian helping out on drums, Tägtgren shows a looseness and "fuck it all" spirit that helps breathe some new life into PAIN, even if things are occasionally sophomoric or curious. Hopefully this can carry over to the next HYPOCRISY album, too, which should come along sometime next year if past patterns hold. Guess we shall see.
3.5 Out Of 5.0
Grab your copy of Coming Home in the KNAC.COM More Store right HERE.




Please log in to view RANTS

If you don't have a username, click here to create an account!