BLAZE BAYLEY In Ottawa, Canada


By Andrew Depedro, Ottawa Corespondent
Monday, October 3, 2016 @ 1:44 PM


| | | |
| --- | --- | --- |
| | | It's A Match Maiden Heaven At Mavericks |
The 90's were somewhat of a bizarre anomaly for veteran metal band IRON MAIDEN. Having essentially owned the majority of the 80's first as one of the fledgling bands from the NWOBHM movement with Paul Di'Anno before breaking wholesale with Bruce Dickinson, whose powerful voice projected many a classic metal anthem during its time, the band appeared to almost self-implode during the early half of the 90's when Dickinson announced his departure. He dabbled back into his solo career, adding two more of his own albums to his repertoire and started honing his own air pilot skills before returning back to the helm in mid-1999 by popular demand. Yet even with the Air Raid Siren absent at the time, IRON MAIDEN still forged ahead when former WOLFSBANE vocalist Blaze Bayley announced literally a year to the day after Dickinson left that he'd be taking over his vocal duties in the band. His work on both of their 90's albums - 1995's The X Factor and 1998's Virtual XI - championed the soaring riffs and neat yet complex song arrangements MAIDEN were always known for, but also brought a new songwriting dynamic into their music. IRON MAIDEN's lyrics with Bruce Dickinson had always been recognized for their storytelling and intricate detailed narration; with Blaze Bayley, the lyrics personalized the listener, making them more involved in the message and as such, the listener could easily relate more to the song's message in that context.

With that said, for the majority of old-school die-hard MAIDEN fans, to whom "Scream for me Long Beach!" was and still is a rallying cry to the band's most sound era, the band just didn't feel the same with someone other than Bruce Dickinson singing his songs. The Paul Di'Anno argument aside as he was the original singer before he was replaced by Bruce Dickinson, Blaze Bayley came into the MAIDEN fold during the brief height of the grunge era, known as the genre that almost killed metal entirely (plus other classic metal bands such as MOTLEY CRUE, ANTHRAX and JUDAS PRIEST had also seen their best-known frontmen suddenly go solo at around the same time), and he just wasn't seen as the complete fit for a band whose own music demanded a vocalist that could compliment the songs with justice and passion. Bayley was out by the tail end of 1999 prompting the quick return of Bruce Dickinson to the fold where he's remained ever since.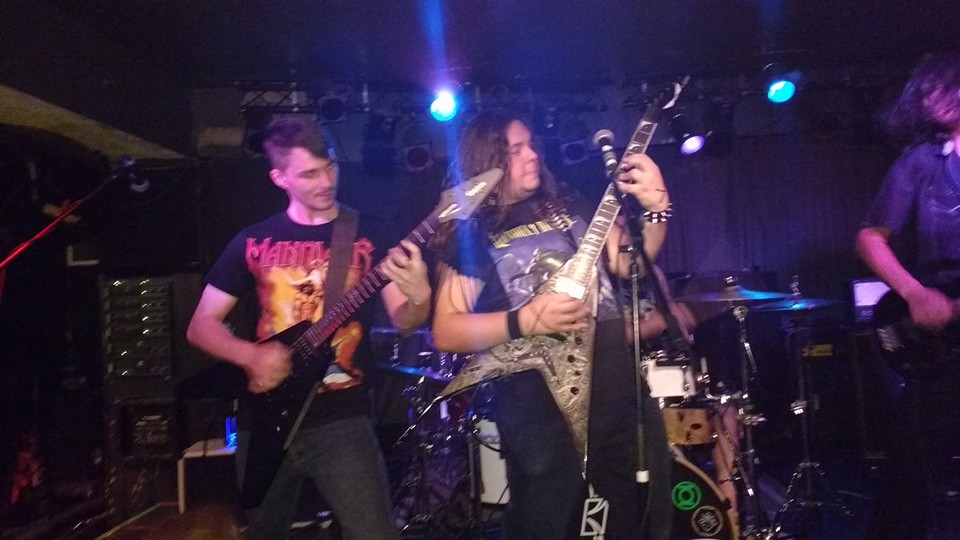 However, he used his own experience in IRON MAIDEN to forge out his own solo career (WOLFSBANE were written off on the day he left them for the MAIDEN gig), releasing seven solo albums including last spring's Infinite Entanglement and inspiring a new generation of fans of his own, including many of these local bands who supported him during his recent stop in O-town.
The first band to take the stage following a clarification of the order of the bill at the last minute would be DARK MINISTRY as they immediately exploded onto the stage. Clearly, not literally, but the unchained energy of the local five-piece comprised of frontman Tyler Knapp, guitarists Max Neckshredder and David Tyo, bassist Carlo "Tall Man" Cote and drummer/founder Rik Charron was pretty much akin to some sort of nuclear explosion as they tore through their 40-minute set with aplomb. Their brand of full-on heavy metal requires no extra hyphenated genres to be tagged along to their sound as their influences are purely evident, with METALLICA, EXCITER (a.k.a. Rik's former band) and PANTERA making up the bulk of their influences. In fact, speed/thrash anthems such as "Killing Machine", "Blood Driven" and the crowd favorite "Voodoo Sacrifice" speak literal volumes about the power of DARK MINISTRY's music than most adjectives could; they are named after a scene in World Of Warcraft after all. And while Rik may be the band's actual veteran, guitarists Max Neckshredder and David Tyo handle their Dean axes like well-seasoned pros considering they're both in their early 20's. They climaxed their set with the debut of a new song possibly titled "Sudden Death" - depending on what the chorus of the song was as Tyler Knapp's mic was cut, leaving him inaudible during its performance due to DARK MINISTRY being over 13 minutes past their stage time according to the organizers. With their debut album or EP soon to see the light of day, hopefully the aforementioned song will be on it with vocals, showcasing how much more game DARK MINISTRY have got.
https://www.facebook.com/darkministry
https://www.reverbnation.com/darkministry
Local classic metal enthusiasts and avid Charles Bronson fans DEATH WISH look to be another band at risk of going over their time limit as they take the stage for the next 40 minutes, opening with the air guitar-friendly number "Crucible". The average length of their songs being about 6 and half minutes long - inevitable when HELLOWEEN figures amongst your musical influences - could also mean that vocalist/lead guitarist James Delbridge might run the risk of getting his sound cut too. It wouldn't be the case as they made their five-song set as precise and efficient as possible, as they ravaged through songs such as "Into Oblivion" and "In Metal We Trust" with perfect timing, keeping the stage banter basic. Frontman James Delbridge did go into some minor detail about the story behind the song "The Raven" by immediately dismissing notions that it was based on the Edgar Allen Poe narrative (it was based on a political magazine of the sane name based in the UK during the 80's). He then proceeded to finish off the band's set with the hi-level shredder "Ride The Dragon" which saw the frontman jump into the audience and unleash a fiery solo of ridiculously awesome proportions. But he was enjoying himself as was most of the audience which was all that mattered. Looking forward to the sequel which either features more songs about dragon riding or whether Paul Kersey finally succeeds in his quest to make LA safe again.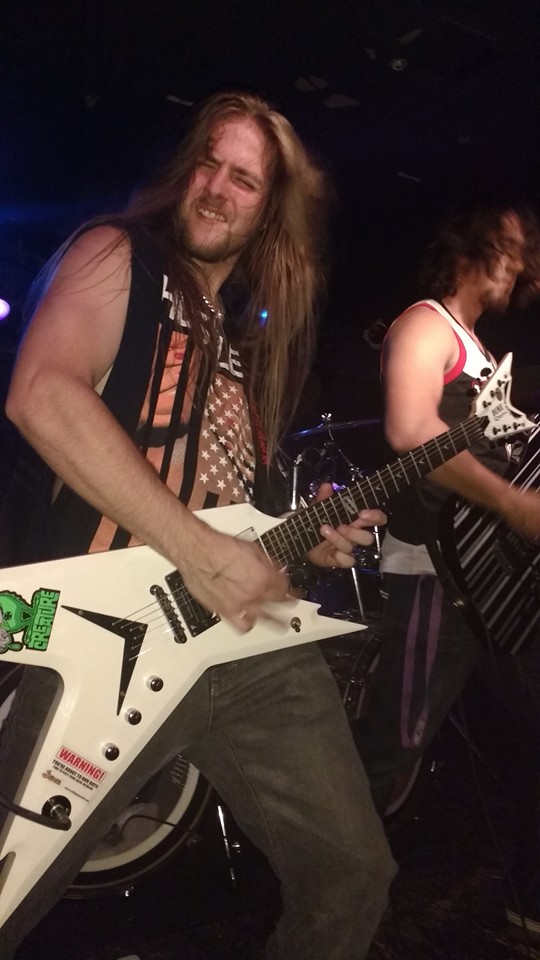 https://www.facebook.com/deathwishontario
Local death metal upstarts DOMINATION are the latest band to, er, dominate the stage as a last-minute replacement for another local band, the APHELION, who were forced to drop off the bill. Their hellraisin' hybrid of death and traditional thrash so far makes the local quintet the odd band out on the bill but they make up for the difference through their unbridled energy. That, and they'd recently completed their first full-length album titled Unholy Lands whose song topics about religion and war also - sorry - dominate the setlist that night. The band members don't immediately look the types to be writing or playing death metal but once the vocals take hold on songs like "God Is To Blame", "Surrounded By Death" and "Cataclysmic Capitalism", all such bets against them are cast down. Look for them claiming more stakes in the near future.
https://www.facebook.com/dominationbandcanada/
https://itunes.apple.com/us/album/unholy-lands/id1150306124
I'm not too sure what to make of the next band INSURGENT INC. when they take the stage with barely a greeting and pretty much the rest of the crowd feel the same way as they proceed to vacate en masse. Their music is described as urban rock and/or industrial metal, "combining man and machine, creating a musical theatre plunged in darkness that shines a strong glimmer of hope". At least that's what their bio says because it didn't appear that the crowd would be getting much of a response from frontman/guitarist Luis Alberto-Sanchez, who otherwise put on a good show. We did get lots of feedback from their drummer Olivier Forest in the form of the background sampling machine which seemed to miscue a few times during soundcheck next to him; how he hasn't developed tinnitus this far into their 20+ year career is nothing short of a medical miracle. Anyway, for a band that's been in existence since the Chretien years, these guys should have a feasible size of songs people would remember immediately. Unfortunately the sole song or two that the crowd can decipher would be "Supercollider" and maybe "Ghost Dancing Waltz In A Sarcastic Dream". Otherwise, each song often sequenced into the next and trying to tell them apart only prompted an excuse for a bathroom break for many folks as they mumbled "more like INSURGENT STINK!" under their breath in some cases. Harsh, but a lot of us just didn't seem to be really into INSURGENT INC.'s brand of happy vibin' industrial metal with no name that evening as much as we tried. File under "acquired taste" and maybe a resurgence in their music will return in time.
https://www.facebook.com/insurgentinc.official/
http://www.insurgent-inc.com/
So, INSURGENT INC. made a comeback following the last intermission. That was quick and not at all entirely what the crowd had been anticipating as the time draws near for the headliner Blaze Bayley to appear. But as the opening riffs to "Voices From The Past" from 2008's aptly-titled The Man Who Would Not Die are played as, well, The Man Who Would Not Die takes the stage, the crowd's immediate reaction is about 95% "Blaze Bayley STILL has it!" and a further 5% "INSURGENT INC. are actually pretty awesome when they're not playing their own songs!". Yet while the backing band aren't exactly looking their most animated on stage in parts, they still mastered the whole setlist. Plus it was Blaze's role to rile the crowd up, which he did so effortlessly. Not just in his solid renditions of his solo material as well as the MAIDEN songs which adorn his name in the songwriting credits, but also in his stage banter. The guy exuded positivism and urged everyone to follow their dreams regardless of who would oppose them, developing a sense of communal kinship with his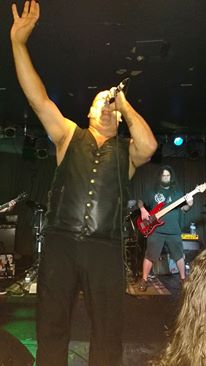 audience. It was very much the underlying message of his recent album Infinite Entanglement as he performed "Human", "A Thousand Years" and the album's title track as Blaze thanked everyone who pre-ordered the album, vowing to never break the bond between himself and his audience. And he'd already been true to his word by releasing the new album independently through his own label and production agency, all financed out of his own pocket.
Closing his set with a killer rendition of "Fear Of The Dark", Blaze Bayley also demonstrated that he could also hold his own alongside his competition. His version of the Dickinson-era IRON MAIDEN classic was matched note for note and the atmosphere was just as vibrant as if the Air Raid Siren had been brought out on stage to accompany him. Definitely the proper way to end the show that night.
And close to two decades since his brief stint in IRON MAIDEN ended, Blaze Bayley proved that he still had the infinite power to continue his solo course.
https://www.facebook.com/officialblazebayley/
http://www.blazebayley.net/
Setlist:
"Voices From The Past"
"Futureal" (IRON MAIDEN cover)
"Born As A Stranger"
"Silicon Messiah"
"Ghost In The Machine"
"Human"
"Samurai"
"The Clansman" (IRON MAIDEN song)
"Virus" (IRON MAIDEN song)
"The Brave"
"Kill And Destroy"
"Infinite Entanglement"
"The Launch"
"A Thousand Years"
"Man On The Edge" (IRON MAIDEN cover)
"Fear Of The Dark" (IRON MAIDEN cover)




Please log in to view RANTS

If you don't have a username, click here to create an account!