DIAMOND HEAD In Houston, TX With Photos!


By Larry Petro, News Monkey
Wednesday, November 30, 2016 @ 10:47 AM


| | | |
| --- | --- | --- |
| | | NWOBHM Rockers Bring Old School Metal To The Concert Pub North |
All Photos By Larry Petro/Petrofyed Photography
When someone asks you to think of a NWOBHM (New Wave Of British Heavy Metal) band, most people are quick to mention BLACK SABBATH, JUDAS PRIEST, IRON MAIDEN and even SAXON on occasion, but not too many people will say a name that has also impacted future generations of heavy metal acts, that being the legendary DIAMOND HEAD. Contemporary bands like MEGADETH AND METALLICA have cited this iconic band as an early influence to their music, with the latter known to perform several DIAMOND HEAD songs during their gigs. METALLICA even went on to record a version of the DIAMOND HEAD classic "Am I Evil". How many of you knew that wasn't actually a METALLICA song?
DIAMOND HEAD has been around now for 40 years, taking a few hiatuses along the way during the mid-80s and then again in the mid-90s. 2016 saw the release of the band's first studio album in nearly a decade, the Diamond Head self-titled effort and its first US Tour in 3 years, which brought them to Houston, Texas in mid-November for a show at the Concert Pub North.
There were 3 local bands on this bill as openers; MALEVOLENT FORCE, MASTEMA and APOCALYPTIC. The first two got things started and although they were pretty good from a musical perspective, the Cookie Monster growl of the vocals just isn't my thing and really wasn't a good fit for the style of metal that DIAMOND HEAD plays. It is certainly not meant as an offense to those bands, it's just a personal preference of mine to like to be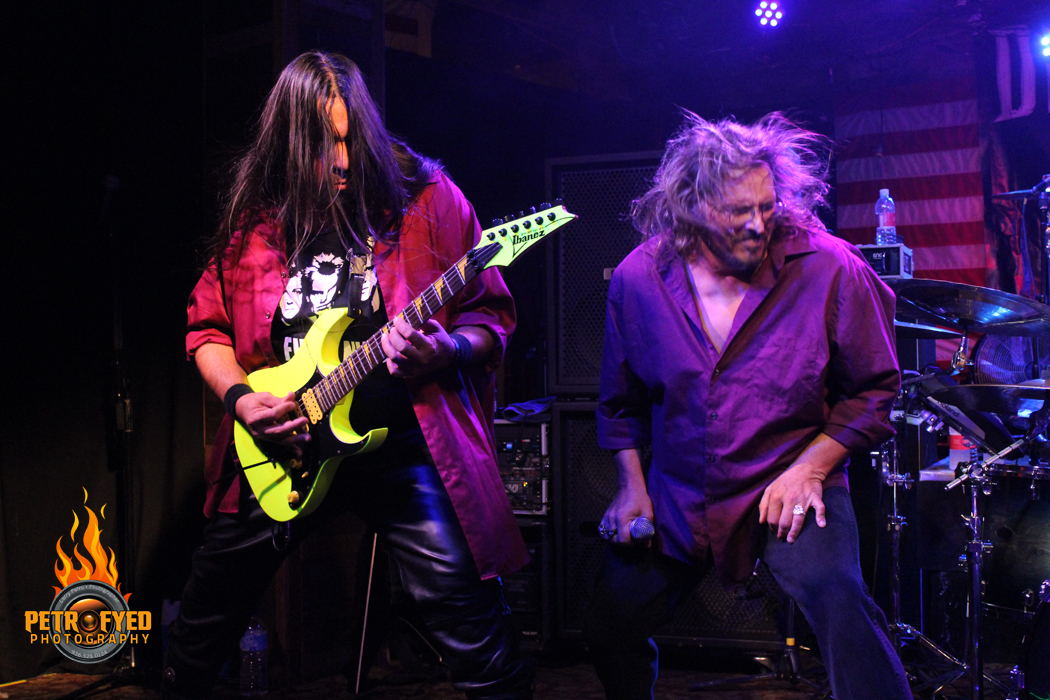 able to understand what they're 'singing'. The third band, APOCALYPTIC, however were definitely more suited to the bill and, led by guitarists David Rivera and Marc Laracuente, and drummer Adrian Galindo, this night was a special one for them as they introduced their new vocalist, local favorite Kendall Mason who, though admittedly being a nervous wreck prior to the show, just nailed his debut. Playing a set of mostly original material that's a heavy, power metal style, APOCALYPTIC was definitely a crowd favorite. Kendall's only misstep appeared to be forgetting a few of the lyrics to the JUDAS PRIEST cover "Metal Meltdown", despite having the lyrics on a sheet in front of him. I'll chalk that up to nerves. Look for more from this band in the future as they look to finally finish their debut CD.
DIAMOND HEAD then took the stage and with show-opener "Borrowed Time", the title track from the 1982 album of the same name, they were off and running. The band was firing on all cylinders early on and was having a great time. Guitarist Brian Tatler, the band's sole remaining original member, has managed to assemble a stellar cast of musicians for this particular lineup of the band. Now comprised of Tatler, new vocalist Rasmus Bom Andersen, bassist Dean Ashton, guitarist Andy Abbz Abberly and drummer Karl Wilcox (for whom this night would be somewhat bittersweet, more on that in a moment), the band rolled through a nearly 2 hour set of classics spanning a career as lenghty as theirs, playing such gems as "Lightning To The Nations", "The Prince", "To Heaven From Hell" and "Sucking My Love" before closing the set with "Am I Evil?" and then encoring with "Streets Of Gold". The band also included a few numbers from the new self-titled effort in the form of "Bones", "Diamonds" and "Set My Soul On Fire".
New vocalist Rasmus Bom Andersen was a great addition to the band, not only providing a phenomenal performance to the new album's material but at the same time putting his stamp on the classics. Tatler asked me after the show what I thought of the current lineup and stated that he was quite pleased with the cast he has in place, and well he should be. The entire band displayed lots of energy and were clearly enjoying themselves while interacting with the crowd.
As the show came to a close, drummer Karl Wilcox came to the front and informed the crowd that he had received word mere hours before our show that his mother, the band's former merch handler, had passed away. What a horrible thing to happen to a member when they're thousands of miles away and in the middle of a national tour but to his credit, he played the show, albeit with a tad bit more emotion and obvious sadness. I inquired of him afterwards as to whether or not he was going to continue with the tour and he said that he was going to wait for further details from his father before deciding. Given the fact that the tour has continued on with him, he evidently had decided to stick it out.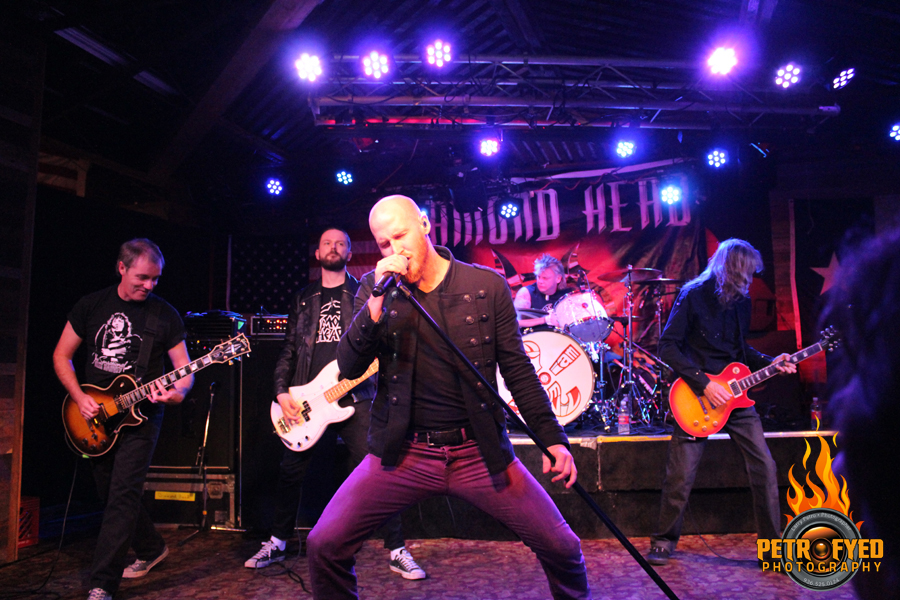 There's only a few shows left on this jaunt and if you're one of the lucky ones that live in these areas, including Los Angeles where the band will play on Friday, you must go see this show! You will not be disappointed!
DIAMOND HEAD Remaining Dates:
11.30 - Denver, CO - 3 Kings Tavern
12.2 - Los Angeles, CA - Whisky A Go Go
12.3 - Corona, CA - M15 Concert Bar & Grill
12.4 - Crockett, CA - Toot's Tavern
Setlist:
"Borrowed Time"
"Bones"
"Lightning To The Nations"
"Diamonds"
"Helpless"
"Set My Soul On Fire"
"In The Heat Of The Night"
"To Heaven From Hell"
"Starcrossed (Lovers Of The Night)"
"Sucking My Love"
"The Prince"
"Shoot Out The Lights"
"It's Electric"
"Am I Evil?"
Encore: Check out some more photos from the show!
All Photos By Larry Petro/Petrofyed Photography




Please log in to view RANTS

If you don't have a username, click here to create an account!