Vanderhoof
A Blur in Time


By Mick Stingley, Contributor
Saturday, July 26, 2003 @ 2:57 PM


| | | |
| --- | --- | --- |
| | | (SPV) |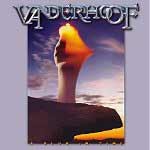 There is a beat-up van sitting in the abandoned parking lot of a long-closed factory, on the edge of a once-thriving industrial town: where the asphalt is now broken and crumbled from years of neglect. The back doors of the van are open and music blasts out of the 1978 Kenwood Speakers that were rigged up with some wire from Radio-Shack… four friends, two guys and two girls, sit inside, looking out… looking up at the clear night sky. Weeds poke their way through the cracks in the parking lot and someone notices a flower as the cool night air offers up a breeze. One guy pulls on a joint, and offers his girl a sip on a pull-top Bud can; while one couple makes out. Lights from a radio tower flicker in the distance. What's playing in the background? It may very well be "Vanderhoof," and it may very well be 1978 or 2003, but whether the kids in the van know or care, it doesn't matter. All that matters is the music… Perhaps time is irrelevant: this record sounds absolutely NOTHING like anything going on today. It is a singular, wonderful, superlative achievement -- both as a new record, and as a time-piece. This is what music used to sound like Once Upon A Time and, in a contemporary context, it is so incredibly refreshing in that it simply confounds the imagination. It's so good, it hurts. Showcasing simplicity in songwriting, singing, playing, and arranging, this five-man band (guitar, vocals, bass, drums, keys) are so 'retro' they are advanced beyond all others. Softness, harmony, melodies and gentle, easy playing is emphasized over bombast. The songs are the sum of the parts, and not the other way around. Sometimes they 'rock,' and sometimes they challenge the listener to NOT sing a-long… but of course, that's next to impossible, with songs as grand as these. Singer Drew Hart recalls a less-schmaltzy Dennis DeYoung, the band sounds like they learned to play music on tour with Kansas, and the whole damn record sounds like it was produced by Tom Scholz before The Sex Pistols became a household name. Songs like "30 Thousand FT," "Electric Love Song," "If There's A Song" and "Un-Changed" are so steeped in "Pieces Of Eight" and "Cornerstone" that one might imagine them being played as part of a classic rock set by an electric cover band on any given night in The Florida Keys. These songs alone are spectacular, uncanny, jaw-dropping and flat-out fucking incredible! And it's 2003! Who would have guessed that this effort comes courtesy of two dudes from "Metal Church" (Kurdt Vanderhoof and Kirk Arrington)? "Nowhere Train" and "Sonic Blur" out-Boston Boston; and at the very least might stand as lost songs from that recording session. AND, if "High Street," not just a song -- but a hymn -- with it's acoustic intro and vague lyric splendor doesn't become the "Babe" of the new Millennium, then love and radio is dead, and no one dances at proms anymore. The best record that "Styx" or "Boston" never recorded is called A Blur In Time, and it was made in 2002/2003 by a band called "Vanderhoof." Call your friends, pick 'em up in the van… and head out to that place near the train-tracks on the edge of town. You bring the music; let them bring the beer and just hang out and enjoy the fact that you don't have to work tomorrow: 'cuz tonight's gonna last forever… * * * * *




Please log in to view RANTS

If you don't have a username, click here to create an account!





ARMORED SAINT, ACT OF DEFIANCE In Allston, MA

KNAC.COM Reviews The VINNIE PAUL CELEBRATION OF LIFE Event In Dallas, Texas

DEVILDRIVER Outlaws 'Til The End Vol. 1

DEVIN TOWNSEND PROJECT Ocean Machine: Live At The Ancient Roman Theatre Plovdiv

OPERATION: MINDCRIME In Houston, TX With Photos!

MONUMENT Hellhound

THE IRON MAIDENS In New Bedford, MA With Photos!

BULLETS AND OCTANE Waking Up Dead

TAD MOROSE Chapter X

KATAKLYSM Meditations

DIO DISCIPLES In Houston, TX With Photos!

IMMORTAL Northern Chaos Gods

SEBASTIAN BACH, THE STANDSTILLS And INIRE In Ottawa, Canada

SALTY DOG Lost Treasure

STYX, JOAN JETT, TESLA In Tampa, FL With Photos!

THE NIGHT FLIGHT ORCHESTRA Sometimes The World Ain't Enough

HALCYON WAY Bloody But Unbowed

MADBALL For The Cause

GRUESOME Twisted Prayers

FRANK HANNON From One Place...To Another - Volume 2