SIX FEET UNDER
Torment
Metal Blade Records




Even though his band had fallen apart and been rebuilt from the ground up, I really thought ex-CANNIBAL CORPSE frontman Chris Barnes and SIX FEET UNDER (SFU) had turned something of a corner with 2012's Undead, his feistiest and most genuinely brutal album in at least a decade. Sadly, it was not to last.

More lineup changes led to 2013's disjointed Unborn, with more of the same resulting in, well, more of the same for 2015's Crypt Of The Devil, which found Barnes being joined – with somewhat hilarious irony - by most of CANNABIS CORPSE. Torment, SFU's 12th album, features yet another new lineup, with ex-BRAIN DRILL bassist Jeff Hughell – who played on Unborn – returning and ex-BRAIN DRILL/THE FACELESS drummer Marco Pitruzzella coming onboard. And the constant turmoil doesn't do SFU any favors this time either.

Torment is a patchwork of the pedestrian, groovy death metal SFU often falls back on – and just as often gets shit on for, with some justification – occasionally interesting up-tempo fare and low-brow splatter film thematics a la "Knife Through The Skull" or "Bloody Underwear" that might have shocked back in the day but seem pretty tame and trite by today's standards, as desensitized as we've all become.

On the plus side are the revved up "Exploratory Homicide" and "Schizomaniac" or the chunky "Skeleton" or "Roots Of Evil", which do show some spunk and flair. Here, Pitruzzella's flashy fills and double-kick pummel and Hughell's nimble bass runs bring a welcome rhythmic swagger to drive Hughell's gritty guitar work.

A lot of the weight on Torment falls on Hughell, who became de facto main composer upon his return. And while he does yeoman's work here, and shows some genuine panache from time to time, the album keeps losing the momentum it starts to build with the disjointed "Slaughtered As They Slept" or the loafing, workman-like "Knife Through The Skull", "Funeral Mask", "Obsidian" and "In The Process Of Decomposing" that have become SFU's unfortunate forte over the years.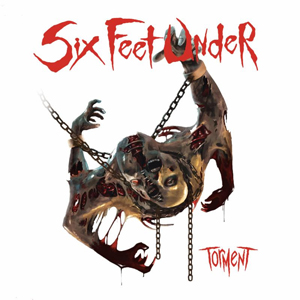 But what really drags things down are Barnes' vocals, which seem especially ragged and weak this time out. Indeed they sound downright terrible on tracks like the herky-jerk "The Separation Of Flesh From Bone" and indecipherable on "Bloody Underwear" where his guttural gargle offers all of the gravel but none of the roar he brought to his Cookie Monster-worthy work with CANNIBAL way back when.
There's so little power and conviction behind his delivery that it often seems more like wheezing spoken word than actual singing. And the weird quavery affectation Barnes adopts from time to time only makes matters worse. Perhaps he's just tired from the band's near constant rebuilding mode.
SFU will likely get a lift from the recently announced addition of Barnes' one-time CANNIBAL bandmate ,guitarist Jack Owen. But it comes too late to help Torment.
2.5 Out Of 5.0
Grab your copy of Torment in the KNAC.COM More Store right HERE.