POWER TRIP Nightmare Logic


By Peter Atkinson, Contributor
Thursday, March 16, 2017 @ 2:00 PM


| | | |
| --- | --- | --- |
| | | |
POWER TRIP
Nightmare Logic
Southern Lord Records




Though people keep pronouncing it dead, the "new wave of old-school thrash metal" obviously hasn't yet breathed its last. Indeed, as Spring prepares to, well, spring, it's showing renewed signs of life – at least for now. New albums are either in the offing or out already from bigger guns like HAVOK and WARBRINGER, lesser-known Canadians STRIKER and crossover titans IRON REAGAN.

Joining the fray is Texas quintet POWER TRIP – probably the most unassuming, meat and potatoes band of the bunch, and perhaps the most worthwhile because of that. With a raw, blunt-object sound that mashes up the boundless aggression of Bonded By Blood-era EXODUS and hardcore bludgeon of vintage CRO-MAGS, POWER TRIP forgoes the shred, technicality and power metal indulgences of many of their comrades in arms, and offers a more serious, deliberate tone than IRON REAGAN or, by extension, MUNICIPAL WASTE, etc.

Nightmare Logic is all about riffs, and delivers them in big, fat, meaty slabs at varying velocities. The opening track "Soul Sacrifice" or "Firing Squad" are faster and more frantic, but still offer an abundance of quick-cut hooks whereas the super-catchy "Executioner's Tax (Swing Of The Axe)" or the title track find guitarists Nick Stewart and the aptly/ironically named Blake Ibanez pounding away over the chugging rhythms of Chris Whetzel (bass) and Chris Ulsh (drums).

"Ruination" and "Waiting Around To Die" mix and match tempos, with "Waiting" even echoing the dynamics of SLAYER's "Hell Awaits" - the song - as the brooding clang of its intro suddenly takes off in a hail of buzz-saw guitar and d-beat battery. The pace may be somewhat more measured here, but the effect is the largely same, especially during the squealing lead break.

The album's dense, rough-hewn but modern-sounding production gives everything a more than ample crunch, accentuating the forceful riffing while providing a solid balance between clarity and abrasiveness. The intermittent caterwauling solos are about the only extravagance to be found on Nightmare Logic, and even then they are typically dispatched with relative brevity.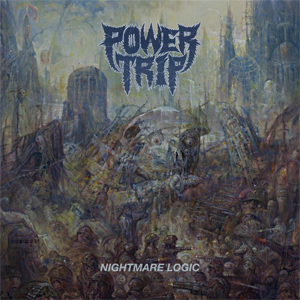 Indeed, as was the case with its 2013 full-length debut, Manifest Decimation, POWER TRIP is a model of efficiency on Logic, offering eight songs in a lean and mean 32 minutes. The band stays about as true as one can to the "all killer, no filler" credo, with some occasionally methodical pacing being about the only thing that stands in the way of perfection here.
Frontman Riley Gale's terse, resonant lyrics and assertive – if somewhat atonal – delivery adds to the oomph factor and makes POWER TRIP one of the thrash revival's more incisive acts. His militant, matter-of-fact bark serves both as a call to action and a warning about the consequences of failing to do so with society hanging in the balance, as on "If Not Us Then Who" - "Can't stop the force of ruin, this world will run through you/If not now, then when?/If not us, then who?" And his bandmates' old-school shout-alongs provide an infectious, emphatic flourish.
Nightmare Logic is about as no-bullshit a thrash album as you're going to find these days. It's honest music with an earnest message by a band that doesn't waste time with frills or fanciful notions. And while it is certainly inspired by the spirit of the genre's early days, it is driven by a greater purpose than mere nostalgia – which is just what this now not-so-new wave needs to keep defying the doom-sayers.
4.5 Out Of 5.0
Pick up your copy of Nightmare Logic in the KNAC.COM More Store right HERE.




Please log in to view RANTS

If you don't have a username, click here to create an account!