All Photos By Halo/Halos & Horns Photography
The last time AMARANTHE graced Houston with their presence of melodic death metal rock was in November of 2015. Finally, they made their way back to the states and kicked off their North American tour with us here at Scout Bar Friday, February 10th. Yet again, their show kicked ass! This mix of Swedish and Danish musicians never disappoints. After both times Iíve seen them live, I seriously donít understand how they are still playing little venues. Donít get me wrong, Scout is a great local venue but this band should be in an arena. It's hard for me to remain completely impartial because after listening to them the first time, I was hooked. The mix of sounds and genres of music they put together to become AMARANTHE is one of kind. If you have never seen them live, you are missing a phenomenal performance.
As usual the support bands playing were new to me, though I personally love hearing new music. I had never heard any of the bands before: FAILURE ANTHEM, CITIZEN ZERO, CYPRESS 16 and SMASHING INTO PIECES.
I missed the first two that played but heard the last two. The band CITIZEN ZERO stood out as a band that was very seasoned already and sounded amazing. The sound was more of a Hard Rock, Alternative with a little grunge mixed in. This Michigan based foursome look, act and sound like they are ready for the headlining spot. The guys were most gracious and talked to me for a few minutes after the show. I spoke with the drummer John Dudley and talked about life on the road, Harleys and music. He signed autographs while talking and was very open with fans. Watch for this band if they come to your neck of the woods. Great things to come for these guys I do believe.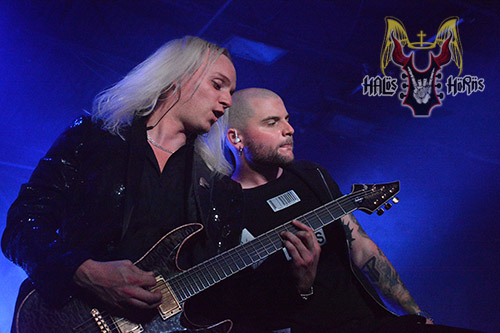 AMARANTHE took the stage about 9:50pm and with quite the intro doing "Maximize". The venue was packed at the November 2015 show and thinking it was not possible to have more at this show I was proven wrong. Fans packed every inch of the club to see these six rock stars on the Maximalism tour.
Going to an AMARANTHE show is one of those shows that when it's finished, youíre disappointed because you donít want it to be over. I guarantee every one of their fans feels this way. They had an hour and half pretty much of nonstop music with 19 songs on the set list, a mix of all their albums. I will shamelessly say that when they were about to sing "Endlessly", vocalist Elize Ryd dedicated it to my guy Eric because as Elize and all of the band does, they remember when people mention songs and significance in their fan's lives. This song was talked about in my interview. Iíll say it's quickly become one of their most popular songs. I think I even saw grown metal music men singing along with song. They jumped from this love ballad to "On The Rocks", a few more songs and then of course Johan the bassist starts his somewhat comedic rant while the band is taking a break. Now understand this, Johan is a really funny and sweet guy but if you go back at him during one of his moments you will be red faced by the end of it.
He always has everyone laughing. When he was finished the band enters the stage again and goes directly into "Call Out My Name"! The show has so many moments you canít remember them all. Drum solos, guitar solos, of course vocals from melodic to hard core. Elize Ryd in my opinion is one of the most talented in women in metal music. She never disappoints and Olof Morck, the brains behind AMARANTHE, composes some of the best music out there. He doesnít pigeon hole the band to one sound.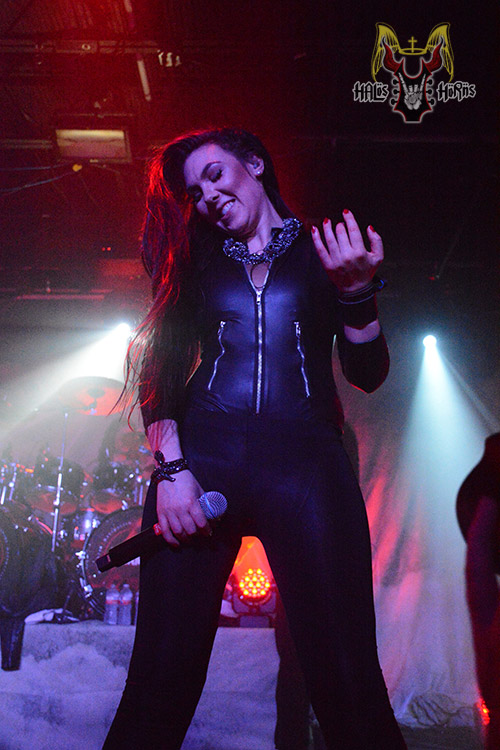 Henrick Englund Wilhelmsson handles the hard vocals and the death metal sound of the band is awesome to watch. Johan Andreassen, the funny man behind bass, seems to have a section of fans all to himself. Vocalist, the handsome Chris Adams is a perfect fit with Elize on the clean vocals. Drummer Morten Lowe Sorenson sits on his throne and never misses a beat. This crew on stage is rock perfection. The show ended with 4 songs after the group took the stage again and this included "Digital World", "That Song", "Dynamite" and of course the hit "Drop Dead Cynical".
After the show the band stayed outside for at least an hour or more by their bus signing merch for fans and taking photos. This band loves their fans. They spend time and actually talk to them. They listen and remember fan's names. Its nice to see a band that actually cares, the world needs more artists like these guys. Every penny you spend on an AMARANTHE show is worth it. They truly are one badass band that deserves more recognition!
PS: Thanks Chris Adams for taking your hat off and listening to me. Houston saw your cute eyes!
Check out some more photos from the show!
All Photos By Halo/Halos & Horns Photography