DEMON HUNTER Outlive


By Curt Miller, Editor at Large
Wednesday, April 12, 2017 @ 1:30 PM


| | | |
| --- | --- | --- |
| | | |
DEMON HUNTER
Outlive
Solid State Records




DEMON HUNTER released Outlive March 31, 2017, its eighth studio album with Solid State Records since its 2002 eponymous debut. The band's latest release retains lead singer Ryan Clark's melodic vocal style backed by songs that are driving and anthemic. While melodic, the band's music is decidedly heavy and features periods of growled vocals that, though aggressive, never reach the point of being unintelligible. Hailing from Seattle, this Christian metal band has garnered a substantial following since its inception, and with records such as Outlive, it's easy to understand why.

Outlive opens with "Trying Times", a 2:23 minute buildup into the metal assault that is "Jesus Wept". The first track begins slowly with a chanted chorus backed by a relatively simple drum rhythm. As the song continues, the rhythm becomes more complex, a bit of aggression appears in the lyrics of the song's only verse and a satisfyingly heavy, yet slow guitar riff fills out the mix. The track transitions directly into "Jesus Wept", where things speed up dramatically. Grinding vocal verses are combined with a syncopated guitar riff and some very aggressive drumming. The chorus is slow and heavy with call and response lyrics. All of instruments match the vocal rhythm during the song's choruses giving the words tremendous punch.

Things slow down just a bit for a few tracks, yet the overall mood remains heavy. Throughout this section, "Died In My Sleep" is one song that really stands out. It opens with an ostinato guitar part with steady 16th note kick drums providing the backdrop. Slightly growled verses are balanced with a melodic chorus and then it's right back into the ostinato guitars and steady kick drums. There's a chunky breakdown between chorus and verse that makes the transition seamless.

Just past the midway point is "One Step Behind". Herein lies pretty much everything one could ask for in a metal ballad. The song's verses feature slow, heavy guitars with the low resonance of the bass hitting on lyrical transitions. Choruses are sung without a hint of growling. Before the song fades out, there's a brief guitar solo followed by a final breakdown with nothing but bass guitar and drums accenting its vocals.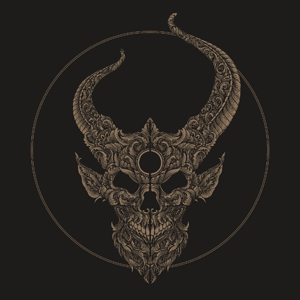 Outlive retains its heavy, slow and steady tenor for a few more songs, blending slightly growled verses with melodic choruses, before bringing back the aggression with "One Less". Growled vocals that come just short of screams combine with fast-paced, chunky guitar riffs and punchy, 16th note kick drums. Next up, "Patience" opens with a brief piano section and then keeps the pace moving. During the verses, the guitars break. There's a chugging rhythm part that follows the drums with the lead guitar layering chord progressions overtop. Once again, the verses feature slightly growled vocals with more melodic choruses. A very brief but well-executed solo rounds this track out nicely.
Closing the album out is "Slight The Odds", which opens with strings before 16th note kick drums fade in underneath. The strings are replaced with a chunky guitar riff for the first verse. It all comes together for the chorus with strings, heavy guitars, melodic vocals and the ever-present punchy kick drums. It's all retained throughout the remaining verses and choruses but for a growling vocal breakdown just before the song's closing chorus and string outro.
Outlive provides a great blend of solid, metal songs, everything from heavy, chugging grooves to blazing anthems. There's something for everyone and not a bad track on the album. It's a truly satisfying listen.
5.0 Out Of 5.0
Grab a copy of Outlive in the KNAC.COM More Store right HERE.




Please log in to view RANTS

If you don't have a username, click here to create an account!