VANDEN PLAS The Seraphic Live Works


By Daniel Höhr, European Correspondent
Wednesday, May 31, 2017 @ 7:04 AM


| | | |
| --- | --- | --- |
| | | |
VANDEN PLAS
The Seraphic Live Works
Frontiers Music Srl, 2017




Founded in Kaiserslautern, Germany in 1986, VANDEN PLAS are a houshold name amongst prog metal fans not only in their home country but also abroad and on the other side of the Atlantic. Until now, their catalogue has included only one live recording, namely Spirit of Live, published in 2000, which features guest appearances of Don Dokken on a cover version of "Kiss Of Death" and Patrick Rondat on "Rainmaker". One of the more recent highlights in the career of the German five-piece was undoubtedly their appearances at the Prog Power USA Festival in Atlanta, GA, on September 15 and 16, 2011. Now, almost six years later, a live CD/DVD digipack recorded at those shows has been released, probably with the intention not only to demonstrate the outstanding live qualities of the band but also to get the VANDEN PLAS fans ready for the upcoming 2017 release The Ghost Experiement.

Right from the opener "Postcard To God", the nine tracks on The Seraphic Live Works aptly document what a VANDEN PLAS live performance is all about: exciting and colourful progressive metal, stellar musicianship and good taste in the compositions and arrangements, a quality many a prog metal effort sadly lacks. Very often bands whose music is in a similar stylistic category as that of the mighty DREAM THEATER – and this is also where VANDEN PLAS belong – run the danger of losing sight of the right balance between form and substance and get bogged down in self-indulgent rhythmical and harmonic constructions that are complex, technically extremely demanding but at the same time utterly boring or even annoying to listen to. What music of this genre often lacks is the emotional component, namely the heartblood, the fun, the pain, the tears, and the balls.

Fortunately, VANDEN PLAS are refreshingly different. The balance between the complexity of their songs, their breathtaking virtuosity and the often epic musical content is perfect and the result is fascinating metal music that appeals both to the brain and to the balls, never gets "too much" but never loses any of its excitement either. Admittedly, there are many "hang on, I've heard this before" or "this sounds a bit like DREAM THEATER" moments on The Seraphic Live Works, especially parts of "Frequency" bear a more than just a superficial resemblance to "Metropolis Pt. 1: The Miracle And The Sleeper". I guess it's difficult if not impossible to circumvent inspirations from such a genre-defining album as Images And Words.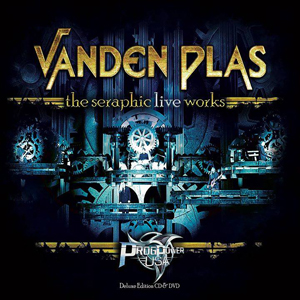 Still, I like this live album a lot and find myself playing it again and again. If I had to single out any tracks as particularly outstanding, I would first pick "Holes In The Sky" because of its right mix of atmosphere and groove as well as its epic chorus. The ensuing sombre "Far Off Grace" is incredibly atmospheric and full of suprising moments, from quieter piano parts to explosive guitar, bass and drum onslaughts. It also showcasts one of Stefan Lill's many sensitive yet thrilling guitar solos. "Scar Of An Angel", with its balladesque moments, heavy riffing and symphonic elements, is also one of the undisputed highlights on The Seraphic Live Works. The concluding "Silently" is simply spectacular but also a bit demanding for the listener, which is partly due to its length of more than eleven minutes.
All in all, The Seraphic Live Works is a must-have not just for the prog community. Stephan Lill (guitar), Andreas Lill (drums), Günter Werno (keyboards), Andy Kuntz (vocals) and Torsten Reichert (bass) deliver an impressive performance on this convincing live effort. The only real complaint I have concerns the mix, which is powerful and never lacks clarity but could do with more bass guitar. But that's complaining on a high comfort level, something we Germans have a certain reputation for. VANDEN PLAS demonstrate another thing we are good at, namely playing exceptionally brilliant metal.
Go get the album.
4.0 Out Of 5.0
Grab a copy of The Seraphic Live Works in the KNAC.COM More Store right HERE.




Please log in to view RANTS

If you don't have a username, click here to create an account!