SUFFOCATION ...Of The Dark Light


By Peter Atkinson, Contributor
Thursday, June 8, 2017 @ 10:59 AM


| | | |
| --- | --- | --- |
| | | |
SUFFOCATION
...Of The Dark Light
Nuclear Blast Records




Stability has never been one of the hallmarks of death metal titans SUFFOCATION – not that it seems to have been much of a concern for the band. Over the course of now eight albums – and one four-year hiatus - SUFFOCATION has yet to record two in a row with the same lineup. Indeed, only lead guitarist Terrance Hobbs and frontman Frank Mullen have performed on all eight – and Mullen semi-retired from touring about the time Pinnacle Of Bedlam was issued in 2013, which has led to a string of stand-ins when the band performs.

Leading up to album number eight, ...Of The Dark Light, there was a bit more shuffling than usual, as drummer Kevin Talley and two-time guitarist Guy Marchias were replaced by Eric Morotti and Charlie Errigo, respectively, before the band's run on last year's Summer Slaughter tour. But, as has usually been the case, you'd hardly know it to listen to ...Of The Dark Light, which continues SUFFOCATION's legacy as one of death metal's most sonically consistent bands.

The instrumental dazzle, blunt-force heaviness and songwriting craftiness that can make the band's brutality not only resonant but palatable are there in relative abundance on ...Of The Dark Light. And while the album doesn't really break new ground, its nine tunes are delivered with the usual guile and conviction as Errigo and Morotti make a seamless transition into the maelstrom.

If anything, the new blood seems to have inspired the uber-technical inclinations of the SUFFOCATION of old. Where Pinnacles was somewhat streamlined and comparatively melodic – in the most brutal sense of the word - … Of The Dark Light recalls the complexity and intricacy of the band's pre-hiatus era.

The more contemporary breakdowny grooves are fewer and farther between – but when they hit, as on the opener "Clarity Through Deprivation", "Your Last Breaths" and the lurching title track, they absolutely crush. In their place, Dark Light serves up a heaping helping of riff salad, tempo changes galore – with Morotti really showing his considerable chops - and songs that are built more around flow than structure.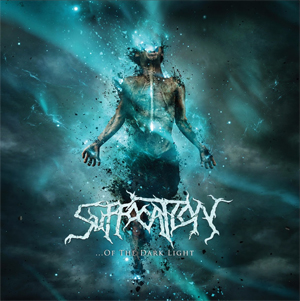 The album has an often free-form feel to it, racing from here to there seemingly on a whim, with but a few hooks or meaty riffs to connect the tangle of dots. It's largely up to Mullen to provide the glue here and his snub-nosed bark is as commanding as ever - even if he gets a bit of help from Kevin Muller, his latest live stand in, who contributes backing growls from time to time.
Even so, the songs essentially morph from one to the other without any – except, maybe, the sleek "Some Things Should Be Left Alone" - really standing out, as did, say, "Souls To Deny", "Entrails Of You" or "As Grace Descends" did on SUFFOCATION's post-hiatus work. Still, ...Of The Dark Light never reaches the ludicrous level of technicality for technicality's sake that many modern bands SUFFOCATION inspired embrace – often at their peril – and it engages, occasionally dazzles and always pummels despite its relative dearth of "catchiness."
3.5 Out Of 5.0
Pick up your copy of ...Of The Dark Light in the KNAC.COM More Store right HERE.




Please log in to view RANTS

If you don't have a username, click here to create an account!