MR. BIG Defying Gravity


By Andrew Depedro, Ottawa Corespondent
Monday, June 12, 2017 @ 12:48 AM


| | | |
| --- | --- | --- |
| | | |
MR. BIG
Defying Gravity
Frontiers Music SRL




For a band known for their well-crafted technical proficiency over the course of their three-decade long recording and touring career as MR. BIG are, you wouldn't ever be none the wiser in knowing that it took the band only six days to record their ninth studio album Defying Gravity just from one listen to it. Yet that's exactly how the veteran hard rock quartet approached their latest work. The chemistry among members Eric Martin (lead vocals), Paul Gilbert (guitars), Billy Sheehan (bass) and Pat Torpey (drums) combined with the production magic of Kevin Elson (the man behind MR. BIG's self-titled '89 debut through to 1993's Lean Into It) has become as strong as ever at this point in their careers that hitting out an album so quickly as this one is almost effortless. By that, I mean that in spite of a well-crafted sound, Defying Gravity doesn't sound like an album that took six days to organize and record. Think of albums such as Never Mind The Bollocks or the first CLASH and RAMONES albums which took about as long as Defying Gravity to record - combined! - and they sound as chaotic and rushed as the schedules set around them to prepare, which equally adds to their awesomeness.

With that said, Defying Gravity also has equal measures of chaos, spontaneity and fury - and MR. BIG are the furthest definition of a young and inexperienced 70's punk rock band in comparison to the aforementioned examples. The opening track (and increasingly personal fave) "Open Your Eyes" commences with Paul Gilbert's signature wild riffing intro and promptly gives forth the delectable late 60's vibe which MR. BIG are known for. "Everybody Needs A Little Trouble" sounds just as mischievous and inviting as the title implies. "Damn I'm In Love Again" is a catchy acoustic-driven number which could be best described as the power ballad missing from the soundtrack for O Brother Where Art Thou? in parts for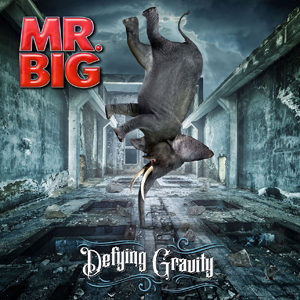 its organic simplicity; plus, with a voice as powerful as Eric Martin's they wouldn't really need a backing choir. "Mean To Me" is a ferocious workout whose entertainment value particularly lies in listening to Paul Gilbert and Billy Sheehan practically competing against each other over who will fill in the solos. "1992" is definitely the most lyrically poignant song of the band's career, celebrating both the success of their biggest hit "To Be With You" (which hit #1 on this day if you want to talk about perfect timing here) as well as the record company reactionary pitfalls which accompanied them while thanking the fans - a.k.a. "the good people" - for propelling their ascent into stardom. Finally, the closing number "Be Kind" starts off as the usual happy-go-lucky mellow-sounding track that MR. BIG are known for and ends up closing with a spontaneous 90-second jam session at the end of the song.
There's much to enjoy and marvel about Defying Gravity from both the perspective of a new fan of MR. BIG as well as from the diehard lifer - the quick one-liners by Eric Martin done almost in a single take and the quicker musical deliveries of Paul Gilbert and Billy Sheehan as well as the equally quick tenacious trade-off of drumming duties between Pat Torpey (who was recently diagnosed with Parkinson's disease which curtailed much of his own performance on the album) and touring drummer Matt Starr. Looks like the notion of DIY in the music industry isn't always relegated to the freshly ambitious as MR. BIG have established with their latest release. In any case, Defying Gravity also showcases a band that isn't afraid to shoulder some heavy lifting of their own either.
https://www.facebook.com/mrbigmusic/
http://www.mrbigsite.com/
4.0 Out Of 5.0
Pick up a copy of Defying Gravity in the KNAC.COM More Store right HERE.




Please log in to view RANTS

If you don't have a username, click here to create an account!






DOCTOR PHEABES Army Of The Sun

TRANS-SIBERIAN ORCHESTRA In Portland, OR With Photos!

SLAYER's 2nd To Last Show In Los Angeles With Photos!

CATTLE DECAPITATION Death Atlas

RUNNING WILD Crossing The Blades (EP)

KING DIAMOND In Portland, OR With Photos!

BLACK ROZE Spiritual Hell

DEEP PURPLE Live In Rome 2013

CRASHDIET Rust

VIXEN In Houston Photo Gallery

AFTERSHOCK FESTIVAL Photo Gallery Day 3

AFTERSHOCK FESTIVAL Photo Gallery Day 2

AFTERSHOCK FESTIVAL Photo Gallery Day 1

AVATARIUM "The Fire I Long For"

LEGENDRY The Wizard And The Tower Keep

PLATINUM OVERDOSE Murder In High Heels

CHILD BITE Blow Off The Omens

AS I LAY DYING, AFTER THE BURIAL, FROST KOFFIN In Houston, TX With Photos!

A KILLER'S CONFESSION The Indifference Of Good Men

SLAYER The Repentless Killogy

FIT FOR AN AUTOPSY The Sea Of Tragic Beasts

BELPHEGOR, SUFFOCATION, NECRONOMICON, ABIOTIC In Los Angeles With Photos!

TYGERS OF PAN TANG Ritual

BABYMETAL, THE HU In Portland, OR With Photos!

MACHINE HEAD Live in Dublin, Ireland

MAYHEM Daemon

ALICE COOPER In Orlando, FL With Photos!

SLAYER In Springfield, MA

AGNOSTIC FRONT Get Loud!

LACUNA COIL Black Anima

BLACKTOP MOJO Under The Sun

ROB HALFORD Celestial

SEBASTIAN BACH In St. Petersburg, FL With Photos!

HELLOWEEN United Alive In Madrid

HAMMERFALL's Halloween Ball In Ottawa, Canada

ANGEL WITCH Angel Of Light

BLUE OYSTER CULT, UFO In New York City