Chris Slack Reviews Turbonegro Live in Seattle


By Chris Slack, Contributor
Thursday, October 16, 2003 @ 2:15 PM


| | | |
| --- | --- | --- |
| | | Slack Reviews Turbonegro, With |
I parked near the venue at around 8:15 and downed a few double kamikazes to prepare myself before locking my car and heading to the show. Even though the doors were suppose to open at 8, there was still a small group of people assembled outside waiting to get in, results of the inevitable delays. Once the doors had opened I was surprised to find that it was a sold out (620 paid) show, I had NO idea Turbonegro was so popular in Seattle, after all no one ever talks about them and they get no airplay. As a result, a number of my friends were unable to get in -- too bad for them! I got inside and headed right for the merch area, I was disappointed that they didn't have any "I Got Erection" shirts but picked up a sailor hat, locked it in my car, then headed back in to check out the opening act.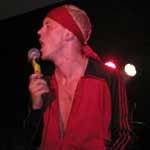 Sony Music recording artists Amulet (who, like Turbonegro, hail from Norway) started things off, playing to a mostly empty house. I was unfamiliar with the band and I soon discovered that there was a reason the place was so empty. The band came across as the N'Sync of pop-punk, all of the band members had just the right "look" and the non-threatening songs sounded very contrived. I would have spent the set hanging out in the bar if I didn't already have a pretty good buzz going on. Fortunately, the set was fairly short so my ears didn't have to suffer too much of Amulet's aural torture. During the 45 minutes between Amulet and Turbonegro, the Graceland filled to its maximum capacity. I was very happy I staked out a position against the stage early on, as getting up there would prove to take considerable work once the "Apocalypse Dudes" started their set. Anticipation (along with the temperature and humidity) was very high, with "Turbonegro" chants and the chorus from "I Got Erection" increasing in frequency and volume.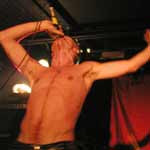 When the band finally came out to open with "Wipe It Till It Bleeds" the crowd let out with a mighty roar that was among the loudest I have every heard from a Graceland audience, cementing the fact that Turbonegro has a very loyal and rabid following even in the politically correct city of Seattle. Based on the publicity photos, I expected the guys in the band to look (and act) a lot, um, gayer but that wasn't the case -- they reminded me more of a classic glam band such as the New York Dolls. The band looked a little cramped on the Graceland's small stage but regardless of that they managed to play a pretty tight set comprised of a variety of songs from their considerable discography. They also managed to get a good amount of rock star stage moves in, which was impressive given the space they had to work with.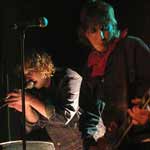 Once the band left the stage after the main set the "I Got Erection," choruses rose from the audience again, much louder than the previous rounds. They returned to the stage and played "The Age of Pamparius" and "Are You Ready (For Some Darkness)," and then Hank led the audience (alternating between the men and women) in a number of recitations of the chorus which was repeated so often throughout the set and introduced the rest of the band. They finished the night off with their signature song, "I Got Erection" and left the audience satisfied and sweaty, like any good band should. Turbonegro put on what was among the best shows of the year, I hope that their reformation is permanent, as I would love to see them again and recommend anyone else do so if they get the chance. Photos of Turbonegro from this show can be found at http://www.shadows.com/gravemusic/live/turbo100703/index.shtml.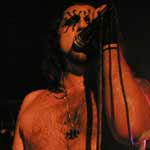 Turbonegro set list: Wipe It Till It Bleeds
Selfdestructo Bust
Back To Dungaree High
Turbonegro Must Be Destroyed
Sell Your Body (To the Night)
Denim Demon
Gimme Some
Get it On
Drenched In Blood (D.I.B.)
Fuck the World
Prince of the Rodeo

Encore:
The Age of Pamparius
Are You Ready (For Some Darkness)
I Got Erection

(Photos by Chris Slack)




Please log in to view RANTS

If you don't have a username, click here to create an account!






MASSACRE Resurgence

DREAM THEATER A View From The Top Of The World

JAY JAY FRENCH Twisted Business: Lessons from My Life in Rock 'N' Roll

BLACK LABEL SOCIETY, PRONG And OBITUARY In Portland, OR With Photos!

GEMINI SYNDROME 3rd Degree - The Raising

DORO/WARLOCK Triumph And Agony Live

BETWEEN WORLDS Between Worlds

ALCATRAZZ V

BEHEMOTH Sventevith (Storming Near the Baltic) Reissue

ALICE COOPER, ACE FREHLEY In Nashville, TN With Photos!

CARNIFEX Graveside Confessions

BLOOD RED THRONE Imperial Congregation

GUS G. Quantum Leap

BILLY IDOL The Roadside EP

AVATAR, MAGIC SWORD In Houston, TX With Photos!

APRIL WINE, MONKEYJUNK At The Ottawa Bluesfest

MINISTRY Moral Hygiene

CRYPTA Echoes Of The Soul

SKILLET In Houston, TX With Photos!

Immortal Axes: Guitars That Rock Book

IRON MAIDEN Senjutsu

GRINDER BLUES El Dos

GEORGE LYNCH Seamless Review #2

IN THIS MOMENT, BLACK VEIL BRIDES In Houston, TX With Photos!

WARLANDO Festival 2021 Photo Gallery

KISS In Ridgefield, WA With Photos!

LAURENNE/LOUHIMO The Reckoning

TREMONTI Marching In Time

ROCKLAHOMA 2021 Day 3 Photo Gallery

ROCKLAHOMA 2021 Day 2 Photo Gallery

ROCKLAHOMA 2021 Day 1 Photo Gallery

CARCASS Torn Arteries

SETH La Morsure de Christ

GEORGE LYNCH Seamless