SEPTICFLESH Codex Omega


By Peter Atkinson, Contributor
Monday, August 14, 2017 @ 7:36 AM


| | | |
| --- | --- | --- |
| | | |
SEPTICFLESH
Codex Omega
Prosthetic Records




When it comes to symphonic/orchestral death metal, Greek titans SEPTICFLESH are all but in a class by themselves. Since their reformation after a five-year year hiatus in 2008, arguably no one has done it bigger, badder and better then these guys.

Guitarist Christos Antoniou's degrees in classical music from the London College of Music certainly give SEPTICFLESH a leg up, and his expertise has been put to greater use with each of the band's post-regrouping efforts, starting with 2008's Communion. The overall results were somewhat mixed, however, on the band's last album, 2014's Titan, which got tripped up by all of the window dressing and lost some of its death metal might.

Codex Omega, the band's 10th album, is no less ostentatious and grand. It may arguably be more so – when you factor in the bonus CD that comes with it and features orchestra-only renditions of three of the tracks, including the titanic "Martyr Of Truth" that is more than twice as long as the metallic version. But the symphonic elements work better with the metallic bluster this time around as the band craft more majestic, dramatic material for it to complement rather than contrast.

Codex has a pronounced gothic pomp, with some of the band's usual velocity giving way to a more consistent martial pace – although new drummer Kerim "Krimh" Lechner still delivers his share of blast beat/double bass battery - that plays up the dense, resounding riffs and prominent bottom end. The music is burly and epic, with black metal tinges here and there - as on the fleet riffing of "Third Testament", and it all is cemented by the basso roar of frontman/bassist Spiros "Seth" Antoniou, aka Seth Siro Anton – who also created the album's freaky artwork – that is imposing as it is commanding.

The classical accompaniment and haunting choirs again are provided by the Filmharmonic Orchestra of Prague, and the familiarity works in everyone's favor here. Where Titan felt at times like the orchestration was sprinkled on top rather willy nilly, there is a more natural connection on Codex, even on a song like "Portrait" where there's a little bit of everything – eerie Middle Eastern horns, flighty strings, soaring backing vocals – played over some fearsome chug-and-sprint metal.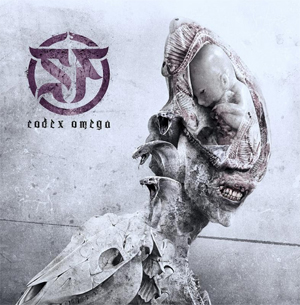 On tracks like "Enemy Of Truth" or "Martyr" everything syncs up to the point where it's hard to imagine the metallic elements without the classical accompaniment. It doesn't seem intrusive at all, indeed it sounds necessary – even if the grand choir finale on "Enemy" is a bit too over the top.
The melodramatic, Bowie-like clean vocals from guitarist Sotiris Vayenas – who rarely performs live with the band – also sound a bit hokey on the rousing "Dark Art" or the ominous, CELTIC FROST-like "Our Church, Below The Sea". And when they pop for a third song in a row, on the otherwise brisk, punchy "Faceless Queen", they get downright tiresome. But SEPTICFLESH wrap things up without any more cleans, even on the darkly melodic finale "Trinity", which is one of the most accessible songs the band's ever done, so no lasting harm done.
The deft production of Jens Bogren, who's worked with KREATOR, OPETH, AMON AMARTH, PARADISE LOST and countless others, is a definite plus here. He bring everything together with a good balance of polish and crunch. The orchestration is clear and bold, but not so much as to diminish SEPTICFLESH's inherent muscle. And while the band has scaled back a bit on the brutality here, Codex Omega still delivers plenty of bombast - of all sorts.
4.0 Out Of 5.0
Pick up a copy of Codex Omega in The KNAC.COM More Store right HERE.




Please log in to view RANTS

If you don't have a username, click here to create an account!