Metal Nerd: An Exclusive Interview With METAL BLADE RECORDS Founder BRIAN SLAGEL


By Charlie Steffens aka Gnarly Charlie, Writer/Photographer
Friday, September 1, 2017 @ 9:12 AM


| | | |
| --- | --- | --- |
| | | "Not much has really changed. I still love the music. I still go to as many shows as I can. So, I'm pretty much the metal nerd I was 35 years ago." |
It has been a momentous year for Metal Blade Records as 2017 marks its 35th anniversary. Commemorating the occasion is the publication of For The Sake Of Heaviness: The History Of Metal Blade Records by the label's prominent founder, Brian Slagel.

"It kind of seemed like this might be a good time to do a book and (provide) a focal point for the 35th anniversary," says Slagel. "I might as well tell some of these stories before I start to forget them." It was Slagel's passion that was the accelerant which would inadvertently launch Metal Blade. For The Sake Of Heaviness is an engaging account of the unintentional start of a record label, which in time would include some of the most influential bands in heavy metal in its roster.

"I didn't put out a record to start a record label, I was just trying to help out the scene," he insists. "I was just working in the record store, doing a fanzine, I was promoting the local shows—kind of doing anything I could in the area to help promote the scene that was happening. But outside of L.A. nobody knew that this thing existed at all."

"Being hugely influenced by the New Wave of British Heavy Metal, there were a couple of compilation albums, one being Metal For Muthas (released in 1980). I thought "Well, that's a really cool idea. Maybe I could do the same thing here." With no money to fund his venture, Slagel eventually found a distributor, which then prompted him to go out and ask bands if they had something on tape that he could put on the record. "As I was doing that," Slagel explains, "my friend Lars Ulrich, whom I had known for a couple years because we were huge fans of the New Wave of British Heavy Metal, called me and said 'If I put together a band, could I be on your album?'" Ulrich's fateful phone call to Slagel was the impetus that formed METALLICA, whose track landed on the 1982 compilation Metal Massacre.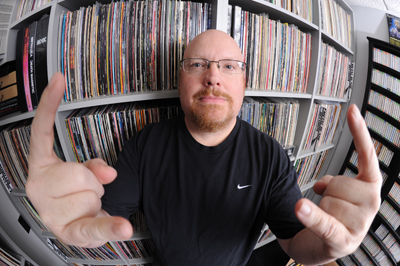 The initial pressing of the first Metal Massacre record featured BITCH, RATT, MALICE, STEELER, and METALLICA, among others. Metal Massacre II, released the same year, brought groups such as ARMORED SAINT and OVERKILL into the light. SLAYER, hailing from Huntington Park, California, revealed their track "Aggressive Perfector" for the Metal Massacre Volume III vinyl LP. Since then, several Metal Massacre albums have been released, helping to launch the careers of FATES WARNING, TROUBLE, LIZZY BORDEN, METAL CHURCH, GWAR, and a throng of other metal bands, some of whom are still putting out records on the Metal Blade label today.
For the record, who would have ever imagined that METALLICA and SLAYER, who were once about as underground and as heavy as any bands could be, would eventually be performing on The Tonight Show Starring Jimmy Fallon and Jimmy Kimmel Live! network television shows?
Slagel's love for heavy music began early: "Growing up as a kid I got really into all that 70s KISS, SABBATH, DEEP PURPLE, JUDAS PRIEST, you know. You name it. Then, really, the New Wave of British Wave of Heavy Metal that started happening back in 1979—I got completely obsessed with that whole scene. That's really what probably prompted me to start a fanzine, working in a record store, all that stuff that kind of led up to eventually doing the label."
"If you talk to anybody who became fans of FATES WARNING or SLAYER or any of the aforementioned bands, probably 85 percent of their fans saw them first on MTV's Headbangers Ball. "So, that was a huge vehicle once that really started getting up and getting going. We would give them videos and they would play it to this audiences all over the country—before that it was magazines or whatever. It was kind of a slow growth. Definitely the metal scene took a huge jump when MTV started that, especially when it started getting really popular."
The impact of the Grunge era in the 90s took its toll: "Well, it's weird. I talk a lot about that time and certainly the mainstream metal was completely out of the mainstream. Nobody really cared about it. But the underground was still really, really strong. We had CANNIBAL CORPSE, SIX FEET UNDER, MERCYFUL FATE, KING DIAMOND, GWAR, a whole bunch of bands that through the 90s sold a lot of records and did extremely well. So, I think the underground was still really thriving. I think another thing, too, I think that's interesting about that time frame—there's a lot of really great records that came out then that people even to this day people don't really realize that came out because metal was so underground and people were kind of put off. There's a lot of good stuff that still to this day doesn't get a lot of juice like that because of when it came out. We also did a lot of marketing promotion for a lot of the grunge stuff as well. We worked with ALICE IN CHAINS, MOTHER LOVE BONE, FAITH NO MORE, and SOUNDGARDEN. So, we were able to kind of navigate the waters a little bit there and obviously got through it and survived it. But looking back it wasn't as bad as everyone thought it was, at least in the underground."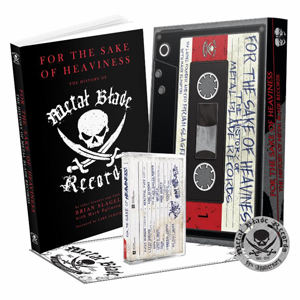 When asked how the metal scene stacks up now in the digital age, Slagel remains optimistic:
"Certainly, everything is changing now. Up until last year we were probably 75 percent physical across the board worldwide. Vinyl is still really popular, and probably more popular now than it's been in a long time, which is kind of crazy. I think we're doing vinyl on pretty much every release we're doing now, which is interesting after all these years. The streaming stuff is coming in and certainly playing a big role in it but the physical's not going to go away anytime soon. It's probably going to be less and less but it's still going to exist, for sure."
Has Slagel become jaded about the music he has worked with for so many years? "Not much has really changed. I still love the music. I still go to as many shows as I can. So, I'm pretty much the metal nerd I was 35 years ago."




Please log in to view RANTS

If you don't have a username, click here to create an account!