Photos By Francis Gingras
It's rare in this lifetime that I'd finally get paid to review a favorite band from my adolescence let alone get the chance to see them live after a lengthy hiatus, but in this case, it's TD Place and GNR's management rather than KNAC.COM who signed my cheques that evening. Mostly because I was working as part of a team bestowed with the esteemed title of Event Services (I'm basically an usher, really) and made sure that everyone in the audience enjoyed the show and that everything ran smoothly.
In fact, I'd even go so far as to say that the fans not only got over the famous Montreal riot from a quarter century ago during that ambitious tour with METALLICA, they even forgave the choice of opener for the Canadian leg of the Not In This Lifetime tour. That said, as the openers were OUR LADY PEACE whom I'd seen three times already, I was long questioning how the band selected their opening acts for this tour. The warm-up part of the show was entertaining enough if only because the Toronto-based alt/grunge quartet were doing soundcheck to "London Calling". But while even THE CLASH without Joe Strummer would've been preferable to listen to rather than frontman Raine Maida moo out "Superman's Dead" for the umpteenth time to cater to my tastes, I still had to give them the benefit of the doubt for landing the opening slot of the show and putting on perhaps their most decent performance otherwise. By the time they hit up the title track of their breakthrough album Clumsy (also celebrating a milestone of its own following its release twenty years ago) the entire band including Raine Maida were in their stride. Even the odd favorite "Starseed" and their new song "Drop Me In The Water" sounded relatively strong given how the crowd were solely arriving to catch the much-anticipated headliners. OLP play Bluesfest almost every second or third year anyway so it's not like they're strangers to Ottawa. They'll probably end upon next year's bill once this review goes up.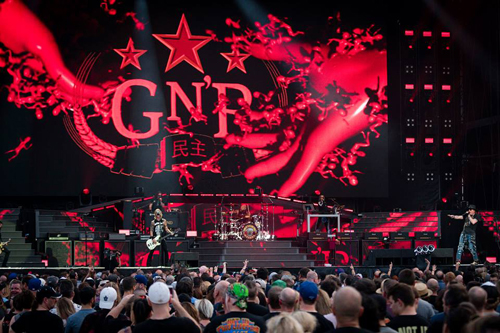 That said, I wouldn't be surprised if a backstage conversation during their soundcheck while "London Calling" played in the background transpired like this:
Duff McKagan (returning from quiet meditation): "....did Joe Strummer always sound like he was raping a sea cow during "Brand New Cadillac"?"
Slash: "Uh, dude....that's the singer from the opening band."
Duff McKagan (humbled): ".......ooooooohhhhhh......."
PEACE may not always sell but someone's been buying since 1995 so gotta give them some credit here.
Fire up the pyro, set your clocks and put security on notice in case there's a time delay because headliners GUNS 'N ROSES take to the stage and proceed to belt out a blistering version of "It's So Easy". And they're five minutes early! Not to mention that frontman Axl Rose actually looks fit and robust for a guy in his mid-50's. He even sounds reinvigorated and hits just about each and every note as he did in his prime. And while Izzy Stradlin and Steven Adler haven't comprised the full classic Appetite For Destruction lineup on this tour, their respected replacements Richard Fortus and Frank Ferrer, alongside keyboardists Dizzy Reed and Melissa Reese, honored the classics with the fury and the passion that made AFD the landmark debut album that it's known as.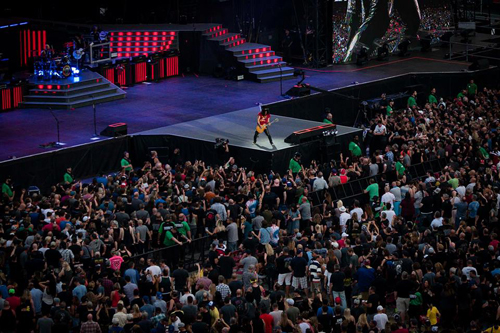 Outside of the regular hits GNR are internationally known for, the band also included some lesser-known classics from their catalogue as well. The 8-minute long opus "Coma" sounds just as much as the best song METALLICA never wrote live as it does on record. "Civil War" is almost too poignant and accurate lyric-wise to be believed but delivers its message with the bluntness of a long stick hitting a Donald Trump pinata. Even newer songs from the comeback Chinese Democracy album such as the title track, "This I Love" and "Better" were solid and full of the street ready swagger and attitude of the AFD era which Duff and Slash personalized.
And while the setlist featured almost as many covers as it did originals, GNR managed to both celebrate their authenticity as well as put them in a modern context. Case in point: Their concert might have fallen on the same date as the recent lunar eclipse earlier that day, but a mesmerizing performance of "Black Hole Sun" in honor of Chris Cornell left barely a dry eye in the house as Axl clocked the low-sounding melancholic vocal tones of the late SOUNDGARDEN frontman note for note. And their legendary cover of "Whole Lotta Rosie" stemming from the band's club days at Gazzari's invoked memories of last year's initially odd pairing of Axl taking over for Brian Johnson in AC/DC - a role which had many fans doubting if a singer known for his past disregard of timekeeping could handle the task of fronting. Even Axl himself had acknowledged the skepticism at the time with a jovial anecdote about his new-found discipline stemming from his time at the Young Family Boot Camp ("If you didn't do it right, you got the boot."). Guess it helped as GNR not only began early, but they also ended on time for this show. A slight parallel from a quarter century ago when the local city council (whose members included our current mayor) pressed to cancel the Ottawa date on the infamous GNR/METALLICA tour because of the city's noise bylaws prohibiting loud music being played after 11 PM. Ottawa was ridiculed worldwide that day in the media for allowing this tour to bypass us and go straight to Montreal afterwards - and we all know how that show panned out. Who'd have thought that in this lifetime you'd be hearing Axl Rose gush over the architecture of the former Lansdowne Park Arena after its management blacklisted him and his band back in the day?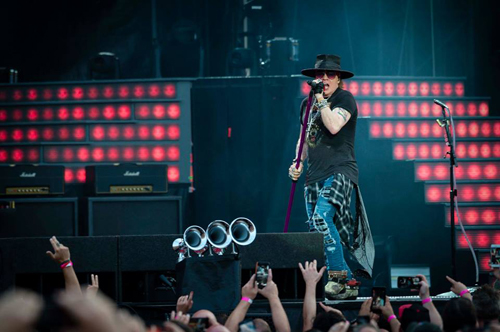 Welcome back to the jungle after three decades and thanks for the kind words about our new stadium, Axl and company.
https://www.gunsnroses.com/
https://www.facebook.com/gunsnroses
Setlist:
"It's So Easy"
"Mr. Brownstone"
"Chinese Democracy"
"Welcome To The Jungle"
"Better" "Estranged"
"Live And Let Die" (WINGS)
"Rocket Queen"
"You Could Be Mine"
"New Rose"(THE DAMNED w/Duff singing)
"This I Love"
"Civil War"
"Yesterdays"
"Coma"
Slash guitar solo
"Speak Softly Love (Love Theme From The Godfather)" (NINA ROTA)
"Sweet Child O' Mine"
"Used To Love Her"
"My Michelle"
"Wish You Were Here" (Slash/Richard Fortus guitar duel)
"November Rain"
"Black Hole Sun" (SOUNDGARDEN)
"Knockin' On Heaven's Door" (BOB DYLAN)
"Nighttrain"
"Don't Cry"
"Whole Lotta Rosie" (AC/DC)
"Patience"
"The Seeker" (THE WHO)
"Paradise City"