WRAITH Revelation


By Alex Yarborough, Orlando Contributor
Tuesday, September 19, 2017 @ 1:21 PM


| | | |
| --- | --- | --- |
| | | |
WRAITH
Revelation
2017 Ice Rain Records/Cargo Records




WRAITH released their first album, Danger Calling, in 1992, and subsequently released three more albums through 2007. It's ten years later, and they have just released their fifth studio album, Revelation. The lineup of the band is: vocalist Ryan Coggin, guitarist Gregg Russell (CONCRETE SOX, TIGERTAILZ), guitarist Dieter Schänzer, bassist Kim Nielsen (PHANTOM BLUE), and drummer Jay Graham (RAVENSCREED, TONY IOMMI). Guests on the album include bassist Pete Way (UFO), vocalist Steevi Jaimz (TIGERTAILZ) and Tony Mills (SHY, TNT).

WRAITH is being hailed as "the new hope" for the British Hard Rock scene. They worked with Lemmy Kilmister in the past and are currently assisted by Pete Way (UFO), who helped write and record songs on this album. The album opens with the squeal of tires and the revving of a car engine as the song "Lifeline" explodes from the speakers. I love everything about this song; it's an ideal driving anthem that makes you feel like you're barreling down the freeway at 100 miles per hour. "Dream Stealer" is an instant classic and one of my favorites here. The chorus is impeccable; you can hear Steevi Jaimz and Tony Mills' backing vocals pretty clearly here. The third track, "Into The Fire", may have a DOKKEN title, but sounds more like classic RATT. This is another fantastic track! "Under The Hammer" is a melodic power metal sing-along anthem, which has some MSG influence and was co-written by Pete Way. "Leaving Me Again" is the lone ballad on Revelation. It's a pretty laid back song, and serves as an oasis in the sea of full-on power metal anthems.

"No Respect" features another riff I can't get enough of, seemingly influenced by the Robbin Crosby/Warren DeMartini school of guitar. "Invasion" may very well be the best track on the album. The title track, "Revelation", consists of a short spoken clip from an interview with mafia hitman Richard "Iceman" Kuklinski, and serves as a warning before launching into the amazing "Human Hater", which describes life from a hitman's point of view. I can't get enough of the chorus of this driving, killer song. Just when you think the album is going to end softly with the intro to "Hunted", the song shifts gears and features a blazing main riff that is among my favorite on the album. Much praise should be heaped on guitarists Gregg Russell and Dieter Schänzer, as well as bassist Kim Nielsen. Their work here is just phenomenal. Drummer Jay Graham turns in a lesson on the skins; a lot of the detail work he does is perfect for a band like WRAITH.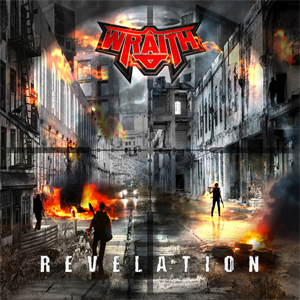 I can't say enough about how good this album sounds. The production and mix was handled by Neil Kernon (QUEENSRŸCHE, NEVERMORE) and mastering by Andy Sneap (ACCEPT, SAXON, OPETH, etc.) This album is heavy, extremely catchy, and reminds me a lot of bands from the '80s Metal scene, including MÖTLEY CRÜE, DEF LEPPARD, DOKKEN, SAXON and especially RATT. In fact, vocalist Ryan Coggin was set to replace Stephen Pearcy in RATT, but decided to join WRAITH instead, because he loved the band's material so much. This is one of those albums you just play from beginning to end without skipping a track-- it's that good. Choosing the best song would be difficult for me, as it changes each time I listen to the album. Fans of solid heavy metal, as well as those kick ass '80s and '90s bands on the old Roadracer label like HITT MAN, FIFTH ANGEL and RACER X are going to love this band. Even the cool album cover reminds me of those bands. I listened to this album a lot and had it on repeat for quite a while. Even when I eventually got tired of it, I still kept listening to it. It's a damn near perfect album. Revelation is available now from Ice Rain/Cargo Records.
4.8 Out Of 5.0
Grab your copy of Revelation from the KNAC.COM More Store right HERE.




Please log in to view RANTS

If you don't have a username, click here to create an account!