SATYRICON
Deep Calleth Upon Deep
Napalm Records




SATYRICON frontman/creative director Sigurd "Satyr" Wongraven's 2015 brain tumor scare fortunately turned out to pretty be just that - a scare. The tumor was benign – and he opted against having surgery to remove it. Neverthless, it seems to have gotten him thinking about his own mortality and living more for the moment than perhaps he had in the past.

"Approaching this record, what I always kept in mind is that either this is the beginning of something new or it's gonna be my last record," Satyr said in the press materials for Deep Calleth Upon Deep, the band's ninth album. "If this is going to be the last one then it needs to be something special. If there are more records, then I'd better make sure that this is so different from the last one that it feels like a new beginning."

It's too bad that it took a tumor to prompt this realization, but making sure this one was very different than the last was an encouraging thought nonetheless. Said "last one" was SATYRICON's 2013 self-titled outing, one of the most daring, unorthodox and divisive of the shape-shifting band's long career. But some of the "dares", like "Phoenix" a jangly goth-rocker where Satyr yielded lead vocals to guest crooner Sivert Hoyem, or "Nekrohaven" which sounded like black metal power pop, were so out of character, it almost seemed like a different band. And it made for a wildly uneven, frustrating listen, especially after the comparative punch and immediacy of 2008's The Age Of Nero.

Deep Calleth Upon Deep still shows an element of daring – like the squalling sax from guest Håkon Kornstad on "Dissonant", the subtle intermittent classical instrumentation or eerie chorales on "The Ghost Of Rome" and the title track – but it is a far more consistent album, without, for the most part, the dramatic shifts and sonic forays of its predecessor. It's "different" without being "too different," and sounds more like a logical progression from Age Of Nero than Satyricon.

The hard-charging opener "Midnight Serpent" gets things off to a formidable start with its ringing riffs and the signature drum gallop of Kjetil-Vidar "Frost" Haraldstad, punctuated by neck-snap tempo changes and shuddering grooves. It is countered, to a degree, by the more straight-up metal of "Blood Cracks Open The Ground" that follows Satyr's spider-walky guitar licks and crunching hooks. It's catchy and menacing at the same time – thanks in large part to Satyr's snarling vocals – and sounds more natural and less calculating that the last album's listener friendly dalliances.

Not nearly as effective is the aforementioned "The Ghost Of Rome". With its odd, spooky background moans and shimmering, almost surf-rocky guitaring, "Ghost" comes across as MISFITS misfire and marks the low-point of an otherwise pretty steady, stellar album. This warbly vocal treatment reappears on the more traditional title track, and lends a bit of haunting atmosphere without forcing the issue.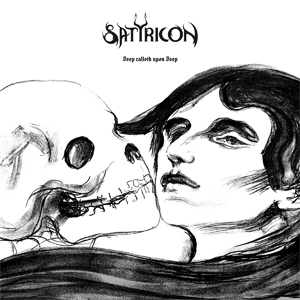 "Dissonant" hits the experimental mark as Kornstad's blaring sax yields to a serpentine groove with abrupt lurches and muscular bursts that keep its accessibility from being too much so. And the orchestration on "Black Wings And The Withering Gloom" fits right in as the song harks back to SATYRICON's Nemesis Divina era from 20 years ago with its vintage black-metal tremolos, blazing tempo and "snow-covered mountains of North" lyrical sentiments.
Elsewhere, "To Your Brethren In The Dark" and album closer "Burial Rite" offer the album's most resolutely anthemic air with their cascades of guitar, rhythmic swells and Satyr's emphatic vocals. "Burial Rite"'s sudden end is rather jarring, but just goes to show that the band really does mean business here right up until the final note.
Whether that will indeed end up being SATYRICON's final note remains to be seen – and here's hoping Satyr's health doesn't end up forcing the issue. Regardless, while classifying Deep as "a new beginning" is a bit of a stretch, especially since it mines the band's past in a number of instances, it is certainly a welcome improvement over the last album. And, for now, that's enough.
3.5 Out Of 5.0
Pick up a copy of Deep Calleth Upon Deep in the KNAC.COM More Store right HERE.